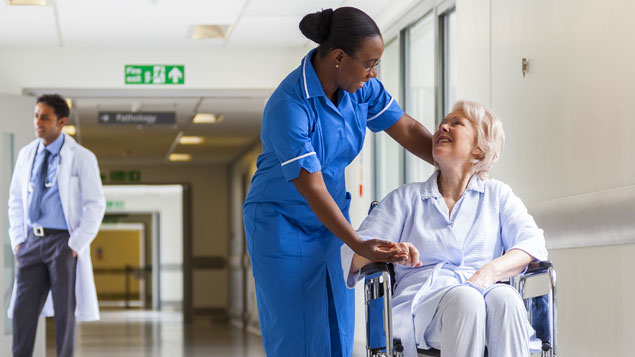 More support and a "proactive" occupational health service is needed to help improve the mental health and wellbeing of the 1.4 million NHS staff who work in some of the "most challenging conditions imaginable", Health Education England (HEE) has urged.
One in three NHS staff have felt unwell due to work-related stress, while around half have attended work despite feeling unwell because they felt pressure from their manager, colleagues or themselves, the final report from the NHS Staff and Learners' Mental Wellbeing Commission, led by HEE, has claimed.
It says NHS staff often hide their mental ill-health from friends and family, while pressure has led to a growing number of medical professionals – female nurses in particular – taking their own lives to escape the demands placed on them by their roles.
The HEE report makes 32 recommendations for how NHS can better support the wellbeing of staff and trainees. Among others, these include:
Appointing 'Workforce Wellbeing Guardians' in every NHS organisation to ensure several wellbeing principles are adhered to, along with a 'Workforce Wellbeing Leader' as a first point of contact for concerned staff;
Providing rest spaces for on-call staff, allowing them to sleep, shower and eat before or after jobs;
Offering psychological support to staff affected by the suicide of a colleague;
A 'Samaritans-style' helpline for staff who have concerns about their mental health and wellbeing;
Social spaces that allow employees to discuss worries in confidence; and
A "proactive and responsive" occupational health service that promotes staff wellbeing.
An 'NHS for the NHS'
The report is critical of the OH provision currently seen across the NHS, with some employees describing it as a "service you are sent to" and "not one that you turn to". Many see it as a back-office function that has been subjected to significant budget cuts.
It describes an aspiration for an "NHS for the NHS" and advocates that OH is prioritised as a frontline clinical function that receives appropriate funding.
In response to HEE's report, the Department for Health and Social Care said it would set out new plans to provide mental health and wellbeing support for NHS workers, which could include:
Post-incident support for frontline staff, such as peer group support or psychological assessments;
A dedicated mental health support service, available 24 hours a day;
Fast-tracked mental health referrals for NHS staff if requested by a GP or OH professional;
Rest spaces for on-call staff and trainees; and
A 'Wellbeing Guardian' in every NHS organisation.
Health and social care secretary Matt Hancock said: "Working under pressure, NHS staff put themselves in some of the most challenging situations imaginable as part of their unwavering commitment to caring for us all. So they deserve unwavering support from us all.
"I'm so proud of the service NHS staff give, so the mental and physical wellbeing of the people who work in our health service must be our utmost priority. Today's important report helps guide how we can do that, from creating the right culture of support to giving everyone somewhere to turn in the toughest times."
In speech at East London Foundation Trust on Wednesday, Hancock said the NHS needed to change a culture that sees staff "carrying on regardless, not asking for help, not looking for signs of burn-out among our colleagues, thinking everything's OK as long as someone turns up for work and does their job" .
Professor Ian Cumming, chief executive of HEE, said improving the mental wellbeing of staff was vital as it "contributes positively to patient care".
"As a caring and compassionate organisation, the NHS attracts staff with these values, but it must be recognised that in giving care you also absorb some of the concerns and issues of the people that you are caring for," said Cumming.
"We must do better for those in the caring professions. And we must care better for those studying to be professionals. This commission will make that happen."