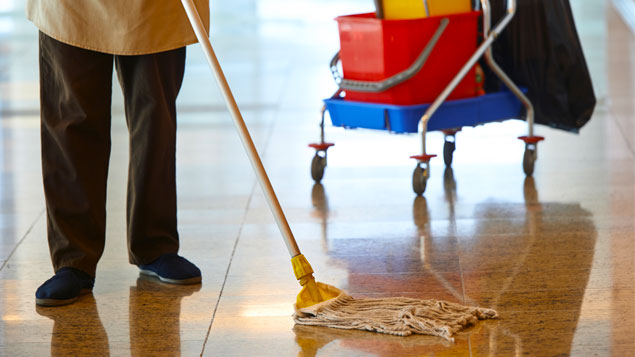 Almost 1.2 million public sector workers are "trapped in in-work poverty" and are earning below the cost of living, according to a new analysis.
About 20% of UK jobs that pay below the independently calculated Living Wage are in the public sector, research by the Smith Institute for the Living Wage Foundation has found.
The Living Wage is calculated based on what the Living Wage Foundation considers to be the "real" cost of living – currently £9 across the UK and £10.55 in London. Payment of the Living Wage is voluntary.
It differs from the national living wage, which is the legal minimum employers must pay those aged 25 and over. It is currently £7.83, but will increase to £8.21 in April.
The Smith Institute estimates that six million UK workers are paid below the Living Wage, 1.89 million of whom work in the public sector in areas including the NHS, local and central government, councils, the civil service and universities.
One public sector cleaner said earning less than the Living Wage meant every month was "a struggle to survive" and affording basics like the internet or a smart phone was a challenge.
The analysis finds that if all public sector employers increased low-paid workers' wages to Living Wage levels, 35p in every £1 would be recouped by the Treasury in increased tax receipts.
Lola McEvoy, head of campaigns at the Living Wage Foundation, said: "It's simply wrong that our teaching assistants, cleaners, carers and catering staff – paid on public money – are struggling to keep their heads above water on wages that don't meet basic living costs. The public supports this, politicians support this, the Treasury would benefit from this – there's no reason not to do it.
"It's time for our public institutions to lead by example and join nearly 5,000 employers who pay the real Living Wage."
According to earlier research for the Living Wage Foundation, more than a third of low-paid working parents have skipped meals due to a lack of money, while almost half have fallen behind on household bills.
Kevin Hollinrake MP, chair of the all-party parliamentary group on poverty, said: "It is unsustainable to continue to subsidise employers who pay lower wages through income support measures such as tax credits. The payment of a wage that people can live decently on is absolutely the right way forward."