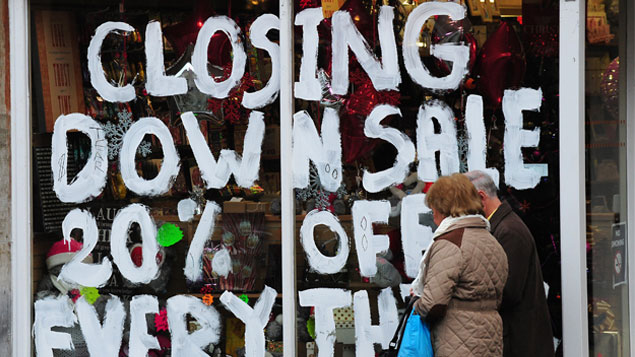 Retail workers are more likely to be made redundant and endure a significant period of unemployment than workers in any other sector, a report has found.
The retail sector's employment share has fallen by 12% since 2003 as the rise of online shopping, high business rates and dwindling footfall has forced many retailers to abandon the high street.
Analysis by think-tank the Resolution Foundation finds that retail staff face a higher risk of redundancy than any other sector, with 31% of retail workers leaving their jobs because of this reason, compared with 26% across other sectors.
Ex-retail staff are also staying unemployed for longer than those who were made redundant from roles in any other sector. Forty-one per cent have been unemployed for six months or longer and three in five of these are aged under 30.
The headline rate of outflow from retail into unemployment has increased by 38% in just two years and is almost back to the levels seen during the financial crisis, the Sorry we're closed report claims.
Research and policy analyst Daniel Tomlinson said that with shop closures involving big brands such as HMV, BHS and House of Fraser have dominated the headlines over recent years, the impact on the people and regions most affected by retail closures needs to be examined more closely.
"Life has become tougher for those leaving retail, who are more likely to find themselves unemployed – and for longer too," he said.
"So while policy makers can't reverse major and long-lasting changes in how we shop, they can and should focus on the people and places most affected. Rather than trying to rescue the 20th century model of shop-dominated high streets, town centres have an opportunity to diversify and become 21st century destinations for leisure, as well as retail."
Most of the shop workers the Resolution Foundation spoke to had experienced redundancy. While many said it had not been a shock, changes had often been announced suddenly with minimal time to adjust.
One department store worker said she is now doing the job of four full-time staff due to cutbacks, while some reported hearing about shop closures and redundancies in the media before they were informed by their employer.
So while policy makers can't reverse major and long-lasting changes in how we shop, they can and should focus on the people and places most affected" – Daniel Tomlinson, Resolution Foundation
One former retail worker said: "I was made redundant… I didn't want to go back into retail but it got to May and I just really needed a job…I found out from the news that we were closing down – I went home from work and my parents knew before I did."
The report argues that the decline in retail jobs has happened gradually over 15 years. Had retail growth maintained at the same level seen in 2003, some 320,000 more retail jobs would exist than the number seen today.
However, the reduction in retail roles is actually smaller than expected – there are only 28,000 fewer jobs than there were in 2003.
"This is important: unlike in manufacturing, the retail sector has not shed hundreds of thousands of jobs. The biggest negative effect on individual people from a sector's decline is job losses, and the overall magnitude of job losses in retail is, to date at least, very small," the report states.