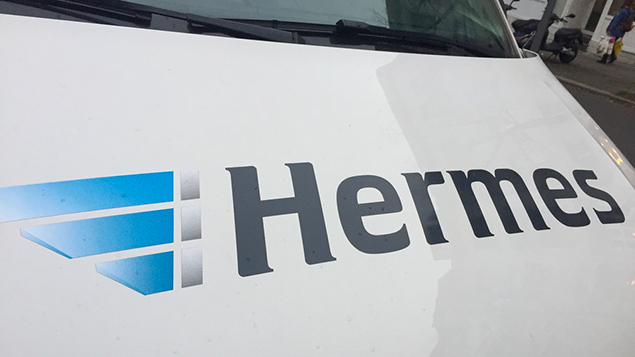 Delivery firm Hermes has struck a "ground-breaking" deal with the GMB Union to give its couriers the option to receive guaranteed earnings and holiday pay.
In what is understood to be a first recognition deal in the gig economy, the collective bargaining agreement is designed to support the rights of drivers providing courier services to Hermes.
Other employers should take notice, this is how it's done" – Tim Roache, GMB Union
Hermes couriers can now opt to become "self-employed plus", which includes holiday pay (pro-rata up to 28 days) and individually negotiated pay rates that allow couriers to earn at least £8.55 per hour over the year – 9% higher than the current national living wage.
In return they will have to follow delivery routes specified by Hermes rather than delivering parcels in any order, as they can do currently.
Employment status
In addition, self-employed plus couriers joining the GMB will have access to full union representation.
The agreement follows an employment tribunal ruling last year which said that Hermes drivers were "workers", not self-employed, and as such meant they were entitled to a number of employment rights including holiday pay and the minimum wage.
Drivers who wish to retain their current self-employed status with Hermes and earn premium pay can still do so.
Hermes UK CEO Martijn de Lange said: "This new option allows couriers to retain the flexibility of self-employment we know is so important to them and gives them the certainty of guaranteed levels of earning, the security of holiday pay and a strong voice.
"We're proud to be leading the way with this pioneering development which we hope will encourage other companies to reflect on the employment models they use. We have listened to our couriers and are wholeheartedly committed to offering innovative ways of working to meet peoples' differing needs."
Tim Roache, GMB general secretary, said: "Hermes is leading the way, looking after the people who work for you on the ground day in, day out, is not only good for business but the right thing to do.
"As a result of our ground-breaking agreement, couriers will have a real voice in their workplace… Full credit to Hermes. They're showing that the gig economy doesn't have to be an exploitative economy and we look forward to working with them through this ground-breaking agreement.
"Other employers should take notice, this is how it's done."
In December 2018, the Court of Appeal upheld a ruling that Uber drivers are workers and should receive entitlements such as holiday pay and the national minimum wage. Uber said it would appeal to the Supreme Court.
Yvonne Gallagher, partner at Harbottle and Lewis, said Hermes has agreed to allow drivers to opt into worker status for its self-employed couriers which ensures that they will receive holiday pay and minimum wage.
"It has agreed to pay an hourly rate which is greater than the current national minimum wage. In addition, the company is effectively guaranteeing a minimum rate of pay if individuals fail to achieve the agreed rate in their earnings which are calculated on the basis of a fee per delivery."
She added that it will be interesting to see whether HM Revenue & Customs asserts that these "workers" should in fact be paying employees' tax and national insurance through the PAYE system, with Hermes making the additional employers' NI contribution of 13.8% of earnings.
The additional burden of employer's national insurance contributions is thought to be a powerful factor influencing the structures companies use in relation to their workforces.
"Hermes notes that many of its workers choose self-employed status because they value the freedom to work when they want, to manage their other commitments in life, such as family responsibilities. That has no doubt influenced the agreement, but may not be compelling for HMRC purposes, given that there is nothing preventing employers from granting employee status and allowing a high level of flexibility to drivers as to when tasks required are completed."
She added: "The direction of travel appears to be firmly in favour of gig economy workforces having at least worker rights, but the threat of full employment rights has not gone away, and we can expect further challenges."
Recruitment & Employment Confederation chief executive Neil Carberry said the deal was "a great sign that both employers and unions can consider the needs of the flexible workforce in a way that offers staff both choice and protection.
"We hope this is the start of a deeper dialogue around flexible work that moves away from demonising jobs that don't conform to a nine-to-five, permanent employment stereotype. Flexible working is hugely beneficial to companies and workers alike – but that flexibility has to be matched with fairness."
Jason Moyer-Lee, general secretary the IWGB union, which is involved in other gig economy disputes, said: "The Hermes/GMB collective bargaining agreement is a victory for trade union representation in the so-called gig economy.
"However, despite having lost an earlier tribunal case establishing that its couriers are entitled to employment rights, Hermes is only offering paid holidays to those who opt in. Because of the inequality of bargaining power and the ability to companies to induce or threaten workers out of rights, employment law cannot be treated as optional."