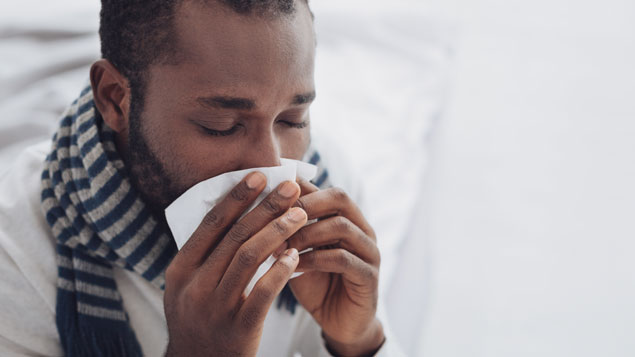 Workers have been urged to get the flu vaccine as a particularly severe strain of the virus has led to more than 2,000 people needing critical hospital care.
Since October 2,182 people in the UK have been admitted to an intensive care unit or high-dependency unit because of the flu, according to Public Health England (PHE), despite relatively low prevalence of the virus. This is compared with 2,045 people who needed such care in the same period in 2017-18, when the virus was circulating at higher levels.
Flu has killed 195 this winter, though this figure is significantly less the 241 seen in the same period in 2017-18.
Pregnant women and those with long-term health conditions are the most likely to experience breathing difficulties because of the virus.
Dr Simon Ashworth, a consultant in intensive care at St Mary's hospital in London, described it as the "worst flu season [he has] ever known".
"Although the overall incidence of flu reported by Public Health England is, if anything, lower than last year, our experience at St Mary's has been that we have seen more patients with severe influenza requiring intensive care than we saw even in 2010," he told The Guardian.
"Our impression is that patients who have ended up in ICU have generally not been vaccinated so even if the vaccine hasn't been completely protective, it has reduced the risk of life-threatening infection."
Dr Nick Scriven, the president of the Society for Acute Medicine, urged anyone who requires vaccination but has not yet had it to get vaccinated.
He said: "From the relatively lower rates of GP consultation and so far hospital admission compared to the higher levels of ICU/HDU need and nearly 200 flu-related deaths, it could point to this year's strain being particularly virulent and causing more extreme reactions in infected patients."
Last year NHS Improvement said it required all frontline staff to have the flu vaccination to help prevent the spread of the virus. If they refused to do so, it said they might be redeployed to other wards away from at-risk patients