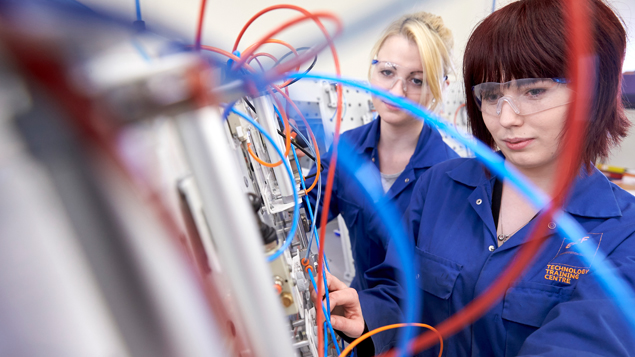 You, Your Leaders, Your Workforce, Your Apprentices
With the increasing demand for skills in manufacturing and the significant leadership gap impacting productivity for many businesses, there is a sure sign that recruiting, retaining and developing the right skills is key to improving business performance, and the future state of manufacturing as a whole.

EEF, the manufacturers' organisation, is the representative voice of UK manufacturing. This year we celebrate 120 years of backing Britain's makers, everything we do is designed to help the industry and your business thrive, innovate and compete.
Recruiting Apprentices – good for business
Apprentices are the lifeblood of our sector, bringing fresh skills, dynamism and creativity to their employers and helping to drive productivity and growth.
Our sector has a great story to tell when it comes to apprenticeships – the training we offer to talented young apprentices is seen as setting the gold standard and young people choosing to become an apprentice in our industry can be satisfied that they are learning much-needed skills that will fully equip them for an exciting long-term, sustainable and well-paid career.
As the manufacturers' organisation, we are at the forefront of both promoting and providing great apprentice training opportunities.
In 2014 we opened the doors to apprentices at our state-of-the-art technology training centre in Aston, Birmingham. The centre has since gone from strength to strength – we now work in partnership with over 80 high quality employers and have expanded into a second site, the Technology Hub, which will boost our apprentice intake to over 400 a year.
The move will keep the centre at the forefront of new manufacturing and engineering technologies, ensuring that apprentices continue to learn both traditional and the most cutting-edge techniques. This will fully equip them for a sustainable and exciting career in modern industry.
The new Technology Hub will incorporate a number of learning zones dedicated to developing key technological skills, including robotics, electronics and rapid prototyping. It will boast an industry standard CAD (computer aided design) suite, an automated factory and an industry standard tool room.
Growing your talent
The new centre will also host EEF's soon-to-be-launched leadership skills and manufacturing solutions hub, which will play a key role in ensuring UK manufacturing stays at the forefront of 4IR (the 4th industrial revolution).
Through the Technology Hub we will upskill the current workforce and the next generation in both traditional and cutting-edge techniques to keep the UK skills base at the forefront of new manufacturing and engineering technologies.
To find out about the training that EEF offers please visit here: www.eef.org.uk/training