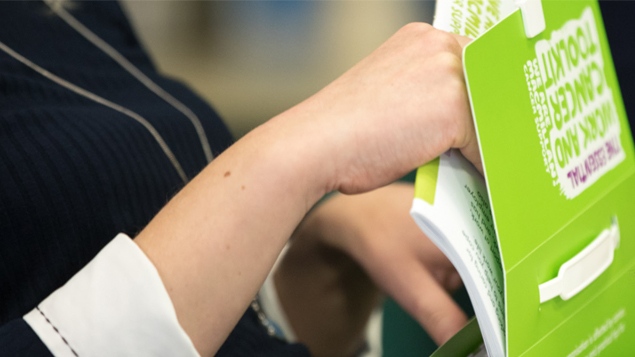 Macmillan research shows that there are currently 1.8 million people living with cancer and at least one other long-term health condition, such as heart disease or chronic kidney disease.
With the numbers of people living with cancer in the UK set to grow to 4 million by 2030, more people than ever will need support with long-term consequences of cancer such as chronic fatigue, sexual difficulties, mental health problems, pain and urinary or gastrointestinal problems.
Furthermore, with an ageing population and people working for longer, people's needs in the workplace are growing ever more complex.
To support people of working age affected by cancer to stay in or return to work when they are ready and able to do so it is important that appropriate and flexible sickness absence policies are in place within organisations.
Line managers need to have the understanding, skill and capacities to interpret and implement these policies in line with the individual needs of the employee affected by cancer. They need to be confident in supporting people with a range of long-term conditions including cancer.
Getting this right would help at two levels. Firstly, it would ensure consistency across the organisation through a clear and practical policy, and secondly, from the first conversation the employee would feel supported, and the line manager would be able to offer the right information and guidance from the start.
However, a major challenge continues to be the rigid interpretation of sickness absence policies. For example, a policy might state that up to an hour off to attend medical appointments is acceptable, when medical appointments for cancer often take much longer.
Other elements which need to be considered include sickness absence triggers processes including re-thinking disciplinary meetings and extending sickness pay.
Employers need to support the flexible interpretation of policies according to an individual's need and encourage line managers to understand the difference between absence for mild to moderate common health problems and more serious conditions which require a more progressive and flexible approach.
In addition with cancer it is important to consider individual needs, and to be flexible when interpreting sickness absence policy as cancer is classed as a disability under the Equality Act 2010 (The Disability Discrimination Act 1995 in Northern Ireland).
Under these acts employers are required to make reasonable adjustments to make it easier for an employee with a disability to work. This could include allowing time off for medical appointments or flexible working.
Remaining in work can have a positive impact not only for the wellbeing and helping to preserve livelihoods of those with long-term conditions, but also benefits organisations in retaining talented and knowledgeable staff, as well as fostering a positive work culture and loyal workforce.
Therefore, organisations urgently need to develop sickness polices which recognise and address the needs of rising numbers of employees with long-term conditions, and that managers can flexibly interpret based on their employees' needs.
Developing a long-term condition, or cancer specific policy can also help with consistency of how policies are interpreted, implemented and adjusted across an organisation.. Establishing a cancer policy in your organisation can:
enhance your reputation as a good employer
reassure your employees that they are valued
help you meet your legal responsibilities as an employer under the Equality Act 2010 (or Disability Discrimination Act in Northern Ireland)
provide a framework for supporting employees affected by cancer and other long-term conditions
provide guidance to managers
alert managers and staff to sources of information and guidance
ensure that all your employees are treated fairly and consistently.
Macmillan at Work provides advice to employers and offers resources, such as template policies, to help you in supporting employees affected by cancer.
Along with these example template policies Macmillan at Work also provides face to face training and support for HR and line managers to ensure they have the knowledge, understanding and confidence in supporting employees affected by cancer from the first conversation.
To find out more about how Macmillan at Work can help you visit www.macmillan.org.uk/atwork