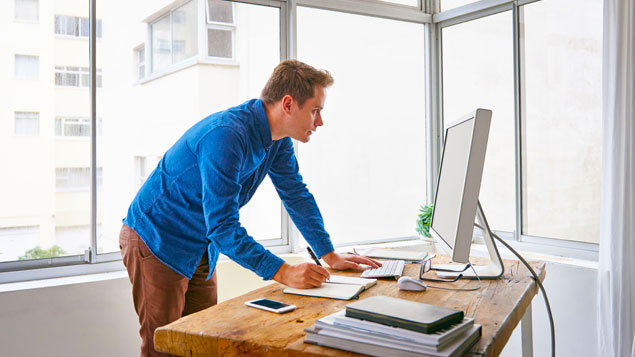 Employees who stand at their desks burn only nine more calories per hour than their seated colleagues, prompting researchers to question the benefits of sit-stand desks on reducing obesity.
A study by the University of Bath and Westmont College in California found that using height-adjustable workstations or wearable technologies that encourage standing do not have a significant impact on the amount of energy used as opposed to sitting at a desk, with standing staff only burning the energy equivalent to the calories found in one stalk of celery per hour.
The study, which was published in the Medicine and Science in Sports and Exercise journal, involved testing the resting metabolic rates of 46 healthy workers, who were asked to either lie down, sit down or stand up before measurements were taken.
Among the standing group, there was only a marginal increase in the number of calories burned compared with those who were seated, leading researchers to query what effect height-adjustable desks would have on tackling obesity.
Professor Gregg Afman, Professor of kinesiology at Westmont College, said: "We found that energy cost increase of 0.65 kJ per minute from sitting to standing naturally which equates to a 12% difference.
"However current interventions to reduce prolonged sitting like standing desks or wearable technologies only increase standing by a maximum of two hours per day. This limited time-frame would cause a person to expend less than 20 kcals more each day."
Dr Javier Gonzalez, a senior lecturer at the University of Bath's department for health, said replacing time spent sitting with time spent standing "is unlikely to influence our waistlines in any meaningful way".
"To put this difference in context, it would require an additional 20 hours of standing time, on average, to burn off a medium latte," he explained.
"In order to lose body weight, people should focus on increasing physical activity and focus on their diet too."
Despite these findings, a separate study by Loughborough University and the University of Leicester discovered that office workers at an NHS trust who were equipped with sit-stand desks felt more productive, healthier and happier than those who sat at a more conventional workstation. However, the researchers said it was difficult to determine the effect increased standing would have on staff in other sedentary occupations outside of NHS office work.