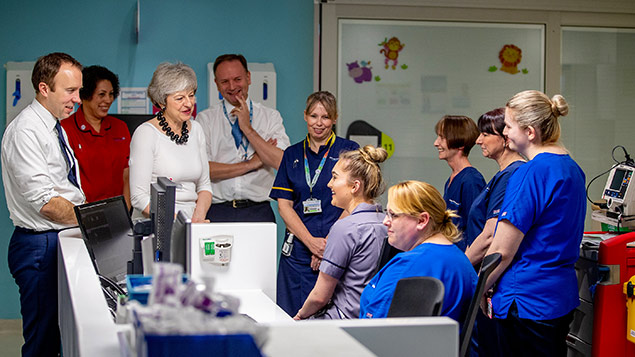 Even with the extra funding announced in the health service's Long Term Plan, NHS trusts are unlikely to meet performance targets because of difficulties recruiting staff.
That is one of the findings of a National Audit Office report into the financial sustainability of the NHS in England. It highlighted that, in September, trusts had 41,000 unfilled roles for nurses (11.6% vacancy rate) and more than 9,000 vacancies for medical staff (7.4%).
"There is a risk that the NHS will be unable to use the extra funding optimally because of staff shortages," says the NAO report.
"Difficulties in recruiting NHS staff presents a real risk that some of the extra £20.5bn funding will either not be used optimally (more expensive agency staff will need to be used to deliver additional services) or will go unspent as even if commissioners have the resources to commission additional activity, health care providers may not have the staff to deliver it."
The NAO found that the health service had an underlying deficit of £4.3bn and that while the government's £20.5bn funding increase was welcome, the NHS in England was facing unsustainable budgetary pressures.
Niall Dickson, chief executive of the NHS Confederation, which represents organisations across the healthcare sector, said: "This is a sober assessment. It is a reminder of the huge challenges facing the NHS in England. In spite of promised extra funding, the finances of our health system are in a precarious state.
Without a credible workforce strategy, staff shortages in NHS trusts could reach 250,000 by 2030" – Richard Murray, King's Fund
"Hospital and community services are reporting an underlying deficit of £1.85bn and this, together with rising demand and a workforce crisis, means it will be incredibly difficult to make the service sustainable."
Dr Jennifer Dixon, chief executive of the Health Foundation, said: "While there are initiatives in the plan to build the workforce, they need to be matched with action from central government to secure training budgets and a supportive migration policy to allow international recruitment that is vital to staffing the NHS. Front-line staff will need to be given the right support to deliver improvements in care."
Richard Murray, chief executive of health think tank The King's Fund said: "The NAO report is right to highlight that the NHS funding settlement does not cover key areas of health spending such as public health, social care and doctor and nurse training.
"Those difficult decisions lie ahead… Critically, the NAO makes clear the risk that some of the extra £20.5bn NHS funding could go unspent because there are not enough staff to deliver extra services. Latest projections show that without a credible workforce strategy, staff shortages in NHS trusts could reach 250,000 by 2030."