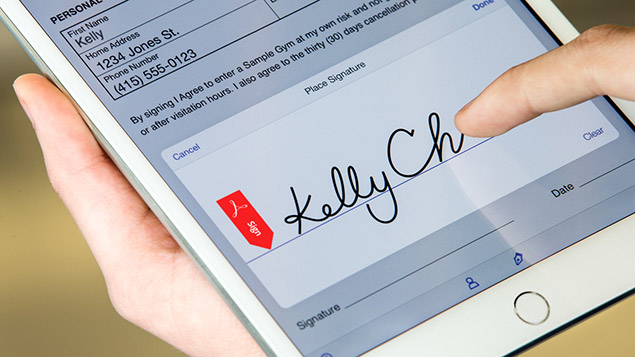 Every step of the employee lifecycle involves documents and signatures, whether you're signing a contract of employment, approving a new role or changing terms and conditions.
Electronic signatures make it easy for HR to track important documents and speed up employment processes.
For candidates and employees, it's far quicker to complete and return forms. As consumers, we expect a safe but speedy digital experience when we transact online, so why should this not be the case for employment documents and forms?
Speeding up contracts at Ricoh

After implementing e-signatures to speed up its sales processes and ensure new client contracts were tracked and approved in a timely manner, IT solutions company Ricoh decided to introduce them into its HR processes.
Multiple mergers meant that there was no consistent process for signing an employee contract. Paper-based onboarding contracts required 10 independent approval signatures and were 64 pages long. Ricoh decided to use Adobe Sign software to transform these pages into electronic documents that can now be processed in a fraction of the time.
The tool can also be used to mail merge and send multiple contracts at a time, which saves Ricoh's administrators at least four hours per week. Completed contracts are automatically stored in the employee's electronic file so there is no need to scan or forward documents to managers or other relevant parties.
It also helps with compliance – there are certain fields employees cannot sign until they have supplied the necessary information.
Ray Young, business development director of Ricoh UK, believes that e-signatures alone have saved around £9,000 annually in paper, printing, postage and administrative time