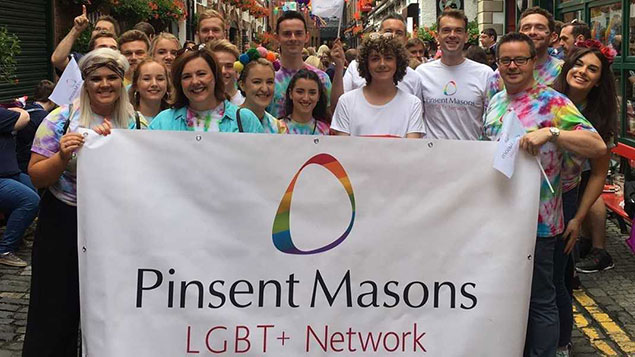 International legal giant Pinsent Masons has been named the most inclusive employer in the UK by LGBT equality charity Stonewall in its Top 100 Employers list for 2019.
LGBT resources
The charity said that Pinsent Masons' array of inclusive policies and practices for lesbian, gay and bi staff won its pre-eminent position, as well as its launch of specific trans-inclusive staff training to create a welcoming environment for trans employees, clients and visitors.
Stonewall added that the law firm's active involvement in championing LGBT equality across the UK, including supporting the campaign for marriage equality in Northern Ireland and its work with school partners to build inclusive learning environments for young people, were also influential factors in gaining top spot.
The firm has also developed specific training for its HR staff to remove barriers to employment for trans people and offers development opportunities aimed at LGBT women, supporting them to overcome what it calls the "double-glazed glass ceiling".
Richard Foley, senior partner at Pinsent Masons, reflected on how it had been working hard for many years on inclusivity, being the first legal firm to be ranked in the index in 2008.
Stonewall Top 20
Employers 2019
1
Pinsent Masons
2
Bryan Cave Leighton Paisner
3
Cheshire Fire and Rescue Service
4
MI5
5=
National Assembly for Wales
5=
Newcastle City Council
7
Lloyds Banking Group
8
Welsh Government
9
Citi
10
Baker McKenzie
11
Cardiff University
12
Ministry of Justice
13=
Environment Agency
13=
Intellectual Property Office
15=
Dentons
15=
Royal Navy and Royal Marines
17
Home Group
18=
Cheshire Constabulary
18=
Skills Development Scotland
20=
University of Manchester
20=
Touchstone
View the full 2019 list
He said the ranking showed that the firm had created an "inclusive workplace that enables everyone to be themselves; from our recruitment processes through to our engagement with clients".
The firm puts much of its success with inclusivity down to its Network Group which works on engaging LGBT staff across its offices globally. It runs speaker events, cultural initiatives and acts as a sounding board for new policies and processes.
Foley added he felt that company had a responsibility to "champion change in the wider community. Supporting initiatives such as the campaign for marriage equality in Northern Ireland play an important role in prompting progress on the equality issues that we believe must be addressed."
Kate Fergusson, head of responsible business at Pinsent Masons, touched on the challenges of creating inclusive workplaces in every country in which the firm works: "We are committed to upholding our values in every country we work but recognise that we also have to balance that with respect for local law and culture.  Sometimes, this means taking small but important steps: as employers, I think it is possible to underestimate what can be achieved and we have to be bold."
In last year's rankings, the National Assembly for Wales topped the listing with Pinsent Masons second and Gentoo housing association third.
The best performing sector in the rankings was higher education with seven new entries in the Top 100 including Cardiff University at number 11.
Stonewall said this was particularly encouraging because its 2018 university report had found that 42% of LGBT students had reported hiding their identity for fear of discrimination on campus.
The rankings were described by Stonewall as the most competitive ever with 445 employers vying for a spot on the list.
Darren Towers, the charity's executive director, said: "Pinsent Masons is leading the way championing lesbian, gay, bi and trans equality in the workplace.
D&I opportunities currently on PT Jobs
"They know that helping staff feel that they can bring their full selves to work doesn't just make a huge difference to individual team members – it makes real business sense too."
He cited recent research that showed 35% of LGBT staff hid their identities at work because of either experience or fear of being subject to negative comments or even physical threat. He also mentioned the high level of poor mental health among the LGBT community compared with the general population.
He said: "Whether as senior leaders, managers or colleagues, we all have a part to play in making sure that our workplaces and communities are places that accept and support LGBT people, without exception."