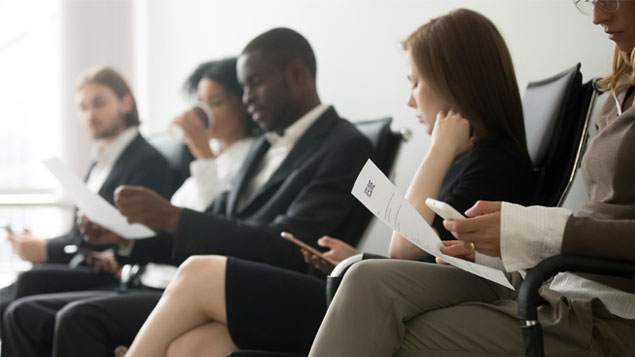 Research has uncovered an "alarming" level of discrimination against job seekers from minority ethnic backgrounds, who need to send an average of 60% more applications to receive the same level of interest as those from majority groups.
Nearly a quarter (24%) of applicants from white Western backgrounds received a call back from employers, but only 15% of applicants from a minority ethnic background had a positive response, a study by the Centre for Social Integration at Nuffield College, University of Oxford, has found.
Racism and discrimination
A total of 3,200 applications from fictitious job seekers of varying origins were sent between December 2016 and December 2017.
Black Africans and applicants from Middle East and North African (MENA) countries were "penalised heavily", while discrimination against applicants from Pakistan or Nigeria was found to be at an "alarming" level.
Their applications included identical CVs and covering letters and they were portrayed as either British-born or having arrived in Britain by the age of six, and having received all of their education and training in the UK. This was to eliminate employers' concerns about poor English language fluency or recognition of qualifications from other countries.
'De-biasing' strategy
In some cases, researchers "enhanced" applications to include more information on qualities, skills and past performance to determine whether there was a change in the number of call backs received.
"The intuition is that if discrimination is due to a lack of information, then adding information could be a de-biasing strategy encouraging employers to base their hiring decisions on the specific person and not on group characteristics such as ethnicity," the report says.
Yet, adding information to the CV and cover letter did not reduce discrimination.
Researchers found clear evidence of discrimination across all occupations and, for some groups, there was no sign of progress when compared with other studies carried out over the past 50 years.
The study, conducted as part of the Europe-wide Growth, Equal Opportunities, Migration & Markets project, also found that:
Nigerians with a university degree or relevant work experience had to send twice as many applications as the majority group to be considered for software engineering or marketing assistant jobs;
Nigerians had to send, on average, 80% more applications, while Pakistani job seekers needed to send 70% more applications;
Pakistanis faced levels of discrimination similar to what had been identified in the 1970s;
Employers rarely contacted applicants originating from Muslim-majority countries, regardless of whether they disclosed their religion in their application; and
The discrimination encountered by minority groups did not vary depending on gender.
Professor Anthony Heath, co-author and emeritus fellow of Nuffield College, told the Guardian: "The absence of any real decline in discrimination against black British and people of Pakistani background is a disturbing finding, which calls into question the effectiveness of previous policies. Ethnic inequality remains a burning injustice and there needs to be a radical rethink about how to tackle it."
Bias affects every stage of the employment "life cycle", suggested Professor Binna Kandola, senior partner and co-founder of Pearn Kandola. Its own research found that when presented with two CVs that are identical, those with names that were "suggestive of a white person", were about 50% more likely to be invited to an interview than those with names that were suggestive of a black person.
"It's possible to change our biases once we are aware of them, but that doesn't mean that simply making people aware of their biases will empower them to manage them," Kandola told Personnel Today.
"The reality is that what you are trying to achieve is a form of behavior change – fairer judgments, fairer evaluations and fairer decisions. In order to achieve that, you have to give people knowledge and tools that actively reduce opportunities for bias.
"In an interview scenario, for example, recruiters can be trained to ask candidates questions that are as detail-orientated as possible. Vague or ambiguous answers leave the door open for bias to fill in the missing details with assumptions that are based on stereotypes. Therefore, encouraging recruiters to be as factual and objective as possible in their approach will help to reduce the opportunity for bias to creep into their work."
Discrimination in the NHS
Meanwhile, the latest NHS Workforce Race Equality Standard report suggests that 15% of ethnic minority staff in the health service experienced discrimination in the past 12 months, compared with 13.8% the previous year. In contrast, only 6.6% of white staff reported discrimination.
Just under a fifth of the NHS workforce is from a black and ethnic minority background, yet the proportion in senior management positions is 6.9%.
Professor Dame Donna Kinnair, acting chief executive and general secretary of the Royal College of Nursing, said it was disgraceful that those from minority ethnic backgrounds still experienced racism, low pay, harassment and limited career progression in the NHS.
"A good start would be ensuring there are more ethnic minority voices at the top of the profession, yet despite modest gains highlighted since last year, minority voices remain grossly underrepresented in senior management positions. Improving career progression, and stamping out employment discrimination both overt and systemic should be a priority," she said.
D&I opportunities currently on PT Jobs