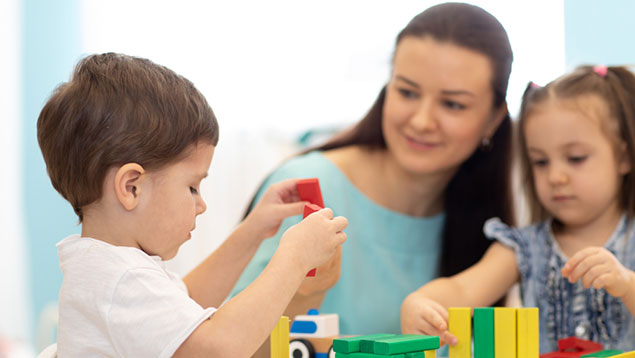 Take-up of the government's Tax-Free Childcare benefit has been much slower than anticipated, official figures have shown.
Ministers had planned for 415,000 families to be using the system by October 2017, but by December last year just 91,000 had made successful applications.
It is thought that about 1.3 million could qualify for the benefit, meaning that only about one in 14 eligible families have done so. From this, using Office for Budget Responsibility figures, the state has revised down the amount it will have to pay out in 2017-18 from £800m to £37m.
The average weekly cost of a part-time nursery place for a child under two averages at about £122, according to the Family and Childcare Trust.
Under the scheme, families can get up to £500 every three months (£2,000 a year) for each child to help pay for childcare with the government paying £2 for every £8 paid to the provider via an online account. The children can be adopted but the benefit is not paid for fostered children.
Families are not eligible if either partner has a taxable income of more than £100,000. Children must be under 11 or under. Tax-Free Childcare is not awarded to recipients of Working Tax Credit and Child Tax Credit.
Work-life balance campaigner Working Families' head of policy Julia Waltham said the reason for the low take-up "could be because parents have chosen to stick with employer-supported childcare vouchers". She added that the organisation's research indicated that working parents were increasingly reliant on informal childcare support from family, often grandparents.
Waltham added that the complexity of childcare support and a relative lack of promotion, was also a problem. "But the fact remains that there are seven types of childcare support – each with different eligibility criteria and different ways of interacting with each other – available to parents and carers. This tangled web of support can be complicated and difficult for parents and carers to navigate.
"The Tax Free Childcare scheme should be more widely promoted to working parents, many of whom could benefit from the new scheme – particularly parents that are self-employed and weren't able to access vouchers. Ultimately though, Working Families is calling for a simple, progressive funding system that ensures every parent is better off working after childcare costs."
Megan Jarvie, head of the Coram Family and Childcare charity – which advocates for more affordable high-quality childcare – said a simpler system was urgently needed.  "The high cost of childcare can freeze parents out of work – and this is made even more difficult when families miss out on the support they are entitled to.
"Government have rightly invested in childcare, but the system is now so complicated that families are struggling to find their way to the support that could help them."
A government spokesperson said a national campaign was under way to increase take-up and that there was a steep rise in families receiving it over the past year. She added: "Tax-Free Childcare is a great offer for working parents and more and more families are benefiting from it. We're urging all parents to check the Childcare Choices website to see how much they could save, and to apply."