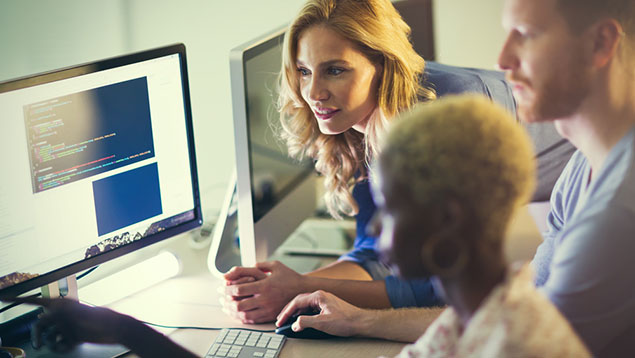 Six of the 10 jobs with the highest proportion of hard-to-fill vacancies are in the tech and systems sector.
An analysis by jobs board Indeed has revealed that software engineers, software architects, front-end developers, system engineers, software test engineers and full stack developers all had high percentages of lengthy vacancies in the past year.
Software engineer roles were fourth in the list with 41.8% of vacancies being hard to fill and full stack developer was 10th with 39.8%.
Jobs with most vacancies that were hard to fill in past year
Rank
Job
% of hard-to-fill vacancies
1
Optometrist
68.79
2
Solicitor
51.40
3
Surgeon
46.32
4
Software engineer
41.8
5
Software architect
41.78
6
Front-end developer
40.31
7
System engineer
40.24
8
Flight attendant
40.06
9
Software test engineer
39.86
10
Full stack developer
39.76
The most difficult role to fill was optometrist with employers struggling to fill almost 69% of vacancies.
The role with the highest outright number of jobs that were hard to fill was cleaner – 3% of all jobs listed on Indeed in the past year were for cleaners, 2.15% for support staff and 2.06% for chefs. The top 10 of these jobs also included care assistants, registered nurses and delivery drivers.
Indeed noted that here was a warning for the UK concealed in the figures concerning the country's ageing population, with the acute lack of nurses and care assistants threatening a decline in healthcare in the future.
Candidates were proving particularly elusive for lower-skilled and entry-level jobs, the analysis concluded, adding that given the existing difficulty in filling these roles, employers should be worried about post-Brexit constraints on the ability of EU citizens to work in the UK.
Indeed UK managing director Bill Richards said the results of the analysis confirmed that with a higher proportion of the population in work than ever before, the pool of jobseekers was a shallow one.
He said that Brexit posed an extra problem: "Many of the 'hardest to fill' roles have historically been ones that were filled by EU workers drawn to the UK by Britain's more abundant job opportunities. With official data showing net migration from the EU slowing, these roles are set to become even harder to fill."
However, the figures pointed to a fresh wave of opportunities for jobseekers, Richards added: "Clearly in a tight labour market like ours, much of the power already sits with the workers, but these roles that are notoriously hard to fill could prove especially fruitful for ambitious jobseekers looking for a new challenge."