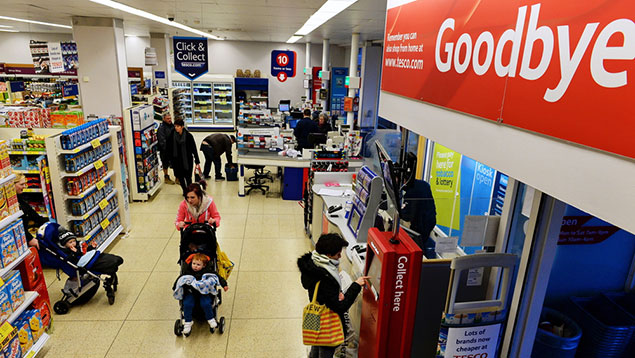 Tesco has announced changes that will impact 9,000 staff, as it continues its "turnaround" strategy to reduce costs in response to what it calls a "competitive and challenging market".
The company said that it thought that up to half of the 9,000 employees would be redeployed in other customer-facing roles.
Some 90 fresh food counters will close and others will cease to operate the same hours. Stock control, head office roles, and merchandising will be further areas where redundancies are to be made, while remaining staff canteens will become self-service only.
Contrary to many media reports over the weekend the retailers' bakery counters will be unaffected.
Over the weekend there was widely reported speculation that Tesco could be on the cusp of making 15,000 workers redundant – equating to 3.4% of its 440,000 global workforce.
In a statement this afternoon at 2.30pm Tesco said: "Overall, we estimate that up to 9,000 Tesco colleague roles could be impacted; however, our expectation is that up to half of these colleagues could be redeployed to other customer-facing roles. We are working with our third-party providers to understand the impact on their staff in our colleague hot food service.
"Media speculation over the weekend was premature and we have accelerated our communications to colleagues in order to reduce the significant uncertainty created by incorrect information.
"We will be doing all we can to help colleagues affected by these changes, including offering redeployment opportunities wherever possible."
Tesco and redundancy resources
Many of the staff effected will be those who work on fresh food counters, which are present at most of the 732 larger Tesco stores in the UK.
The supermarket has been in a turnaround programme for several years, in the wake of the false accounts scandal of 2014 and is also thought to be reacting to the difficult trading environment experienced over Christmas.
On joining the company in 2014 chief executive Dave Lewis set a target to cut costs by £1.5bn by 2020 to increase profitability.
Despite the target, Tesco employee numbers in the UK peaked in 2016 at 335,068 and are still higher (325,000) than in 2014 when 318,000 people worked for the retailer.
Earlier today, Bruno Monteyne, senior analyst, European food retail at Bernstein, told the Radio 4 Today Programme that the 15,000 figure being touted in the media seemed to him to be "way too high", and would mean about 20 people per big store being laid off.
Monteyne added there were several ways he expected Tesco to make cost cuts. For example, fresh food counters didn't need to be open all day, every day in every store. At outlets in smaller towns, "there're a lot of fresh fish counters open on a Monday or Tuesday afternoon where there's a lot of waste with hardly any people buying".