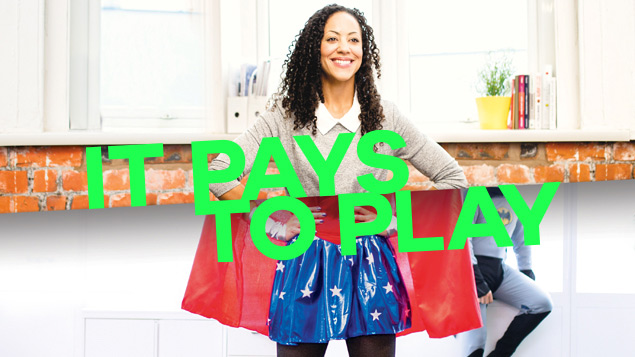 BrightHR and Robertson Cooper's It Pays to Play Report Reveals Growing Importance of Workplace Fun – and Highlights Key Benefits to Employers
We're all looking for ways to boost morale and increase productivity – and making the workplace a fun place is fast becoming a must for modern managers.
As well as keeping team members happy, creating a positive environment where employees can enjoy plenty of downtime, offers strong benefits for employers too – boosting outputs and reducing absenteeism.
New research released earlier this month makes a clear business case for this workplace fun – especially for those companies with younger, graduate or Millennials (25-35-year-olds) teams.
Work is no longer about getting the job done and then going home for your fun – younger generations want to enjoy their work too" – Cary Cooper
The It Pays to Play report, commissioned by online HR specialists, BrightHR and leading business psychology firm, Robertson Cooper, shows a clear correlation between productivity and play.
It reveals that having fun at work – on a wide spectrum that includes everything from a spontaneous activity to more formal activities such as free massages or gaming zones – results in younger employees working longer and harder and being less likely to take sick leave.
With Millennials – those born between the early 1980s and early 2000 – predicted to make up 75 per cent of the UK workforce by 2025, this is an insight British businesses cannot afford to ignore.
According to the research, this younger demographic are entering the jobs market with a belief that fun is central to their work happiness.
More than three quarters (79 per cent) of the school leavers and graduates questioned told the It Pays to Play report they felt enjoying themselves in the office was very important, with four out of ten (44 per cent) adding it actively encouraged them to work harder.
Older workers were similarly enthusiastic. More than half (56 per cent) of the 55-60-year-olds quizzed said being able to relax and play was a key benefit for them too.
The It Pays to Play report also highlights strong links between a happy, satisfied workforce, good health and a lack of absenteeism.
So almost two thirds (62 per cent) of employees who hadn't been off sick in the last three months said it was because they enjoyed work, while 58 per cent who didn't enjoy 'play' time had taken 11 or more sick days.
The research, which canvassed the views of SMEs, across the UK, also found that employees taking part in fun activities in their organisation felt it had a positive effect on their mental well-being too.
Despite these clear benefits, what constitutes office fun is a matter of some debate – with employers and employees having different ideas.
So while almost a third (29 per cent) of graduates classed 'dress down days' as highly amusing, only 14 per cent of business owners felt the same.
Younger people were more likely to appreciate the restorative effects of in-office therapies like massage too, with 24 per cent of those questioned seeing it as a great work benefit, versus just 10 per cent of managers.
And there is no shortage of ideas when it comes to having fun, with lottery syndicates, charity fundraising, karaoke, yoga, board games and knitting clubs all cited as being enjoyable.
Speaking about the findings, and the growing demands for fun from younger employees, co-author, psychology professor, Cary Cooper, said: "Work is no longer about getting the job done and then going home for your fun – younger generations want to enjoy their work too.
"It could be because we work longer hours, have to wait longer for retirement and have less financial security from work, meaning we need to get some other return for our time investment.
"When it comes to generational differences about workplace fun and willingness to partake, they are likely to be linked to beliefs and values about work.
"Fun activities look appealing to employees, but clearly it becomes a bit different when you're personally paying for those spa days or when you can wear what you want any day anyway."
Professor Cooper, who worked with BrightHR to produce the study, added that employers had to look at implementing change.
He said: "Businesses must decide how to deal with a multi-generational workforce and how to educate their senior leaders, most of whom will be Baby Boomers or Generation X, about how the different expectations of Generation Y and the Millennials."
Paul Harris – co-founder and CMO at BrightHR – said: "Trust is key in all this. If people are trusted to do their work and feel empowered to play and have fun in the workplace, a business can benefit from a more happy, motivated and productive workforce.
"Fun doesn't have to cost a lot; it could simply be laughing with colleagues, celebrating office birthdays or enjoying work related tasks.
"Graduates are most likely to perceive workplace fun to alleviate stress, boost performance and productivity and as the number of Millennials grow, businesses must think about their approach to workplace fun/play to be able to continue to attract them."
As one of the UK's leading providers of online HR support, BrightHR is dedicated to helping businesses create happy, productive and engaged workforces, by offering employers a comprehensive, flexible service.
Their HR management software allows them to work with managers to share the burden of inquiries and administration and provide complete reassurance around compliance and legal issues.
Being online, means BrightHR's service is agile enough to respond to every kind of need.
Their solution enables effortless implementation of all aspects of the HR administration process; from approving and logging lateness and sickness, to running reports and providing document management. It also provides access to specialist expert knowledge on topics including employment law.
Centralised systems makes it easy to delegate too. Employees can log in to check records, request holidays or check their remaining allowances themselves. Managers can access up to date reports, wherever they are – leaving them free to grow and develop their business.