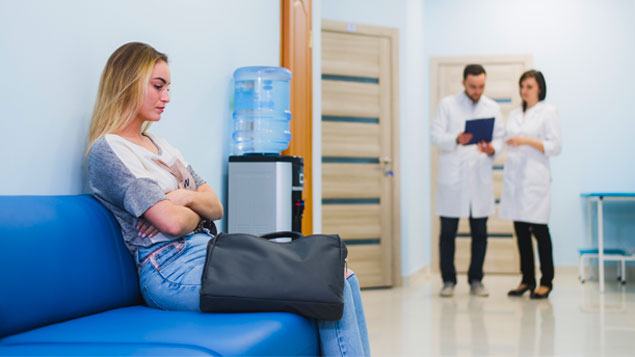 Embarrassment is causing a quarter of employees to delay seeking a formal diagnosis after noticing a potential cancer symptom, a poll has found.
Twenty-five per cent of staff who have spotted possible cancer symptoms have put off seeking medical advice because it made them feel awkward, while 57% said they would not know how to start a conversation with their doctor about it, a poll of 2,004 people by healthcare provider Bupa discovered.
Furthermore, 40% of workers would prefer to talk to a doctor over the phone rather than in person, while 35% would rather look for a diagnosis online before visiting their GP.
Julia Ross, head of cancer care at Bupa UK, said: "When you notice something's not right with your body it can be daunting, whatever the symptoms. It's important to remember that the role of medical professionals is to help you understand your body, providing you with peace of mind or signposting you to the most appropriate treatment and support for your condition.
"Fast access to treatment can help aid recovery and the long-term management of an illness. I'd always encourage people not to delay seeing a health professional if they are experiencing worrying symptoms even if you are concerned about embarrassment."
The findings build upon the results of a separate Bupa survey from last year, which revealed that 15% of people delayed seeking medical advice about a common cancer symptom because they were not aware it was a symptom.
Irregular vaginal bleeding was the most "embarrassing" symptom, with 78% of 2,004 people polled suggesting they would feel too awkward raising it with their doctor. This was followed by pain in the pelvis or groin (77%), pain when urinating (76%) and bleeding from the bottom (75%).
On average, people wait two months before approaching a doctor about their "embarrassing" health concern. This could potentially put their health at risk if there is an issue as early diagnosis can lead to better health outcomes.
Those who notice changes in their bowel or bladder routines avoid seeking help for 68 days on average; women who experience irregular vaginal bleeding would wait 66 days after noticing the symptom; and men wait around 62 days if they notice a lump in their testicle.