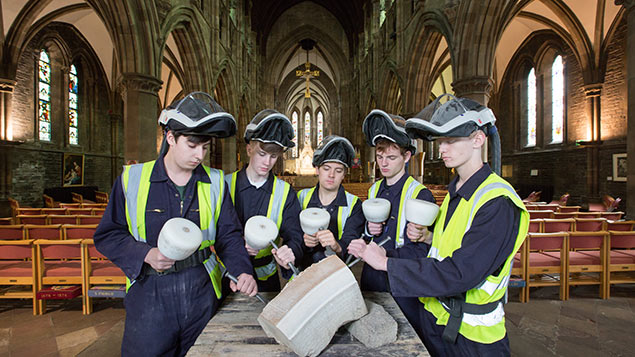 People under the age of 25 are least likely to see the value in apprenticeships, according to research from the government's Social Mobility Commission.
The newly relaunched commission's 2018 Social Mobility Barometer showed that young people aged 18 to 24 are also the most pessimistic about moving up in society, with only one in seven believing their generation has the most opportunity to do so.
The research showed the over-65s are much more likely to think that apprenticeships offer the best opportunity for progression, compared to the young people that many of these roles are aimed at. Younger people, in comparison, thought higher education offered a better opportunity.
Dame Martina Milburn, the newly appointed chair of the Social Mobility Commission said: "If we fail to act, too many young people will continue to face challenges getting into colleges, universities and employment. We all need to do more to tackle these issues, but there needs to be renewed focus from government, educators and employers."
Apprenticeships
In the YouGov poll of more than 5,000 adults, just 25% of 18-24 year olds think that everyone has a fair chance to go as far as their talent and hard work will take them (the lowest figure of all age groups), in comparison to 46% of those age 65 and over.
Respondents were more likely to think that taking an apprenticeship offers the best opportunity to progress in a young person's life or career than other routes, with 30% feeling that apprenticeships offer the best route.
This compares to 26% of respondents thinking higher education offers the best route, 14% thinking further education, and just 8% thinking that starting work offers the best opportunity.
However, figures differ by age of respondent, with those aged 65 and over being much more likely to suggest apprenticeships. Respondents aged 65 and over selected apprenticeships around twice (41%) as much as the next highest category, higher education (21%).
Conversely, those aged 18 to 24 were more likely to suggest higher education, with around one third suggesting this (34%) in comparison to 20% selecting apprenticeships.
The Social Mobility Commission was relaunched this week with 13 new commissioners. In 2017, all four members of the commission, including its chair, the former Labour minister Alan Milburn, stepped down in protest at the government's inaction towards social justice.