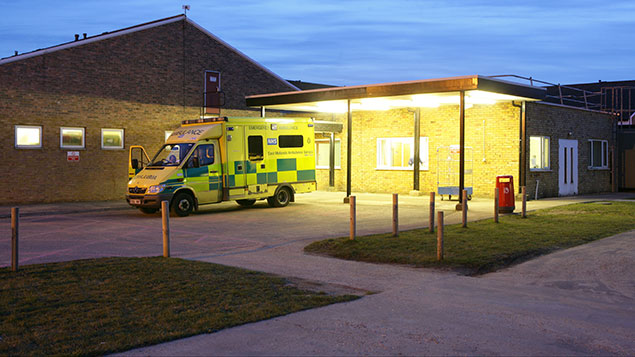 Recent NHS scandals such as Mid Staffs have highlighted the connection between staff wellbeing and patient outcomes. Nic Paton looks at the recently published Royal College of Physicians' second audit of NHS trusts and asks: have the right lessons been learned?
February's decision by health secretary Jeremy Hunt to back calls for the scrapping of Mid Staffordshire NHS Trust is just the latest twist in what most – probably all – NHS staff would agree has been a sorry and shameful saga for the NHS.
While the failings identified at Mid Staffordshire by the subsequent Francis report were multiple and complex, one key area highlighted was organisational culture, with low morale and high sickness rates contributing to poor standards of care.
Against this backdrop, the publication in January of the results of the second audit of NHS trusts by the Health and Work Development Unit (HWDU) at the Royal College of Physicians is timely.
The audit measured how NHS trusts are progressing with implementation of National Institute for Health and Care Excellence (NICE) guidance for key public health topics – obesity, smoking cessation, physical activity, long-term sickness absence and promoting mental wellbeing – and the progress that has been made since the first audit in 2010. The HWDU, a partnership between the college and the Faculty of Occupational Medicine, hopes to carry out a third audit next year.
Long-standing connection
As report author, consultant and retired director of public health Dr David Sloan points out, the link made in the Francis report between health and wellbeing and quality of patient outcomes is one that can be seen in the 2013 Keogh mortality review – which revealed high levels of staff absence and an over-reliance on agency and locum staff – the 2013 Berwick review into patient safety and, going further back, the 2009 Boorman review.
"The influence occupational health has on the board is crucial; as the Francis report demonstrated, board involvement in staff engagement and wellbeing is vital," Sloan says.
A total of 73% of NHS trusts in England took part in the audit, representing 862,365 NHS staff. The findings were broadly that, while the NHS is improving in its management of these areas, there is still – as Sloan argues – "a distance to travel".
He says: "One of the key things to come out is the importance of integrating different parts of NHS trusts in terms of delivering improvement in health and wellbeing – for example, how seldom people are presenting long-term sickness absence data alongside health and wellbeing data, which of course can have an influence on sickness data."
Dr Siân Williams, clinical director at the HWDU, adds: "There has been an improvement overall between rounds one and two, but there is still a long way to go.
"It is quite challenging for some OH services, particularly units in small trusts that perhaps have quite a traditional approach or whether they are able to access some of the training tools they need. It is challenging, but we also know a lot of units are rising to the challenge."
The management of obesity and mental health were two areas of concern highlighted, says Sloan, with the lack of monitoring for mental health and wellbeing a particular worry.
"That is really important in terms of [the] Francis [report], in terms of things such as culture. If trusts do not even know if their staff are mentally okay, I think that is maybe a problem," he says.
Pockets of good practice
The audit did highlight examples of good practice around the country, with many HR and OH teams working together effectively and getting the support they needed from trust boards. But findings such as the fact that only 38% of trusts were monitoring the time between the start of staff absence to referral to the OH department were a concern.
"It is not just about sweeping up the problems when people go off sick – it is about getting involved in preventative measures, staff training and management," says Sloan, adding that the HWDU intends now to look into this issue of variability of performance and the possible factors around it or contributing to it.
"We know there is variability in the way OH departments may work," agrees Williams. "Performance seems to be better across the organisation where [the department] is working closely with HR, managers and, where it has them, public health professionals. If you can bring those groups together you are much more able to influence the board."
Sloan adds: "The earlier in the process that OH is involved, the better the outcomes are likely to be. OH can play an important role in facilitating the engagement of staff and the whole preventative health agenda."
Key findings
All trusts have a plan or policy for managing sickness absence. However, the coverage of plans to promote health – arguably to influence sickness absence – is patchy.
Three-quarters of trusts have a policy for supporting staff with stopping smoking, but while 62% allow staff to attend stop smoking sessions during work hours, 38% do not.
Only 57% of NHS trusts have a policy in place for staff mental wellbeing; 24% do not monitor the mental wellbeing of staff.
Only 28% of trusts have an obesity plan, and staff working irregular or night shifts have poor healthy food choices.
While there is much activity to promote opportunities for increasing physical activity, there is little monitoring of uptake by staff, especially by inequality characteristics.
Trusts have difficulty estimating the number of outsourced staff working for them, and these staff have poorer access to trust-provided health promotion initiatives than NHS colleagues.
Trust board engagement in staff health and wellbeing is variable, yet all but two trusts reported having a board lead (usually the HR director).
Fewer than half of all trust boards consider long-term sickness alongside health and wellbeing data so that a link can be made between the two.
While trusts generally do take some account of potential inequalities when producing plans, fewer measure uptake of health promotion programmes by inequality characteristics. For example, only 31% monitored long-term sickness absence by age and only 34% monitored uptake of physical activity programmes by staff grade.
Although progress has been made between 2010 and 2013, there remains wide variation in the way health promotion programmes are offered to staff and how they are engaged with the policies to help improve wellbeing.