Personnel Today is the UK's leading free-access HR website. Established online in 1999, the award-winning site attracts 300,000 unique visitors each month, continuing the former weekly magazine's rich heritage in independent coverage of the HR and employment sector.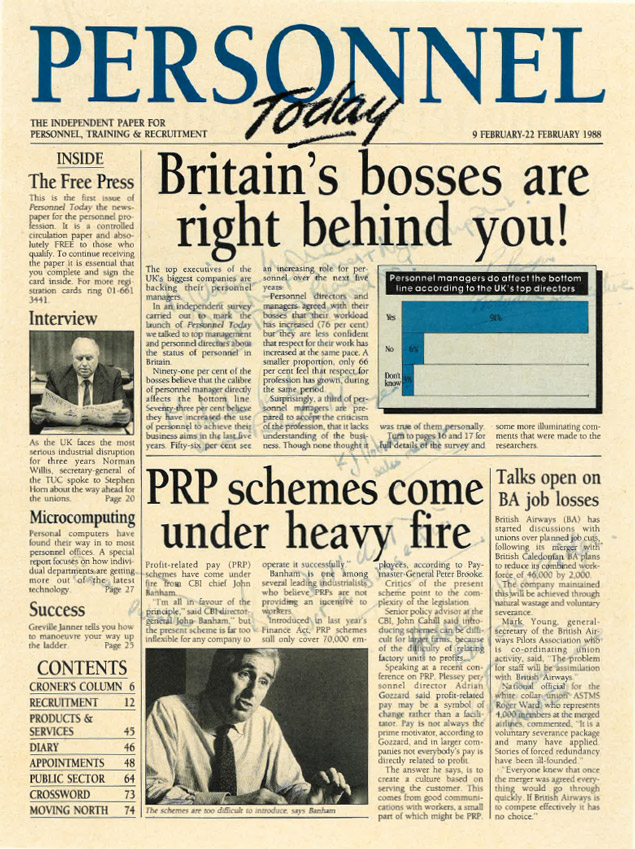 Personnel Today provides HR professionals and employers with easy-to-read, timely and relevant content, bringing them high-quality, accurate information on employment law, best HR practice and news on the labour market in the UK and beyond.
Personnel Today Jobs offers thousands of the latest HR job opportunities in the UK and beyond, and provides career advice for ambitious HR practitioners.
Personnel Today is published by DVV Media International, in a division which also includes Employee Benefits, the Forum for Expatriate Management, the RAD Awards and Whatmedia.
History of Personnel Today
Personnel Today magazine was launched in February 1988 as the "Independent Paper for Personnel, Training & Recruitment". By the 1990s it had become the UK's only weekly HR publication, covering all aspects of human resources, organisational development and talent acquisition.
Having launched personneltoday.com in 1999, in 2001 it entered into a joint venture with legal publisher Butterworth to launch XpertHR, an online HR information subscription tool now enjoyed by 40,000 HR professionals. 
The print magazine format of Personnel Today closed in 2010 as its publishers decided to focus on the website and XpertHR. Personnel Today and XpertHR went their separate ways in 2017 but the two sites still share select content one another, providing news alongside legal guidance and labour market research.
Personnel Today Awards
Launched in 1999, the Personnel Today Awards are widely regarded as the biggest and best awards for the UK HR and L&D profession. They take place at the Grosvenor House Hotel on Park Lane, London, attracting as much as 1,000 people each year.
OHW+
Personnel Today includes OHW+, a website dedicated to Occupational Health practitioners and other Wellbeing professionals. OHW+ comprises basic and premium membership offering practitioners the latest news and guidance, CPD content and an archive of articles from the former Occupational Health & Wellbeing journal.