Exclusive OHW+ Premium webinar. Watch on-demand
The occupational health professional's role has never been so critical.
Not only has the UK government finally recognised the need to help those with long-term conditions remain in work – ­­­­­­a priority that OH professionals are well-placed to support – but OH teams are also busier than ever, advising employers on how they can support people with conditions exacerbated or triggered by the Covid pandemic.
As more clinical professionals see work and health incorporated into their roles, or transition to a role in OH, it is essential they understand the fundamentals of the specialty.
Ashleigh Webber, editor of OHW+, is joined by Anne Harriss, emeritus professor of occupational health and past president of the Society of Occupational Medicine, for an educational webinar aimed at early careers occupational health practitioners and OH technicians.
The webinar covers:
How work affects health, and health affects work
OH's role in promoting public health priorities
How OH's responsibilities differ from the general practitioner's role
How risk assessments should be approached
The importance of occupational hygiene.
Watch the recording below.
About our speaker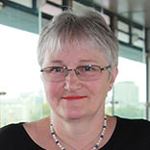 Professor Anne Harriss is emeritus professor of occupational health. Former course director at London South Bank University, she led the development of more than ten educational programmes at diploma, degree and MSc level. Anne is a past president of the Society of Occupational Medicine.