With the pandemic nearing two years, and the omicron variant meaning the NHS is under more pressure than ever, looking after the health and wellbeing of all NHS staff has never been more important. Flexible and proactive health check programmes have been one way many trusts have risen to this challenge, argues Julie Evason, and even led to one trust becoming a winner in this year's Occupational Health & Wellbeing Awards.
Despite challenging conditions and unprecedented demand, every day across the UK, NHS staff work tirelessly to improve peoples' health and wellbeing. However, with so much energy channelled into providing world-class care, the health of the health service itself can sometimes fall out of focus.
Issues surrounding the health and wellbeing of the NHS workforce are not new; they predate the pandemic. According to a 2017 report from Health Education England, over a third of NHS staff reported that they felt unwell due to work-related stress.
Issues regarding staff health have not only concerned mental wellbeing; also revealed in 2017 was the fact that, of the 1.3 million staff working in the NHS, "nearly 700,000 are estimated to be overweight or obese".
During the pandemic, many of these issues have been radically exacerbated. As the NHS England itself recently reported, "people seeking weight loss help [are] heavier than those before Covid".
Despite these challenges, numerous NHS trusts around the country have recognised such issues within their own workforce and set about prioritising investment in staff wellbeing.
This article illustrates some of this work, in particular the work of York and Scarborough Teaching Hospitals NHS Foundation Trust – a winner in this year's Occupational Health & Wellbeing Awards – with outcomes from various other similar projects also detailed.
York and Scarborough Teaching Hospitals NHS Foundation Trust (Y&S)
In 2016, Y&S's occupational health team embarked on a mission to provide innovative health and wellbeing checks to their staff.
The aim was to give employees the opportunity to learn the facts about their heart health and to offer them 'a gateway' into other support programmes relevant to their lifestyle improvement goals.
Over the past five years, numerous advancements have been made. Crucially, thanks to the tireless effort of the OH team, the health and wellbeing programme was maintained throughout the pandemic, albeit in digitally adapted forms.
Indeed, despite the global pandemic, according to the latest NHS staff survey, Y&S staff health and wellbeing scores improved significantly in 2020.
To achieve its aims, Y&S partnered with health checks digital specialists Health Diagnostics, an organisation selected by NHS England to support various trusts identified as 'vanguard' sites focused on trialling ways of improving workforce health and wellbeing.
Health Diagnostics uses data-driven approaches to provide digital tools that support every step in the 'health check pathway'. The technological solution that Y&S adopted and deployed – which led it to win this year's Best Wellbeing Initiative in the Occupational Health & Wellbeing Awards – has been well-proven to improve health outcomes, including in research undertaken by Imperial College London's Department of Primary Care and Public Health.
Y&S's health check model
Unlike many other health check programmes such as the NHS Health Check programme (available to eligible 40-74-year-olds, once every five years), Y&S's health checks have not been restricted by age or frequency.
This has meant staff have been able to attend multiple appointments, an approach that's allowed individuals to track changes in their health status over time. It's also meant that Y&S have been able to monitor the effects of the initiative by comparing results from initial consultations to later ones (see below).
The digital solution provided by Health Diagnostics for this programme guides both operator and client through motivational consultations and supports the next steps to lifestyle improvement.
Following their check, staff access their results online via their own personalised reporting portal (as shown below).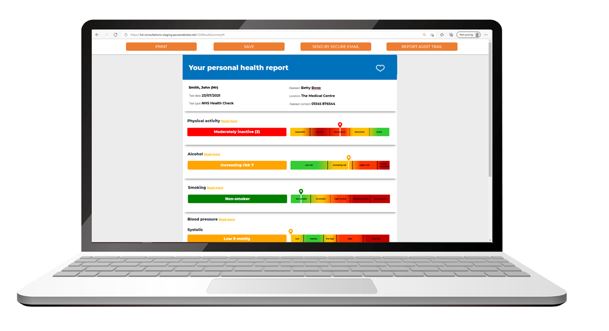 Importantly, given social distancing restrictions that defined much of 2020 and 2021, the solution was adapted to deliver health checks remotely. This enabled consultations to continue in a digital format throughout the pandemic, something well received by staff according to Rachel Marson, health promotion assistant at Y&S.
Given all the stress that the NHS is under currently, staff have really valued the time just to take stock of their own health"– Rachel Marson, health promotion assistant
"Staff have really appreciated it, particularly with the pandemic. You're much less likely to be hit badly by Covid-19 if you're looking after yourself," she says.
"Given all the stress that the NHS is under currently, staff have really valued the time just to take stock of their own health. Remote delivery has also meant that a lot of staff haven't had to travel for their consultations, which has been well received. Even remotely, people really engage with the software's visual elements and find them very useful when understanding their risk," she adds.
Both digital and hard copy promotional materials have been shared with staff. An example of a poster put together by Y&S's medical communications team to promote the programme is shown below.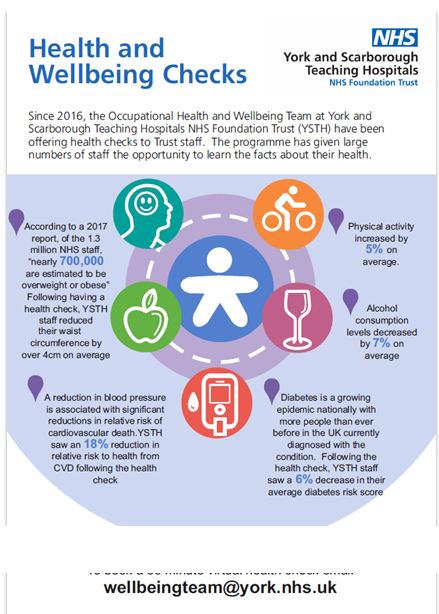 Tracking the benefits
A wide range of positive impacts have been seen. Moreover, because of Y&S's policy of offering annual checks, a variety of these improvements have been able to be tracked.
Outcomes observed amongst staff attending multiple consultations include an average 4cm reduction in waistlines.
This statistically significant 4cm figure is associated with almost a 60% reduction in the risk of developing type 2 diabetes in high-risk subjects with impaired glucose tolerance.
On top of this, Y&S saw an average 4.2mmHg reduction in systolic blood pressure. A recent systematic analysis of leading risk factors contributing to the global burden of disease has highlighted high systolic blood pressure as "the leading risk factor" for those aged 50 and above.
According to research presented to the European Society of Cardiology Congress in 2020, a 5mmHg reduction in systolic blood pressure – slightly in excess of what was seen amongst staff at Y&S – lowers "the relative risk of major cardiovascular events by 10%".
A further benefit reported was a potential 18% reduction in relative risk of death from cardiovascular disease (CVD).
Diastolic pressures improved on average by 2.2mmHg. Reductions in diastolic blood pressure of this order can have significant positive impacts on heart health. In one randomised controlled trial, drops of 2.2 mmHg in diastolic blood pressure were a key factor associated with 18% reductions in relative risk of cardiovascular death and 14% reductions in all-cause mortality.
Lowering of diabetes risk
Given the improvements to waist and blood pressure, it was perhaps no surprise that Y&S observed a 6% decrease in the average Diabetes UK risk score amongst staff.
In addition, various lifestyle risk factors for diabetes and CVD have also undergone substantial improvements:
Physical activity levels, as measured by the general practice physical activity questionnaire (GPPAQ), increased by 5% on average
Alcohol consumption levels, as measured by the Audit-C questionnaire, decreased by 7% on average.
Outcomes from other NHS OH projects
In addition to the effects seen at Y&S, Health Diagnostics has supported a variety of other NHS occupational health programmes where health checks have been provided to NHS staff. Details and results associated with some of these projects include:
Sheffield Teaching Hospitals NHS FT (STH). Due to the cost of STH's sickness absence, in April 2017, the trust chose to implement its own staff health and wellbeing programme.
During 2016/17 alone, STH was reported to have lost 233,249 total days to staff sickness absence. Ultimately, the trust's approach to supporting staff health and wellbeing proved to be a resounding success. Key headline outcomes following the programme's implementation have included:
10% reductions in sickness absence compared with 2016/17.
Fewest average number of working days lost due to sickness absence in five years.
Largest number of staff with no sickness absence in five years.
Over 1,000 consultations delivered.
Nine out of 10 staff reporting that they were 'very satisfied' with the support.
Recognition from the Care Quality Commission that the trust has a lower staff sickness absence rate "than the national median and saw improvements during 2017/18 linked to new policies introduced in April 2017".
East Sussex Healthcare NHS FT (ESH). For ESH, its staff health check programme resulted in a range of significant benefits and national recognition. Outcomes include:
64% of surveyed NHS staff referred following a health check at ESH had undertaken lifestyle change, with a further 15% intending to make a change.
An estimated seven CVD events potentially avoided at the trust over five years in consequence of staff with identified hypertension being referred to their GP for follow-up anti-hypertensive treatment.
A range of key learnings, including:
Engage with trust IT teams as early as possible to ensure systemic compatibility.
Get senior leaders at the trust on board.
Invite staff by department to save resources and boost word-of-mouth referrals.
Ensure line-managers are supportive of the programme and allow staff the time.
Use a person-centred approach; staff of all bands find the health check a valuable opportunity to reflect on their health.
Conclusions
At a time when public health is as high on the agenda as it's ever been given the pandemic, it's crucial that outcomes such as these – achieved through the hard work of the likes of the OH teams at Y&S, STH, and ESH – are registered and that prevention is appropriately invested in.
As all have shown with clarity, and has, rightly been celebrated in this year's Occupational Health & Wellbeing Awards, we cannot afford not to prioritise this work at this time as we step out from the shadow of Covid-19.
---
References
'Workforce stress and the supportive organisation: a framework for improvement through reflection, curiosity and change', Health Education England, https://www.hee.nhs.uk/sites/default/files/documents/Workforce%20stress%20and%20the%20supportive%20organisation%20-%20printer%20friendly%20version.pdf
'NHS and leading suppliers join forces to cut sugary drinks', NHS England, April 2017, https://www.england.nhs.uk/2017/04/nhs-and-leading-suppliers-join-forces-to-cut-sugary-drinks/
'People seeking NHS weight loss help heavier than those before COVID new study finds', NHS England, September 2021, https://www.england.nhs.uk/2021/09/people-seeking-nhs-weight-loss-help-heavier-than-those-before-covid-new-study-finds/
'Supporting staff health and wellbeing', NHS England, https://www.england.nhs.uk/nhsbirthday/work-well/supporting-staff-health-and-wellbeing/
Woringer M, Cecil E, Watt H et al (2017). 'Evaluation of community provision of a preventive cardiovascular programme – the National Health Service Health Check in reaching the under-served groups by primary care in England: cross sectional observational study'. BMC Health Serv Res 17, 405 (2017). Available online at: https://doi.org/10.1186/s12913-017-2346-5
Després Jean-Pierre (2014). 'Waist circumference as a vital sign in cardiology 20 years after its initial publication in the American Journal of Cardiology', Am J Cardiol 2014 Jul 15;114(2):320-3; doi: 10.1016/j.amjcard.2014.04.043; Available online at: https://pubmed.ncbi.nlm.nih.gov/24878123/
'Global burden of 87 risk factors in 204 countries and territories, 1990-2019: a systematic analysis for the Global Burden of Disease Study 2019', Global Health Metrics, vol 396, issue 10258, pp1223-1249, October 2020. Available online at: https://www.thelancet.com/journals/lancet/article/PIIS0140-6736(20)30752-2/fulltext
'Blood pressure-lowering is even more beneficial than previously thought', European Society of Cardiology, August 2020, https://www.escardio.org/The-ESC/Press-Office/Press-releases/Blood-pressure-lowering-is-even-more-beneficial-than-previously-thought
Wang J, Pimenta E, Chwallek F (2014). 'Comparative review of the blood pressure-lowering and cardiovascular benefits of telmisartan and perindopril'. Vasc Health Risk Manag. 2014;10:189-200. Available online at: https://doi.org/10.2147/VHRM.S59429
Sheffield Teaching Hospitals NHS Foundation Trust, Annual Report and Accounts, 2017-2018, https://www.sth.nhs.uk/clientfiles/File/STH%20report17-18FINAL.pdf
'Sheffield Teaching Hospitals NHS Foundation Trust: use of Resources assessment report' Care Quality Commission, November 2018, https://www.cqc.org.uk/sites/default/files/20181109%20STH%20NHS%20FT%20-%20UoR%20report%20-%20FINAL%20for%20publicationV2.pdf
'NHS Health Checks for NHS staff across East Sussex: impacts & learnings', Health Diagnostics, https://healthdiagnostics.co.uk/nhs-health-checks-for-nhs-staff-across-east-sussex-impacts-and-learnings/