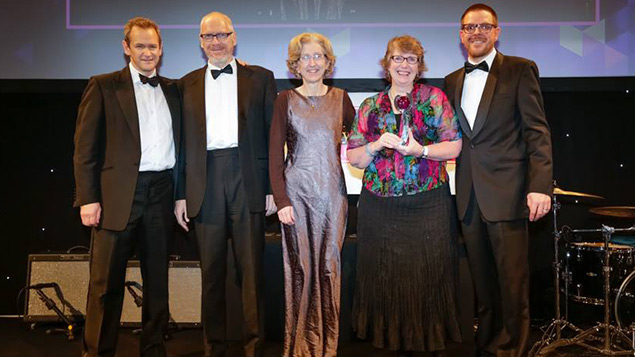 Are you curious about what your team needs to do to win at the Occupational Health Awards? The first in a new series of articles looks in detail at the submissions that led to Surrey Police (pictured above collecting their award on the night) winning the overall prize and the Award for Health Promotion and Wellbeing, and Northampton Borough Council winning the Award for Absence Management. Next month, we'll look at the winners of the Award for Innovation in OH and the OH Nurse of the Year.
Surrey Police
Overall winner and winner of the Award for Health Promotion and Wellbeing
The challenge
On 1 October 2010, Tom Winsor led the most comprehensive review of police officer pay and conditions in over 30 years to improve service for the public and maximise value for money. The Home Secretary asked Winsor to ensure that police pay and conditions, and the structures around them, are the best they could be given the challenges facing the police service – which will see forces being required to achieve more with less – while also being fair.
Winsor's first report focused on short-term reforms to encourage an efficient, effective and economical police service. It also revealed that he was looking at how to subject officers to regular fitness tests, stating that there had been a "dramatic" increase in the number of police officers who are restricted to less physically demanding duties. Although these reforms were not going to be formally implemented until late 2013, Surrey Police took the decision in 2011 to introduce mandatory annual fitness testing for all police officers up to and including the rank of chief constable commencing in January 2012.
Profile of the force
Surrey Police is a county force employing just over 4,000 employees, who are equally divided between officers and other staff. At the beginning of 2012, there were 30 "medically restricted officers". The force enjoys lower than average sickness absence rates, and in recent years has actively encouraged the recruitment of female officers, who currently comprise one-third of the total number of officers.
Fitness testing
Historically, all officers were expected to undertake a job-related fitness assessment before they were recruited. Once a recruit passed this assessment, they were not expected to retake the test at all during their police career unless they were working in specialist roles, such as those in firearms or dog handling.
The current job-related fitness assessment is a nationally validated test, which measures the individual's ability to effectively perform the prolonged activities – including foot chases, stair climbing and public order duties – that are the regulatory body's and public's expectations of a frontline police officer.
The test involves running to and fro along a 15m track, touching the leading foot on each end line in time with a series of audio bleeps. This is a progressive test; the bleeps start slowly and become faster, making it increasingly difficult to maintain the required running speed until the officer is no longer able to match the set pace.
The Surrey Police chief constable ordered that from January 2012, all Surrey police officers would be expected to undertake an annual fitness assessment (AFA)/bleep test. The force's occupational health (OH) team was assigned as one of the stakeholders in implementing the process. It was recognised that a majority of officers had not undertaken a fitness test for most of their career, a period of up to 30 years in some cases. Although it was anticipated that many were reasonably fit and would have no difficulty, there were a significant number who potentially either had a medical condition precluding them from taking the test or who lacked fitness to complete the test.
The OH team recognised that measures needed to be developed and implemented to support officers to achieve the standards required by the test. An alternative test was offered in exceptional circumstances and only on OH recommendation, which consisted of eight minutes of walking at 3.8mph with a graded incline on a treadmill.
The OH team
The OH team is a nurse-led, multidisciplinary team that includes nursing/OH advisers, a fitness adviser and a force medical officer (FMO). There is also access to psychology and physiotherapy services.
The team was involved from the early planning stages of the policy and procedures, providing direct input into the development of the medical questionnaires and referral processes, and as such were able to advise on issues such as the legal obligations around the disability provision of the Equality Act 2010.
The team consulted with the Police Federation, HR colleagues, officer safety trainer managers and senior managers during the development process. It was apparent from an early stage that some health initiatives would be required to support officers to achieve the standard, and this led to OH initiating a health promotion campaign: "Fit Force 2012". The purpose of the initiative was to address both psychological and physical factors or barriers that may preclude an officer from successfully completing the mandatory assessment.
Fit Force 2012
OH developed and implemented various strategies to encourage officers and staff to get into the spirit of the 2012 London Olympics by offering a range of health initiatives, including:
exercise classes;
individual coaching and fitness plans;
practice runs of the bleep test;
a video of the bleep test online;
lifestyle-management programmes focusing on weight management and exercise;
using external agencies to supplement the programme – the Stroke Association, for example, which took blood pressure readings, and the Police Mutual Health Bus visiting police stations;
launching a "Trim Trail";
refurbishments of gyms in the main police stations, helping to broaden officers' opportunity to work on their fitness;
smoking cessation classes; and
offering an "MOT" health screening, which included a Tanita machine, cholesterol checks and advice regarding general cardiovascular risk factors.
For the officers who were precluded from attempting the assessment for a medical reason it was important to introduce a comprehensive, standardised assessment and rehabilitation process. Where a medical or musculoskeletal issue was raised, managers referred the individual to OH. Direct referral for musculoskeletal assessment became part of the OH triage process, and the OH team worked with the local BMI Healthcare physiotherapy team to implement an assessment process. This meant that OH was able to offer physiotherapy treatment to those who required rehabilitation, with 104 officers successfully passing the assessment on completion of treatment.
OH has also assessed all "medically restricted" officers to ensure that they are fulfilling their full potential in their roles and enabling them, where possible, to attempt the bleep test.
Introducing a wellbeing hub
In order to effectively communicate its initiatives, OH developed a "wellbeing hub" accessible by a link on the force's intranet homepage. The hub is designed to provide a "one-stop shop" for health and wellbeing information for the force.
There are sections focusing on the bleep test, including a short video of the actual test and how it could be achieved, as well as OH and other health information. Links to external sites include health-related policies and the force's employee assistance provider website, as well as articles in the force's magazine.
Successful initiatives
By January 2013, 97.5% of all police officers had passed the AFA or the alternative test. This was above expectation, and the OH advisers believe they have influenced a different attitude, encouraged change in health behaviours, brought fitness into focus in every police officer's mind and, in the longer term, the team expects a reduction in health problems. Additionally, the OH initiatives have enabled more officers to be fit for frontline operational duty, fulfilling Surrey Police's commitment to its "Surrey Public First" strategy.
This project has been a whole OH team effort, with input from all levels from the administrative team to the FMO. Although there has been a cost element, the budget was kept to a realistic level. While Fit Force 2012 proved to be successful, the OH team is not complacent and recognise that its work needs to continue to maintain momentum.
---
Northampton Borough Council
Winner of the Award for Absence Management
The challenge
In 2009, Northampton Borough Council found that its sickness absence rates had increased, but had no ways to identify the reasons behind the increase.
The council's solution was to establish accurate data to measure reasons for absence. It introduced a nurse-led service that allowed it to capture all its medical and non-medical absences. Following a successful pilot study in 2009, full implementation was introduced in 2010.
What they did
The council linked managing sickness absences or work-related absences with its health, safety and wellbeing strategy. Actions included:
the establishment of a health and wellbeing group;
appointing champions in various departments, who became the point of contact for an improved attendance management culture; and
embedding new initiatives into "Team Northampton" in various departments.
Changing the approach to sickness absence
These initiatives were linked with the council's HR-based approach to managing sickness absence and health and wellbeing, which included:
implementation of an absence policy on 1 September 2009;
revision and clarification of the role of managers;
introduction of supporting toolkits, including one providing management guidance and another answering frequently asked questions;
revision of policies to replace the council's probation policy with "First Year at Work Framework", which was linked to performance-related pay;
introduction of a new appraisal system to measure reward and performance by linking it to individual attendance at work; and
production of a leaflet detailing support at work through health, wellbeing and safety interventions.
Senior management team engagement
The programme was linked with the senior management team's approach to health and wellbeing. The HR and OH teams engaged with the board and elected members (councillors), gaining their commitment to implement the health and wellbeing strategy. Senior managers and councillors actively supported a reduction in levels of sickness absence by discussing the issue as an agenda item at the monthly board and scrutiny meetings. This promoted an attendance-focused culture and commitment through visible behaviour.
A monthly absence report was introduced detailing absence levels with comparisons, return-to-work interviews, absence hotspots, causes and trends of absence for the month, a breakdown of long- and short-term absence and return-to-work compliance rates.
The council signed up to voluntary organisations such as Mindful Employers, which helps organisations raise the profile of mental health issues in their business.
Engagement with line managers and employees
Challenges, changes and the initiatives were communicated to managers at their "session" and on the managers' forum. Employees were informed via email, the council's intranet and information on noticeboards.
Bringing external providers on board
Contracts with external occupational health providers and with telephone adviceline provider CIC were reviewed, and the council shared its intention of improving the health of employees through managing absence.
A service level agreement was developed to give an easily accessible service. The council's employee assistance programme (EAP) was reviewed and realigned to create more accessible support for all.
Linking absence management and health promotion
Before the council started its initiatives, there was no link between sickness absence management and health promotion and wellbeing. The council began to deliver two campaigns per year in partnership with external organisations – such as the Daily Bread healthy food cooperative, Northamptonshire Leisure Trust, Northampton Market, local shops and the CIC – which included talks on healthy eating, physical activities, resilience and wellbeing, coping mechanisms and other topics.
It introduced a preventative approach, including offering a free winter or seasonal flu vaccination that resulted in a large reduction in that absence category.
There had previously been no real-time data for managing absence, and the information that was available was often inaccurate. The council introduced the use of a nurse-led service to capture all absences, both medical and non-medical, which serves as a deterrent for non-genuine absences. It also allows those who are genuinely ill to be given support and advice.
This change to a proactive approach led to the development of a strategy called the "wellbeing recovery action plan" (WRAP). The council switched to managing short- and long-term absence by focusing on targets for specific short-term absence categories that had been found to be the leading reasons for absence. This approach was introduced in 2012 to tackle conditions such as short-term cases of depression, anxiety, stress, injury at work and musculoskeletal problems, repeated cases of flu-like symptoms, gastrointestinal complaints and migraine.
The WRAP determines the support required by exploring the employee's lifestyle, including their diet, recreation, exercise regime, work, working environment, a self-help group, support system, spirituality, creativity, physical health, triggers and relationships at home and in the workplace. The result of this wellbeing meeting and assessment is an action plan that the employee uses as a live document to improve their lifestyle and attendance.
Return-to-work interview compliance
There had been no monitoring of those returning to work after they had completed a return-to-work interview or data on when it was completed. There is now a correlation between the actual absence performance levels and return-to-work interview completion, with regular accounting and monitoring of those returning to work.
Whereas previously the training for managers was purely policy- and process-driven, the council has now introduced a soft-skills approach for managing absence, as managers' skills in this area were identified as a weakness. Of particular focus was managers' lack of skill around having difficult conversations related to managing absence.
A presentation titled "Every Day Counts!" was delivered to all line managers and the board to highlight the situation, engage interest and promote the new development sessions.
A DVD giving a short demonstration of an effective stress-related wellbeing meeting was produced to support the process. Policy and process documents and training were made available to all through the council's online "Learning Zone" and the intranet.
Other initiatives
There had previously been no link betwen work-related absences and health and safety, and absence causes were sometimes incorrectly recorded as industrial injuries. Work-related absences now require investigation using the WRAP to provide support where necessary.
Rebranding and re-launch of the "Helping Hand", an EAP for staff and their families, led to employees feeling increasingly supported. Previously, there had been "standalone" family-friendly policies, which were not widely recognised by employees or consistently applied throughout the organisation. The family-friendly policies were rebranded as frameworks and managed under health and wellbeing, supported with management guidance and FAQs.
A triage system was also introduced via the HR helpdesk to vet referrals before submission to occupational health and this led to a reduction in the number of referred cases.
As the council is small and has limited resources, it has recently teamed up with a local government shared service and now has the potential to draw on broader experience, resources, wider training courses and support. This has resulted in the development of highly skilled managers and an increased level of capacity to manage effectively with adequate resources and a motivated workforce.