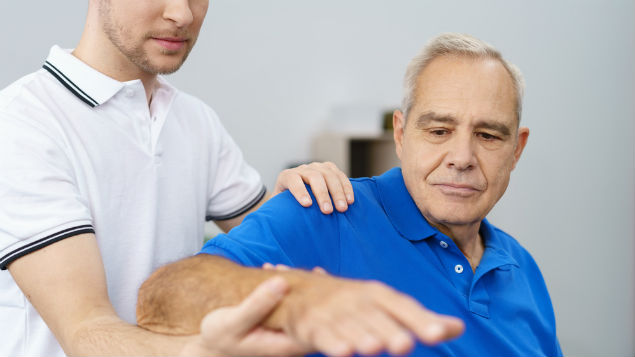 Functional capacity evaluation can be a critical part of assessing fitness for work, but it is not always well understood. Nicola Suckley, occupational health national accounts director at Connect Health, offers an up-to-date guide to the approach.
The term functional capacity evaluation (FCE) is used widely to describe methods for reporting on fitness for work. It is often misused or misunderstood. The aim of this article is to demystify the term FCE and in so doing provide an insight into the range of functional assessments that can be carried out by an occupational health physiotherapist. This article will also signpost to resources that guide and provide standardisation to the reporting of fitness for work.
OH physiotherapists often are asked to advise and provide recommendations on an employee's fitness to work. This may be through a comprehensive fitness-for-work assessment, FCE or during a clinical assessment and treatment, when the physiotherapist gives recommendations to managers to support an employee to return to work and normal function.
Fitness-for-work assessment
Functional capacity evaluation case study
Mr X is a 51-year-old white goods installation engineer and has been off work for three months with right wrist pain. He has a two-year history of pain and has recently been diagnosed as having significant degenerative changes within the wrist. An orthopaedic surgeon has ruled out intervention at this stage, but advised against handling repetitive heavy loads.
Mr X is keen to continue working as an engineer but is worried he will be unable to meet the manual handling demands of his previous role. An evaluation of his job role identifies a requirement for gripping loads of up to 40kg and repetitive use of tools such as screwdrivers and pipe cutters to install white goods in retail outlets. This role was therefore rated as heavy within the Dictionary of Occupational Titles (DOT) classification. Mr X's employers reported there are other less-demanding roles within the company, but all require a degree of manual handling and a good level of cardiovascular fitness.
Assessment included clinical examination, psychosocial screening, and three functional assessments, which were as follows:
Hand-grip strength test – to determine current ability to grip safely.
Carrying test – to determine ability to carry and grip functionally.
Chester step test – to determine cardiovascular fitness.
Outcomes of the assessment identified a limited range of movement into flexion and extension of the wrist, reduced strength in the right hand compared with the left hand, carrying ability comparable to normative data within the DOT profile for a heavy job role, but below the 30th percentile, which has been found to be less valid (Soer et al, 2009), and a below-average fitness rating.
The "Disabilities of the Arm, Shoulder and Hand (DASH)" questionnaire also indicated moderate disability with regards to arm function and being unable to complete daily tasks.
Consequently, it was determined all measures could be improved on with appropriate rehabilitation and education. Outcomes of the assessment guided the rehabilitation so that it was work specific and allowed immediate return-to-work planning.
During rehabilitation, retest of the objective measures allowed for comparison and identification of progression. When improvement in hand-grip strength plateaued and good aerobic fitness was achieved, Mr X was discharged and the OH physiotherapist was able to give an informed decision with regards to his fitness for work.
This case study provides an example of how a comprehensive assessment objectively informs the reporting on fitness for work. Job evaluation allows an OH physiotherapist to carry out an assessment relevant to the employee's job demands, and a biopsychosocial approach ensures all physical limitation and psychosocial barriers are assessed.
Standardised functional tests ensure valid and reliable outcomes to be drawn and comparison with normative data be made to understand relative performance. This allows for objective recommendation and appropriate rehabilitation, ensuring a sustained return to work.
A comprehensive fitness-for-work assessment requires an OH physiotherapist to draw on information from a range of tools that measure a person's physical, functional and psychosocial work capability. This includes the following:
Gathering background information regarding the referral.
Job evaluation, to include review of the employee's job description, job demands and task analysis.
Occupational, psychological and social screening including assessment of yellow, blue and black flags and the use of psychosocial outcome measures.
Clinical biomedical assessment.
Functional measurement tools.
Reporting requires triangulation of data (validation of data through cross-verification from two or more sources); analytical skills; and the ability to report in an informed, yet impartial, manner. All conclusions are drawn from the evidence base, and recommendations for which work readiness is identified should focus on achieving a sustained return to work and function, including phased return to work, job modification and ergonomic interventions.
The case study below provides an example of how a comprehensive fitness-for-work assessment can provide objective recommendation to help advise employers, and support an employee to make a successful and sustained return to work.
This level of assessment and analysis requires in-depth knowledge and advanced skills, particularly when dealing with complex cases that may be associated with personal injury litigation and require evidence to be provided at tribunal or for the courts.
Functional capacity evaluation
FCEs are used to obtain information on an individual's functional work capability. They can be used to inform a significant element of a fitness-for-work assessment, and can also be used independently to provide objective information for an employer or potential employer regarding the ability of an individual employee to undertake the physical demands of the job.
Soer (2008) defines a FCE as an evaluation of capacity of activities that is used to make recommendations for participation in work, while considering the person's body functions, structures, environmental factors, personal factors and health status.
The aim of a FCE is to simulate real-work tasks in which physical and functional performance can be assessed. This is known as functional testing and can be done using a standardised or non-standardised approach.
Standardised FCEs
A standardised approach typically comprises of a set of standardised tests in which the ability of a person to perform the related series of work relevant tasks is assessed. There are a number of commercially available FCE systems that involve a standardised battery of tests that the therapist undertakes over a number of hours or days with the employee.
The validity and reliability of standardised FCEs is well documented within the supporting literature, particularly in relation to commercial FCEs.
Reliability is found to be strong both in terms of inter and intra rater/assessor reliability (Reneman, 2004). However, validity can be weaker as individuals' performance in a FCE does not necessarily correlate with their ability to achieve a sustained return to work (Streibelt, 2009).
This is because determining work ability is multifactorial; therefore, it is considered that a FCE alone is unlikely to adequately measure all the factors that influence a sustainable return to work. Hence, a FCE forms only part of a fitness-for-work assessment.
The use of standardised FCE protocols can be time consuming and expensive, which makes them less adaptable in the clinical setting in which OH physiotherapists typically operate. In an attempt to make the FCE less onerous, a number of variations have been developed. These include injury-specific, work-specific and short-form FCEs. These approaches improve the usability, but are often considered limiting by an OH physiotherapist as the protocols are prescribed, reducing clinical reasoning and decision making.
Non-standardised FCEs
Non-standardised FCEs are formal assessments that consist of functional tests selected for their relevance to the employee's condition and job. They are used commonly by OH physiotherapists due to the relevance and efficiency of the tests, as the protocol is designed by the OH physiotherapist. This process allows for greater clinical reasoning and ensures the test(s) is focused on the individual, his or her health problem and the job they do. The case study shows the benefit of an OH physiotherapist selecting tests based on the job demands. The assessment and recommendations are relevant to the workplace and the rehabilitation is specific to the job requirements.
ACPOHE guidance
The Association of Chartered Physiotherapists in Occupational Health and Ergonomics (ACPOHE) recognises the importance of providing a professional and standardised approach to FCE and functional measurement. Consequently, a series of guidance documents have been published.
In 2013, ACPOHE published "Guidelines for occupational health physiotherapists on the use of functional capacity evaluation (FCE) and functional measurements for the assessment of fitness for work."
This guidance recommended that physiotherapists offering functional measurement should, where possible, use protocols that have been developed and tested for reliability and validity, and have test methods and results published in peer-reviewed journals.
ACPOHE also has provided guidance for its members on the assessment of psychosocial factors, including pain-related fear, self-efficacy and illness behaviours that have been found to have an association with functional capability for work (Nicholas, 2011). The inclusion of these measures in assessments of fitness for work and FCEs allow for reporting on other factors that may affect an individual's ability to work.
Subsequently, ACPOHE recently developed a Functional Measurement Test (FMT) Toolkit. This consists of 18 functional tests that have been critically apprised and selected based on a five-star rating corresponding to a set criteria of scientific robustness, clinical usefulness, and practicality in terms of ease of use, costs and time to undertake the tests (ACPOHE, 2016).
The FMT Toolkit provides an overall summary of each test, and outline guidance on how to conduct each functional measurement according to a standardised protocol. The tests provide physiotherapists with sufficient flexibility to select the appropriate functional tests for an individual worker's injury and the requirements of his/her job as suggested by Gouttebarge (2010).
Analysing data
Analysis of job requirements can be assessed in relation to the Dictionary of Occupational Titles (DOT) descriptions. The DOT provides a classification of job demands relating to the physical demands of an individual's role.
The assessment of a person's physical capacity via FCE can be compared to the DOT classification and interpreted in terms of the US Department of Labour physical demand level chart (USDOL, Employment and Training administration, 1991). Analysis using this method provides a means of benchmarking performance in relation to the specific physical demands of a job.
In addition, normative values based on the performance of healthy employees have been produced for FCEs. This data allows for comparison of the performance of the employee against a normative database. This improves the rigour and precision of the recommendation provided as a result of the assessment. Currently, normative data is drawn from UK, Dutch, US and Australian populations. In due course, ACPOHE hopes to produce UK normative data for all tests in its FMT Toolkit.
Functional testing in clinical practice
This uses one or more tools to measure an employee's performance in an objective standardised way. It can be used as part of the following:
Pre-employment screening, to ensure new employees or employees with health conditions are not asked to undertake work that exceeds their capability.
Return-to-work guidance, to ensure an employee's safe and sustained return to work following an injury.
Reasonable adjustment identification for employees with long-term conditions.
Base-line measurement setting for goal-centred rehabilitation plans.
Functional testing, while frequently used by OH physiotherapists who are members of ACPOHE, is not currently standard physiotherapy practice. This is unfortunate as functional testing provides greater reliability and consistency of recommendations for both fitness for work and the need for, and content of, work rehabilitation programmes.
Evidence suggests that not only do patients underestimate their own physical capability (Reneman, 2007; Asante, 2007), but clinicians can also underestimate their patient's performance (Brouwer, 2005). So, functional testing can help provide an unbiased assessment of an individual's physical capacity for work (Reneman, 2007).
The case study (see p.22) shows the outcomes of the functional assessment not only allow the physiotherapist to report fitness to work, but also to develop a relevant rehabilitation programme whereby progression can be monitored and a successful and sustained return to work achieved.
Consequently, it is necessary to raise the profile and importance of functional testing among OH colleagues not just within FCEs or fitness-for-work assessments but within routine OH practice.
There are many functional tests available for OH physiotherapists to measure physical capacity, and the selection process can be daunting for those unfamiliar with assessments such as FCE or fitness-for-work assessments. ACPOHE's FMT Toolkit can be used to assist OH physiotherapists in selecting the most appropriate functional tests and applying them in a consistent and reliable way within clinical practice. Full training for physiotherapists and other medical and relevant health professionals on the toolkit is available from ACPOHE.
Summary
Functional testing, whether used in clinical practice, as part of an FCE or within a comprehensive fitness-for-work assessment, is an essential component of an OH physiotherapist's "toolbox". It helps to inform clinical practice, provide baseline measures for rehabilitation programmes, provide objectivity when assessing functional capability, and provide advice and recommendations in relation to an individual's physical fitness for work.
Standardisation of functional testing protocols is essential to improve the validity and reliability of the assessments. All OH physiotherapists should be aware of and use the guidance and training provided by ACPOHE on FCE and fitness-for-work assessment. It is useful for medical and other allied health professionals also to be aware of these test methods and supporting guidance.
Further work is required on the ACPOHE FMT Toolkit to evaluate additional functional assessment tools and standardised protocols. The evidence base requires further research on functional tests assessing similar functional activity. This research would be useful in supporting the clinical decision-making process during test selection when assessing fitness for work.
The ACPOHE Fitness for Work Assessment Special Interest Group is also keen to develop further normative data derived from a UK healthy population, as this will support clinicians when making return-to-work recommendations and setting goals for rehabilitation programmes. Therefore, ACPOHE currently is seeking funding and academic support for this research project and would welcome partnering with other like-minded individuals in this important piece of work.
Nicola Suckley is OH national accounts director (HCPC, MCSP, ACPOHE) MSc Physiotherapy BSc (Hons) Sport Science at Connect Health, a ACPOHE Committee member, and part of the Fitness for Work Assessment Special Interest Group.
References
Asante AK, Brintnell ES and Gross DP (2007). "Functional self-efficacy beliefs influence functional capacity evaluation". Journal of Occupational Rehabilitation, vol.17, pp.73-82. DOI: 10.1007/s10926-007-9068-1.
Brouwer S, Dijkstra PU, Stewart RE, Goeken LN, Groothoff JW and Geertzen JHB, (2005). "Comparing self-report, clinical examination and functional testing in the assessment of work-related limitations in patients with chronic low back pain". Disability and Rehabilitation, vol.27(17), pp.999-1005.
Denning J (2014). "Functional capacity evaluations and psychosocial screening tools". The Association of Chartered Physiotherapists in Occupational Health and Ergonomics.
Gouttebarge V, Wind H, Kuijer PPFM, Sluiter JK and Frings-Dresen MHW (2010). "How to assess physical work-ability with functional capacity evaluation methods in a more specific and efficient way?" Work (Reading, Mass.), vol.37(1), pp.111-115. DOI:10.3233/WOR-2010-1084.
Hunter N (2014). "Guidelines for occupational health physiotherapists on the use of functional capacity evaluation and functional measurement for the assessment of fitness for work". The Association of Chartered Physiotherapists in Occupational Health and Ergonomics.
Reneman MF, Brouwer S, Meinema A, Dijkstra PU, Geertzen JHB and Groothoff JW (2004). "Test re-test reliability of the Isernhagen work systems functional capacity evaluation in health adults". Journal of Occupational Rehabilitation, vol.14(4), pp.295-305.
Reneman MF, Schiphorts Preuper HR, Kleen M, Geertzen JHB and Dijkstra PU (2007). "Are pain intensity and pain related fear related to functional capacity evaluation performances of patients with chronic low back pain?" Journal of Occupational Rehabilitation, vol.17(2), pp.247-258.
Soer R, Groothoff JW, Geertzen JHB, Van der Schans CP, Reesink DD and Reneman ME (2008). "Pain response of healthy workers following a functional capacity evaluation and implications for clinical interpretation". Journal of Occupational Rehabilitation, vol.18(3), pp.290-298.
Streibelt M, Blune C, Thren K, Reneman MF, and Mueller-Fahrnow W (2009). "Value of functional capacity evaluation information in a clinical setting for predicting return to work". Archives of Physical Medicine and Rehabilitation, vol.90(3), pp.429-434.
Smyth G, Albert C and Suckley N (2016). "Guidelines for occupational health physiotherapists on the use of the ACPOHE functional work assessment toolkit". Association of Charter Physiotherapists in Occupational Health and Ergonomics.
U.S Department of Labour (1991). "Dictionary of Occupational Titles". Employment and Training administration.