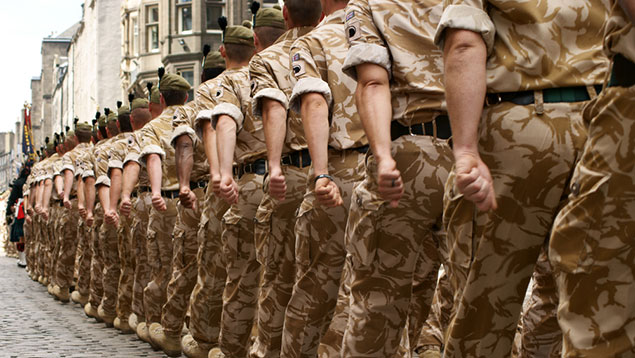 Moving back into civilian life after time spent in the armed forces can be a huge shock. Peter Gray and Nick Wood take an in-depth look at a course that can help occupational health professionals understand the unique challenges that veterans are facing.
Resettlement, as the military terms the move back to civilian life, is characterised by a large number of significant life changes.
The success of the Armed forces covenant, "which outlines the moral obligation between the nation, the Government and the armed forces" and the Armed forces community covenant, which specifically aims to encourage local communities to engage in activity to support the armed forces locally, is leading to an increasing recognition of the need to develop effective approaches to meeting the health and social care requirements of people leaving military service.
As more organisations across both the public and private sectors begin to recognise the specific needs of our military veterans, there is a growing need for a sound understanding of the challenges faced by veterans and the opportunities to disseminate good practice in service provision. Occupational health (OH) and HR professionals can support former military personnel by developing awareness of their specific needs and also of the services available to help them make the transition to civilian life.
Awareness-raising programme
During the last year, at the suggestion of Health Education Yorkshire and the Humber, the Faculty of Health and Life Sciences at York St John University developed a one-day awareness-raising programme for health and social care professionals who are working with military veterans. So far, 125 staff from a wide range of community support services have attended the Veterans Awareness CPD training course, with a further 70 staff to be trained by the end of February 2014. The course content is based on the premise that the majority of veterans do not require any specialist interventions (Iverson et al, 2005), but that they could benefit greatly from a more informed approach from those responsible for meeting their generic health, social care and employment needs.
Comments from Veterans Awareness CPD participants
"Excellent presentation of information and handouts to enable me to liaise with others for advice and support."
"Very insightful, and interaction between participants was very powerful."
"Presenter was very knowledgeable and supportive."
The programme aims to enable teams that work with veterans to engage with and effectively incorporate into their own services the growing range of specialised support, focused interventions and dedicated resources available to veterans.
Programme leader Nick Wood – whose contribution to staff development has already been recognised through the award of the Butler Trust HRH Princess Royal Award in 2010 for his work developing the Veterans In Custody support model – makes certain that by the end of the day participants leave with a greater understanding of a wide range of issues affecting veterans.
The programme has already received positive feedback from people working at all levels in OH, those working in the Improving Access to Psychological Therapies (IAPT) programme, and substance misuse and criminal justice teams, as well as ex-service personnel charities and local authorities. Positive feedback received from course participants suggests the programme achieves a good balance of interaction, challenge and information given during the day.
Clear need for education
After six months of delivering the programme, the need for basic education – even among those with lead responsibility for veterans within their own organisations – has become apparent. The current definition of a veteran is: "Anyone who has served for a least one day in Her Majesty's Armed Forces (Regular of Reserve) or Merchant Navy Seafarers and Fishermen who served in a vessel at a time when it was operated to facilitate military operation by HM Armed Forces" (Department of Health, 2008).
This may well be recognised, but it is clear that many organisations have not yet taken the opportunity to reflect and act on the implications of meeting the needs of an estimated 4.5 million veterans in the UK. The multi-agency approach, used to answer questions that arise when participants reflect on their own working practices, promotes discussion between people working in healthcare, social care, employment and welfare organisations in the statutory, commercial and not-for-profit sectors.
The Howard League's publication Leaving forces life: The issue of transition states: "Military service is a unique form of employment and way of life, engendering a strong culture and camaraderie among personnel, which for some may have a lasting impact even after they have returned to civilian life." Course participants' exploration of the differences that exist between the prevailing cultures of the armed services and those in civilian life allows them to start to understand the issues facing ex-service personnel as they reintegrate into civilian life, and enables them to associate with some of the barriers to transition that service leavers may experience.
Barriers to reintegration
Discussion and debate around the army's values and standards provides an insight into the mindset of veterans. A review of case stories leads many course participants to comment on how they had never realised the effect of living in an environment in which survival is dependent on courage, discipline, respect for others, integrity, loyalty and selfless commitment. This experience continues to drive the thoughts and behaviours of both regular and reserve military personnel long after demobilisation.
The CPD programme introduces workers to the wide range of support services that can be mobilised once an individual has left military service. Many ex-service personnel are not aware of the range of additional resources that they are entitled to, and are not always forthcoming in offering information on their military service when talking to health and social care professionals. Based on his experience in the criminal justice sector, Wood encourages those working in the health and social care sectors to always ask new clients if they or any member of their families have ever served in the armed forces in order to establish whether or not the person could access these additional services.
How the Veterans Awareness CPD course works
A supportive yet challenging learning environment is created on the course by blending different media and learning formats such as short films, PowerPoint slides, interactive group discussion, information sharing and encouraging reflection through questions, observations and concerns as they arise. The interactive and inclusive approach to this CPD activity has been well received by all participants, with many commenting that they believe that while supporting material made available online is valuable, the face-to-face contact offered by the course is invaluable for developing an understanding of the complex issues raised.
One tactic that has proved to be very useful for participants struggling to understand the culture gap that exists between military and civilian life is to take a timeline approach that follows a young person from the day that he/she first joins the armed forces all the way through to the experience of discharge, transition and life as a civilian after leaving the armed forces. This timeline enables the group to follow the distinctive events that a person may experience during their military career and to explore how those events may influence an individual's mindset and impact on their readjustment to civilian life.
By using this approach, the course participants are encouraged to identify strategies to enable successful transition to civilian life and to facilitate access to civilian support services for those veterans who are faced with challenges arising from their experiences while serving in the military or the circumstances surrounding their discharge.
Before the end of the day, course participants are taken through a comprehensive support guide and a contact information sheet that is provided for future reference. The support guide gives more details of organisations such as:
The Royal British Legion and SSAFA, which provide support and advice related to:

help around the home;
armed forces compensation and pensions;
care home provision;
returning to civilian life;
retraining and vocation skills through CivvyStreet;
homelessness;
respite and family breaks;
financial advice; and
support for dependants.

Combat Stress, a mental health charity focusing on veterans, provides:

a 24-hour helpline;
community outreach support; and
the possibility of treatment at one of its three residential centres in Ayrshire, Shropshire and Surrey.

Specialist NHS and Ministry of Defence provision, including information about:

Department of Health priority healthcare guidance;
GP guidance and e-learning;
Big White Wall, an online anonymous support service;
the veterans and reservists mental health programme at Chilwell;
specialist prosthetic centres;
veterans outreach services;
the career transition programme;
the Ministry of Defence learning credits scheme; and
Participants are also encouraged to consider how their organisation can appear more "veteran friendly", through ensuring that their publicity clearly demonstrates commitment to meeting veterans' needs and that the frontline staff responsible for first point of contact are giving out supportive messages.
Better evidence base needed
In developing this programme, it has become obvious that there is little by way of an evidence base to inform the majority of interventions. Many health and social care providers do not even elicit information from their clients as to whether or not they have connections with the military, let alone record it in a way that would support future evaluation. The Veterans Awareness CPD programme stresses the importance of identifying this client group at the earliest opportunity, asking the question and collecting data to underpin evaluation of the effectiveness of interventions.
The York St John University will continue to work with Wood to build on the success of the programme, with the aim of providing a comprehensive training package suitable for all levels of professional clinical staff within the NHS.
References
Iverson A et al (2005). "Goodbye and good luck: Mental health needs and treatment experiences of British ex-service personnel". British Journal of Psychiatry; vol.186, pp.480-486.
The Howard League (2011). Leaving forces life: The issue of transition.
Department of Health (2008). Meeting the healthcare needs of armed forces personnel, teir families and veterans.
Ministry of Defence (2013). Armed forces covenant.