Workers will be able to return to offices after 19 July, the Prime Minister has confirmed, but employers may face resistance from staff who are worried about rising Covid-19 infection rates, have caring responsibilities, or who have enjoyed home working.
Yesterday evening, Boris Johnson confirmed that all remaining Covid-19 restrictions including working from home guidance will be removed on so-called "freedom day".
If someone just doesn't want to come back because they like that they don't commute and love that they can just work in their pyjamas then an employer could take disciplinary action and potentially dismiss them" – Tracey Hudson, the HR Dept
Although the news is likely to be welcomed by business groups such as the CBI and London First, who have pushed for the government to encourage staff back to offices in order to get towns and cities "buzzing" again, employers could face significant resistance from employees who are asked to return.
Workday and Yonder Consulting research found that 56% of employees felt they were more productive while working from home and 53% were less stressed, while Benenden Health found 6% have a significant fear about returning to the office at this stage of the pandemic.
Nevertheless, 62% of business owners and directors intend to ask home workers to return to the physical workplace even if employees feel uncomfortable doing so, according to Benenden Health's survey.
Kate Palmer, director of HR advice at Peninsula UK,  advised organisations to determine why employees are reluctant to return to the office and have a conversation with them bearing in mind their circumstances, government advice and business needs.
"It comes as no surprise that employers may face a situation where employees refuse to return to the office after 18 months of working from home," Palmer said.
"Employers should be careful not to force staff to return to the workplace as this could lead to a decline in staff retention and/or morale or even cases of automatic unfair dismissal if health and safety issues are raised and found to be unlawfully practised in the workplace.
"But if staff are still reluctant to return to the workplace for non-health-related reasons, disciplinary action might be your only option, provided homeworking was clearly implemented on a temporary basis in the first place."
Without government guidance around what to do if an employee refuses to return to the office, employers could face legal and moral dilemmas, said Fiona Mendel, a senior associate at law firm Seddons.
"This has the potential of becoming an employment ticking time-bomb in terms of the employer / employee relationship," she said. "Businesses may decide, in the absence of any clarity from the government, to take the 'wait and see' approach and continue to allow staff to work flexibility or create a hybrid model of working which acts as a compromise for both businesses and its staff. However, this in itself poses its own legal challenges: employees may be able to claim, through custom and practice they have an implied contractual right to remain working in the way they have which then becomes difficult for employers to reverse in the future should the needs of the business change.
"Consequently businesses need to act swiftly and sensitively to escape the legal pitfalls this pandemic may have inevitably created."
Consider reasons for reluctance
Some of the reasons why employees may be reluctant to return could include health worries, particularly from those who have had to shield during the pandemic; caring responsibilities; pregnancy; and those "taking advantage" of the situation because they just like being at home, said Tracey Hudson, executive director at the HR Dept.
Return to the office
"If someone just doesn't want to come back because they like that they don't commute and love that they can just work in their pyjamas then an employer could take disciplinary action and potentially dismiss them," she said. "However, if there is a legitimate reason for not wanting to return to the workplace such as anxiety, childcare, ill health etc, then there are legal implications to consider before forcing a return."
For the clinically vulnerable or pregnant employees, HR should have conversations and conduct risk assessments to determine what measures could be put in place to ensure they feel safe and supported at work.
"Rather than asking people to come back to the office five days per week, you may want to build this time up for those who are genuinely suffering with anxiety," said Hudson. "Maybe they come in for half days or a couple of days a week to start off with and build up from there. When someone is incredibly worried about being in a particular situation, just being there can be exhausting, physically and emotionally, so a build up to the return to normal could be helpful here."
To avoid disability discrimination where an employee has a protected characteristic under the Equality Act 2010, organisations should work with occupational health teams to consider whether reasonable adjustments are needed.
Inclusive leadership for the future of work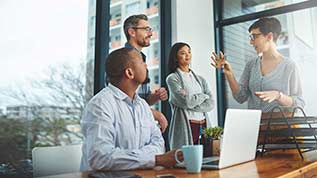 8 July 2021 – Register now | Live webinar examining what hybrid working means for leadership and inclusion, and how employers can prepare staff and managers.
Sex discrimination claims could also arise – particularly if women, who tend to take on the majority of caring responsibilities, feel unable to return to the office because of these commitments, said Hudson.
Wonu Sanda, senior associate at CM Murray, said that whistleblowing claims could arise where an employee is subjected to a detriment or dismissed for raising health and safety concerns.
"Where the employee reasonably considers that if they return to their office they (or others) would be in serious and imminent danger which cannot be reasonably averted, then they have a statutory right not to be subjected to detriment or dismissal for refusing to do so," added Sanda.
19 July should not mean mass return
CIPD chief executive Peter Cheese said Johnson's announcement should not signal a mass return to the office. Instead, it should represent "the start of greater freedom and flexibility in how, when and where people work".
"It should be down to individual organisations, consulting with their people, to agree working arrangements after the end of restrictions," said Cheese.
"Businesses shouldn't rush to simply revert to how they used to work now we have experience and evidence that it can be done differently, and with positive impacts on employee health and wellbeing, inclusion and productivity.
"People generally want a mix of workplace and home working, and the possibility of more choice in their working routines, meaning hybrid working can provide an effective balance for many workers. Employers should be trying to understand and support individuals' preferences over more flexible working arrangements where possible, balanced with meeting the needs of the business."
David Jepps, an employment partner at Keystone Law, said employers could see a surge in flexible working requests now that plans for reopening offices are more concrete.
"While a number of employers have already announced hybrid working policies, employers who have yet to make such announcements must reasonably consider any requests. Employers can reject requests on defined grounds – but this is likely to prove difficult if the employees can show that they have been able to work successfully out of the office for the last year," said Jepps.
Employers can reject requests on defined grounds – but this is likely to prove difficult if the employees can show that they have been able to work successfully out of the office for the last year" – David Jepps, Keystone Law
Covid-19 safety
With Covid-19 infections on the rise, and the government admitting they are projected to increase even further after 19 July, employers should update their workplace risks assessments and listen to the views of staff.
Wearing a face mask is set to become a personal choice, with Boris Johnson and chief medical officer Professor Chris Whitty urging the public to exercise a degree of personal responsibility and judgement to consider when and where a face covering should be worn.
"Employers may think it is appropriate to maintain mask wearing and social distancing in their workplaces, irrespective of government policies and be seen to do so in risk assessments," said Jepps.
"This is important to allay concerns and manage risks, particularly to those that may be clinically vulnerable. It will also demonstrate that employers are observing their duty of care, which will be fundamental to minimise their legal and reputational risks."
HR Director opportunities on Personnel Today