Last year comedian Matt Lucas received millions of hits with his sketch mocking Prime Minister Boris Johnson's Covid lockdown instructions.
Lucas said: "So we are saying don't go to work, go to work, don't take public transport, go to work, don't go to work."
The past 24 hours may have seen the Little Britain star considering a reprise of his social media hit, with office parties as the subject.
The rise of the Omicron variant of Covid-19 and the UK's high infection rates are hanging over the country's festive celebrations with one government department – the Department for Business, Energy and Industrial Strategy – having cancelled its Christmas party and a minister warning against "snogging under the mistletoe", days after Johnson said companies should carry on with festivities as normal.
George Freeman, the business minister, said companies should reconsider holding large parties for hundreds of staff as he revealed his department would not be holding its own function. He told businesses to consider whether holding large events was "sensible".
As for government advice on office parties, Freeman told Radio 4: "For many small businesses, four of five staff who are working together every day anyway, gathering to have a drink isn't a big step up in risk.
"But some companies might normally bring hundreds of people around the world to a big party and they may decide this year, is that sensible given the pandemic and given where we are?"
Meanwhile, Johnson commented, as daily cases passed 50,000 for the first time in months, that "People shouldn't be cancelling things…there's no need for that at all."
Work and pensions secretary Thérèse Coffey had the previous evening advised people not to kiss colleagues "under the mistletoe" or at least "ones they don't know". Perhaps Lucas should consider a "kiss strangers/don't kiss strangers" theme for a sequel.
The muddled messages have seen businesses and employees left in a quandary. Venues have been booked and arrangements made but how can employers realistically keep people safe in the circumstances, beyond trivial measures such as asking people to wear masks when they stand up to visit the loo, and sit a bit further apart? And with the merest sniffle prompting anxiety and last-minute no-shows, there's a risk the event could prove more of a morale downer than a booster.
So many organisations have problems because of confirmation bias… no one wants to be the outlier and challenge status quo" – Sarah-Jane Last, Work Psychologists
As for employees themselves, there's another issue. Many may feel relatively gung-ho and determined to party, given they have probably been keeping their powder dry for months, but others could feel they are having to attend in order to comply.
Sarah-Jane Last, founder of the Work Psychologists, tells Personnel Today that businesses should be allowing employees to express their feelings about office parties this year anonymously.
She says there is pressure on people to say they want to attend parties when really they'd rather not, in the circumstances.
"It's classic in-group, out-group behaviour. If people don't feel psychologically safe they are not going to express their views clearly. Extroverts will state their view and the others will conform. So many organisations have problems because of confirmation bias… no one wants to be the outlier and challenge status quo."
Boris's bash
For Sarah-Jane Last, revelations that Boris Johnson hosted a number of parties last Christmas in apparent clear breach of lockdown rules, muddy the water even further. "Leaders are supposed to set an example," she says .
On 18 December 2020 40 people are said to have attended a bash in Downing Street, where staff drank and celebrated late into the night despite rules stating households should not mix indoors. Adam Wagner, visiting professor of law at Goldsmiths University of London who has analysed Covid laws, said organisers of such an event could have faced a £10,000 fine while attendees could have been fined £200.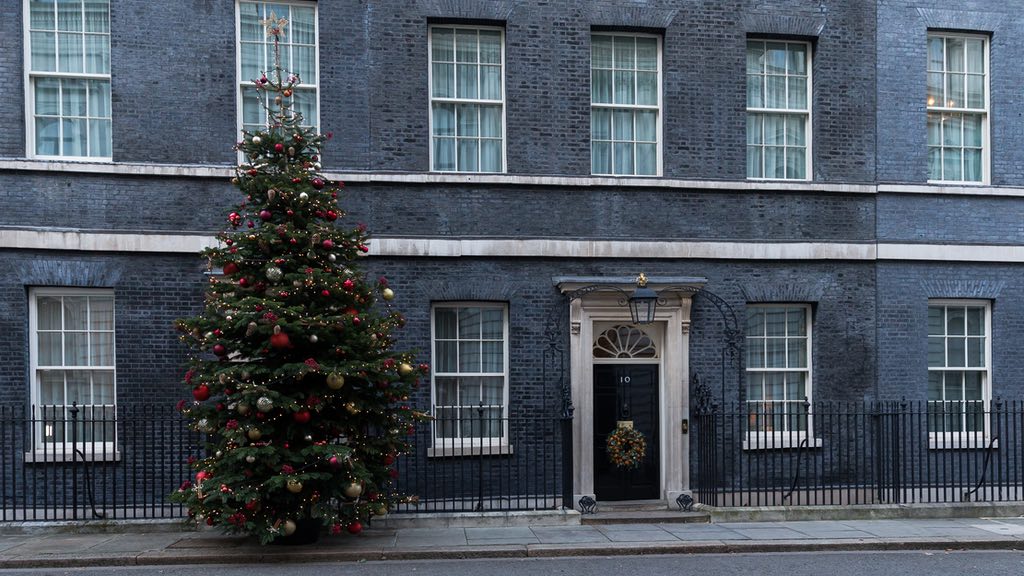 "At the time, anyone who held, or was involved in the holding of an illegal gathering over 30 people indoors would potentially have committed a criminal offence. They could be charged or given a £10,000 fixed penalty notice," Wagner said.
Up to £200,000 worth of fines were levied against university students holding parties between the start of the academic year in autumn 2020 and last Christmas.
What we are seeing our clients doing and other people [doing], the answer is they are … cancelling" – Martin Sorrell, S4 Capital
Advertising guru Sir Martin Sorrell, founder of WPP and executive chairman of S4 Capital, said this week that clients were cancelling Christmas events in response to Omicron.
"What we are seeing our clients doing and other people [doing], the answer is they are … cancelling," Sorrell told Radio 4. "There has been quite a sharp series of cancellations since this happened just three, four, five days ago."
He said government and medical guidance were contradictory and added: "The guidance we are getting both from the government and the medical community is contradictory. The uncertainty is extreme. To be a little bit sympathetic to the government, it is an extremely difficult situation. But we have been through this before with [the] Delta and the previous variants, so you would have thought the government would have been a little bit more prepared for what may or may not happen in terms of scenario planning."
Human Christmas trees and compliments tunnels
It all adds up to more bad news for the hospitality and events sectors but party organisers, who are nothing if not resilient, are still pitching highly creative ideas for company bashes. One that took Personnel Today's fancy was to choose one person to be a "human Christmas tree". The rest of the group then have one minute to transform them into a Christmas tree using wrapping paper, tape, decorations and whatever else they can find. "Imagination wins" says the blurb. Then there is the "paper airplane game" in which each person is asked to write an interesting fact about themselves on a piece of paper and fold it into an airplane. "Everyone launches theirs into the air, and as people retrieve them they guess whose airplane they have."
In Canada, the Pop!Events Group is promoting "drive thru" Christmas events as it searches for party formulas that can accommodate virus safety concerns; presumably a drive thru event would please Thérèse Coffey as it would be unlikely to encourage strangers or colleagues to kiss under the mistletoe (unless already in the car).
In the latest episode of the HBO hit show Succession, a no-expense-spared birthday party is held by one of the main protagonists, Kendall. It features a "compliments tunnel" which guests walk through while people hiding behind foliage pop their heads out to issue pleasantries: "You are so full of grace" was one compliment – met with "What a weird thing to say".
As outlandish and absurd as the compliment tunnel appears, perhaps every employee will be feeling the need for a stroll through one by the New Year.
Latest HR job opportunities on Personnel Today

Browse more human resources jobs