This autumn's HGV driver shortages have led to a long-overdue discussion about the need to improve pay and working conditions within the haulage industry. Improving mental and and physical health also needs to be an important part of this conversation, argues Emily Pearson.
We've all read about the recruitment crisis within the haulage sector that is exacerbating the global supply chain crunch. This has already generated headlines as a bewildering array of products becomes unavailable, in turn causing uncertainty and leading to panic-buying as seen on petrol forecourts.
The Road Haulage Association's estimate of a 100,000 HGV driver shortage in the UK is sparking speculation that Christmas and other demand pinch-points on the horizon are going to precipitate product shortages and rationing of previously reliable supply chains. This, combined with soaring energy prices, has sparked fears we might be on the cusp of a winter unlike anything since the 'winter of discontent' of 1978/79.
The UK government has attempted to address the driver shortages by loosening visa restrictions for EU nationals with HGV licences and encouraging hauliers to boost salary and benefits in a two-pronged strategy designed to entice people from abroad and from other sectors to fill the recruitment gap.
Unfortunately this does not take into account another key challenge at the centre of the driver shortage: namely working conditions that currently don't support the health and wellbeing of HGV drivers.
A recent survey by Haulage Exchange found that 50% of logistics companies have seen an increase in employee stress, anxiety and other mental health problems.
Just as worrying, research has suggested 30% of self-reported work-related illness in the transport and logistics industry is down to stress, depression and anxiety.
If anything, our feedback from the industry is that these figures are under-reporting the scale of the problem. Many more workers in the industry are experiencing distress and poor mental health and yet may not able to access the support they need.
HGV driving is one of the most regulated and dangerous jobs you can do. The MTRU (Metropolitan Transport Research Unit) reported in 2018 that HGVs are much more likely to be involved in fatal road traffic accidents than other vehicles. This is not only because of the size and weight of the vehicle, it can also be attributed to driver's wellbeing.
How so? First, there are the physical demands of the job, such as long hours and poor sleep. Second, many truckers may be unable to access showers after a day's work and even access to toilets has become an issue, something amplified during the pandemic lockdowns. There can be the stress associated with navigating a large vehicle through traffic congestion and other road users.
On top of this, there is a prevailing culture within many haulage workplaces that fails to adequately support their driving workforce, leading to loss of morale, low self-worth and poor mental health.
In my view, transformational change is needed for the industry so that the employee experience is at the heart of a new culture. Positive employee experience has a direct impact on business success. Employees who feel cared about, invested in and collaborated with, return this positive energy in the way they work, and this behaviour change impacts on the company culture.
Five ways to embed good mental health
So, what is the answer? The haulage industry needs to learn from sectors and employers that have woken up to and recognised the commercial advantages of a mentally healthy workforce. I'd also suggest the industry – perhaps using the help, expertise and leadership of occupational health professionals – needs to begin drawing up a strategic plan to support genuine culture change.
This change needs to be about employers doing more than just talking a good talk or announcing initiatives, even though that can be a positive first step; it has to be about action and commitment that is meaningful and sustained.
Haulage needs to become an industry where mental health and wellbeing is not brushed under the dashboard, ignored or even stigmatised, but where it is seen as a central duty of care. Where good mental health is also seen as something that will bring with it commercial and competitive advantage, especially (given the current recruitment shortages) if firms want to retain and value their drivers.
After all, all drivers and employees deserve to be treated with dignity and respect and to work within a mutually supportive framework that places their wellbeing at the heart of everything.
Here, then, are five ways I'd suggest industry could bring mental health firmly on to the agenda and embed genuine change.
1) Better leadership. Leading from the top with a strategy that includes providing stress prevention and management programmes.
2) Better on-the-road support. Access whilst on the road to resources including mental health awareness support and advice, self-help materials and 24/7 employee assistance.
3) Better line and depot manager training. Providing managers and leaders with the tools and capabilities to deliver regular check-ins to understand how drivers are and see if someone needs some more help.
4) A psychologically safe, more transparent environment. Hauliers need to be working to create a psychologically safe environment where workers feel confident enough to speak openly about their mental health without fear of stigma and discrimination.
5) Better working conditions as well as more cash. To offer more money yet not address the working conditions and culture will be seen only as a token gesture by many drivers. Working hours, rest-stops, access to toilets, better food and diet and so on all need to become part of a reformed industry.
---
'I've been in situations where 60 drivers are packed into an uncomfortably small area and not allowed a break'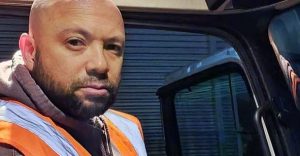 Hagen Francis, 39, was born in Zimbabwe joined the British Army in 2005. He was swiftly promoted to lance corporal serving in the Transport Royal Logistics Corps until 2014, when he entered the road haulage and logistics industry. He is now based in the north east of England. He has worked both as a contractor for a number of organisations and is currently undertaking HGV agency work.
"The system needs to be updated; this does not just include the recent pay rises we have seen as a result of the driver recruitment crisis but a complete overhaul in approach. Your average driver is responsible for a large vehicle with valuable goods and the economy will not work without this crucial link.
"Factory workers make goods, white-collar workers provide services and farmers grow produce. But without the drivers nothing functions. This is often not recognised by the haulage sector.
"It's not just about money but working conditions and respect. Drivers are an integral part of the economy but employers consistently fail to recognise this. At the end of a long haul, drivers need to be provided with facilities that allow them to rest and recuperate, decompress from the strains and stresses.
"Instead I've been in situations where 60 drivers are packed into an uncomfortably small area, not allowed a break and provided with no welfare management at all.
"I have considered leaving the industry entirely and I would think there are many others in my position who feel the same way. If you don't attract and keep the right people then as an industry this is not sustainable."
---
'There have been two suicides, a succession of individuals with addiction issues and evidence of widespread stress and anxiety'
Sue Alty is an experienced HR and training professional and is an expert at supply chain consultancy The Chrysalis Crew.
She has 12 years' experience of the haulage and logistics sector working for a major supermarket brand; this includes nine years delivering HR and training solutions.
"My experience has shown me that the haulage and logistics sector is tough. Historically it's not geared to accommodate the wellbeing of the drivers within it, lagging behind other sectors," she says.
"Mental health is not part of the lexicon and the industry also doesn't generally attract enough women into the driver workforce.
"There won't be significant progress until there is renewed focus on working conditions and this leads to action. In my experience, shockingly, there have been two suicides, a succession of individuals with addiction issues and evidence of widespread stress and anxiety. The logistics warehouse hubs are not built to allow natural light or take human wellbeing into account in the design at all.
"During the changeovers after long hauls there is no thought for quiet rest. I experienced it myself on several occasions accompanying drivers often on stressful journeys with difficult, noisy changeovers. There was no room for down-time and no acknowledgement that these were human beings who needed support.
"Until these fundamentals in basic working practices are addressed nothing will change. However, it is amazing what can be achieved by listening and applying significant small changes to actually make a real difference: things like an area to rest, a proper debrief and opportunity to highlight issues encountered on the journey and a real interest in the mental wellbeing of the drivers."
---
References
'The 2021 Post-Brexit Hauliers Survey', Haulage Exchange, July 2021, https://haulageexchange.co.uk/blog/the-2021-post-brexit-hauliers-survey/
'Supporting the mental health of HGV drivers', LGV Training News, January 2021, https://www.thelgvtrainingcompany.co.uk/supporting-the-mental-health-of-hgv-drivers/
'HGV fatal collision rates' MTRU Campaign for Better Transport, 2017, https://bettertransport.org.uk/sites/default/files/pdfs/26.11.17%20Fatal%20HGV%20collision%20rates%20ten%20year%20tables.pdf