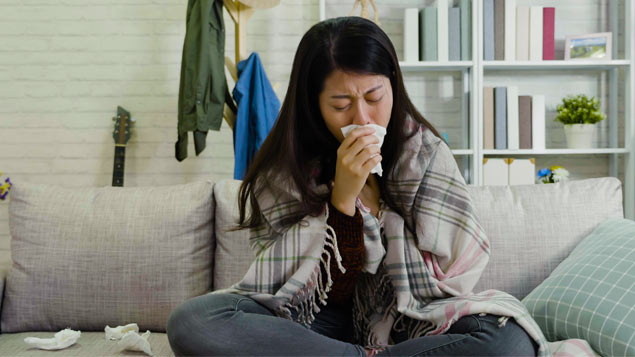 Employees lost an average of 4.4 working days in 2018 because of sickness or injury, according to the latest official statistics.
The figures, published by the Office for National Statistics, revealed the total number of days lost to sickness absence increased by 7% between 2017 and 2018. Last year 141.4 million sick days were taken compared with 131.5 million in 2017, when the figure reached its lowest since records began.
The average number of sick days per employee increased only marginally from 4.1 days in 2017.
The four most common reasons for sickness absence in 2018 were minor illnesses such as coughs and colds (responsible for 27.2% of days lost); musculoskeletal problems (19.7%); "other" reasons including accidents, diabetes, infectious diseases and poisonings (13.7%) and mental health conditions including stress, anxiety and depression (12.4%).
Matt Weston, managing director at recruitment consultancy Robert Half UK, commented: "As today is Stress Awareness Day, the latest figures from the ONS on sickness and absence provide a key insight into the wellbeing of the UK workforce and the potential for presenteeism instead of productivity and engagement at work.
"There are positive steps that companies can take to reduce the burden of employee burnout and stress in the workplace. Building a work environment where employees feel valued and creating a culture where employee happiness is championed is a key first step."
Paul Avis, marketing director at Canada Life Group Insurance, said the increase in the average number of sick days taken per employee "hopefully signified that employees are starting to realise the importance of taking the time to rest and recover from illness".
"Presenteeism is entrenched in our society, costing us up to £26bn a year, and the explosion of workplace technology means the need to be 'always on' can have serious repercussions on the health and productivity of UK employees," he said.
"Our research shows nine in ten workers have gone into work while ill, with hours spent doing poor quality work while also running the risk of spreading illness to other workers."
The sickness absence rate was higher for women (2.5% of working hours) than men (1.6% of working hours). However, men were more likely to take time off for a musculoskeletal problem or minor illness than women.
When comparing reasons given for sickness absence in the public sector and private sector, mental health conditions were reported more frequently in the public sector (10.2% absences compared with 8.1% of absences in the private sector).
Workers in caring, leisure and other service occupations had the highest sickness absence rate at 2.9% in 2018. In contrast, those in managerial and senior roles had the lowest sickness absence rate at 1.3%.