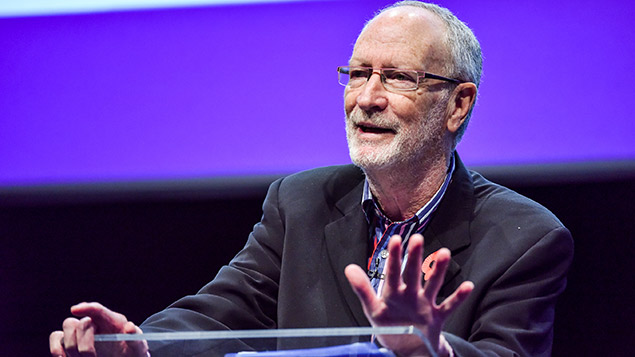 Thousands of HR professionals travelled to the CIPD's Annual Conference and Exhibition last week. The event focused on future HR and its impact on organisations, but for those who did not make it to Manchester, Martin Couzins provides 11 take-aways from the event.
1. Business is at an inflexion point
Kicking off this year's conference, CIPD chief executive Peter Cheese told delegates that the forces of change – political, economic and technological – are changing the nature of the jobs people do.
This is creating an inflexion point for organisations around what is expected of people at work and the types of skills that are needed. HR has to respond to this challenge by focusing on the principles that drive good business.
"We need to shift from a short- to long-term business perspective, from accounting to accountability," Cheese said.
Ethics are the way forward. HR needs to raise its game by exploring what it means to be an HR professional and putting ethics at the heart of business. "HR have been the cobbler's children – we now need to invest in ourselves."
Cheese, below, said that HR must look at behavioural science and understand the scientific evidence of how people work best. From this evidence, the profession must create adaptive practice, rather than best practice.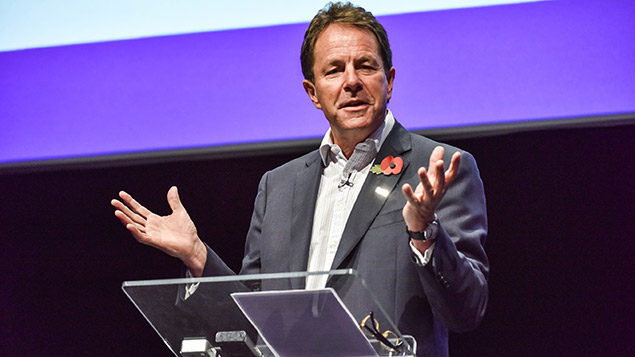 2. Wellbeing is key for knowledge-based industry
Presenteeism – coming to work ill or being at work and adding no value – is a huge problem for UK organisations. So says Sir Cary Cooper, professor of organisational psychology and health at Manchester Business School.
Mental ill health at work is a problem for one employee in four. Cooper said that prior to the 2008 recession, musculoskeletal disorders were the number one reason for absence at work. That has now been trumped by stress.
"We've been Americanised; we listened to the US too much about work," Cooper said, pointing to the fact that more than 70% of employees in the UK work more than 40 hours a week.
People are at the heart of knowledge-based economies, which is why stress is such a concern for employers – absent colleagues have a huge impact. The answer is to rethink the role of managers, said Cooper. "We have an issue of how we manage humans. Productivity growth is a problem because of management. UK plc needs more socially skilled managers."
According to Cooper, the top skills for 21st century managers are interpersonal skills, empathy, compassion and emotional intelligence.
3. Time to ditch rules for principles
The future of HR should be based on principles not rules, according to Cheese. Why? Because the changing context of work requires organisations and their employees to be more agile and productive.
According to the CIPD's latest Employee Outlook survey, published just ahead of the conference, the most common obstacles to employee productivity are unnecessary rules and procedures (28%), employees not having the resources available to do their jobs (28%) and office politics (24%).
The report highlights a need for organisations to consider how they can increase the amount of autonomy employees have at work. They need to ensure employees can use their skills and ideas and empower leaders and managers to support them.
4. Current thinking on talent should be consigned to the bin
Think of the behavioural consequences of employees thinking they are not capable of doing something. It destroys persistence and resilience and stops employees from growing and learning. This is the result of a world view that says talent equals success, according to Matthew Syed, author of Bounce and Black Box Thinking.
Syed told delegates that high performance comes from application to a skill, tenacity and access to high-quality learning. Aviation is a good example of this. Pilots are constantly learning from near-misses and data held in black boxes. The result is that there is one crash for every 8.3 million take-offs.
In contrast, Syed highlighted organisational cultures that put talented people on a pedestal. One example is healthcare. Syed says that the medical profession is particularly bad at learning from its mistakes due to its blame culture. In the US, for example, preventable medical errors are the third biggest killer in hospital each year, accounting for 500,000 lives.
By having great leaders, healthy competition and the time and space to practise, organisations can improve performance. "The right culture unleashes talent across the organisation and incubates the talents within us," he said.
5. L&D is no longer the custodian of learning
Learning and development professionals need to move away from being the custodians of learning and focus on empowering people to collaborate and share. Mike Collins, head of learning solutions at DPG, thinks that much like Sir Ken Robinson is calling for a paradigm shift in education, there needs to be a paradigm shift in how organisations think about learning.
"We need to shift towards developing learning communities and facilitating connections between people. L&D professionals should become community managers," he said.
In order to be more innovative, L&D must operate outside of its comfort zone. It needs to think big and start small and be prepared to take some risks. Collins urges L&D professionals to be more collaborative and creative and become the catalyst for change.
6. HR business partners are change agents
HR business partners are well placed to have a positive impact on culture change. Thomson Reuters turned a pilot change programme aimed at 300 employees into one that has so far reached 10,000 employees.
Helen Thevenot, global business partner at Thomson Reuters, described how the HR team started the change process by challenging its own thinking on change. They did this by visiting other organisations to gain inspiration for different work practices. Through this process, they developed new ways of bringing about change, including creating hackathons.
Steve Foster, former organisational effectiveness manager at Transport for London, said that in order to lead change HR must be credible and trusted. That means having a change process and modelling the right behaviours.
7. Ethics matter more than ever
The emissions fiasco at car manufacturer Volkswagen and the independent report into holiday company Thomas Cook, which showed that the company put profit over customer service, both demonstrate the impact of unethical decisions.
The CIPD's lead consultant on strategic projects, Ruth Stuart told the conference: "HR professionals have an important role in shaping the culture of the organisation, but it starts with our values and principles."
She said ethics and values need to be designed into the employee experience in order for organisations to remain sustainable.
She urged HR professionals to be the best they can be. To achieve this, they need to demonstrate a social and an ethical responsibility in their role, a commitment to HR as a profession, an understanding of all the evidence and trends that are shaping HR practice, a desire to keep their skills up to date and to have great situational judgement.
8. Organisational change: the design challenge
Effective organisational change is all in the design, according to Matt Elliott, HR director at Virgin Money. The big issue when bringing Northern Rock into Virgin Money was harmonising terms and conditions. Virgin Money had to win over staff at the new business and did so in a fair, simple and honest way.
Through its "Everyone's Better Off" initiative the company took a different approach to pay and conditions. The company wanted fairness for all.
Everyone won and lost something, but the openness of the process meant people knew the fairness of it, Elliott said. Healthcare and holiday entitlement were the same for everyone. Incentives were removed and replaced with customer service measures.
"People thought this was serious, that we were doing things differently," Elliott said. He thinks great customer experiences must be matched by great work experiences and organisations must design for that.
9. Dealing with digital transformation
As tech becomes more pervasive it is disconnecting people from work and those around them. The upshot, according to Dave Coplin, chief envisioning officer at Microsoft UK, is that we are developing bad habits to cope with this situation.
First, we are skim reading and not delving deeply enough into information. "Long-form" content provides context, so HR professionals need to be mindful of what they lose when they skim read.
Second, we spend more and more time digital 'snacking' – checking our phones all the time – and each time we do so we are taking ourselves away from the task in hand.
Finally, we are multi-tasking, which is not a human trait. In fact, we are one-third less effective when we multi-task. And there is a time delay caused by a distraction, and Coplin said that delay is 23 minutes – it takes 23 minutes to get back into a task after a distraction.
Coplin's message was that computers are helping transform the way we work, but we need to use the right tools. HR needs to think creatively to help make the most of the insights technological advances such as machine learning are bringing to organisations.
10. Putting neuroscience into HR practice
"At long last neuroscience provides the evidence for gut feel," according to Hilary Scarlett, director of leadership consultancy Scarlett & Grey.
That means organisations can improve performance based on an understanding of how the brain works. For example, rewarding people in appraisals through focusing on the positives and engaging them in what they need to be doing in their role can boost self-esteem and provide a sense of purpose.
Allowing them to get on with their job gives an important sense of autonomy and regular conversations provide important social connections.
Scarlett said that organisations have hugely underestimated the importance of social connection. Research shows that social rejection lowers an individual's IQ by 13-25%.
So how can organisations put neuroscience into practice?
Start by remembering that the threat reaction is stronger and lasts longer than the reward reaction. Work on rewards and reduce triggering the feeling of threat.
Facilitate social engagement – encourage conversations.
Stories activate far more parts of the brain than any other form of sharing information. Use stories to explain things.
Make sure people have the information they need to make decisions as more information helps engender a feeling of certainty. It also helps people come to their own conclusions.
Think about novel and fun ways of doing things – humans like fun.
11. Who needs HR anyway?
And finally, delegates enjoyed a panel debate on adapting HR to the world of work.
Derek Burton, company leader at Cougar Automation, shared how his company operates without an HR function.
Founded in 1990, the software engineering company with 100 employees has never had an HR team. Instead, all HR responsibilities are devolved to the teams. The company has teams of three to six people who deliver work for clients. These teams are also responsible for their own management.
"We have tried to set people free to do the right thing," said Cougar. The company elects its managers and publishes all salaries. "People can work where they like as long as it doesn't adversely affect colleagues and customers."
At the heart of this approach is trust. Burton said this is key: "You have to have absolute trust in people and believe they come to work to do a great job."