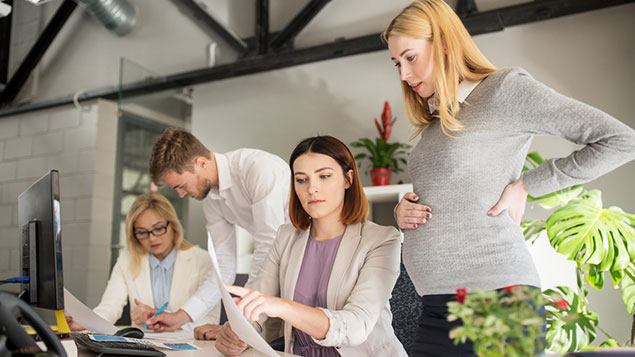 The Government has pledged to ensure that pregnant women and new mothers are sufficiently protected from redundancy.
Business minister Margot James, who described the issue as a key priority, said: "We are determined to tackle pregnancy and maternity discrimination and a key part of that is making sure new and expectant mothers are supported and treated fairly by their employers.
"While most businesses abide by the law, some do not. There should be zero tolerance of discrimination against pregnant women, or women who have just given birth. That's why today we are committing to making sure new and expectant mothers have sufficient protections from redundancy."
She was speaking as the Government responded to an August 2016 report by the Women and Equalities Committee of MPs, which called for "urgent action" to stop discrimination against new and expectant mothers in the workplace.
Research into pregnancy and maternity-related discrimination commissioned by the Department for Business, Innovation and Skills and the Equality and Human Rights Commission in 2016 reported that around one in nine mothers (11%) felt forced to leave their jobs.
"This is clearly unacceptable. Government will consider further and bring forward proposals to ensure that the protections in place for those who are pregnant or returning from maternity leave are sufficient," said the Government response.
Maria Miller, chair of the Women and Equalities Committee, said: "The Government has made a commitment to consider further proposals to ensure that the protections in place for pregnant women and those returning from maternity leave are sufficient.
"We urge the Government to look again at the specific steps we put forward – new protections are needed, particularly for women who have casual or zero-hours employment arrangements, for ensuring that risks in the workplace for pregnancy women are addressed, and for guarding against discriminatory redundancies after women return to work.
"We found there was a worrying 'enforcement gap' with respect to the current law. We await, as do other committees, the publication of the Government's own review of the effects of tribunal fees on the number of people taking action."
However, the Government will not allow workers claiming pregnancy and maternity discrimination extra time to bring their case to the employment tribunal.
Miller said her committee was disappointed that the Government had not accepted that more women would be able to take action against pregnancy and maternity discrimination if the time limit for claims was extended.
"This response is a missed opportunity for the Government to demonstrate the urgency and bite on this issue that we found lacking when we published our report in August," she said.
But the Government, in its response, said that research had shown that only 4% of mothers who had considered bringing a claim but had not done so and that no evidence had shown that this was related to the three-month time limit.
It added that tribunals already have a broad power to extend the time in which a case can be heard.
The committee made a total of 18 recommendations last year. Other responses from the Government included:
A commitment to ensure that the review of employment practices in the modern economy by Matthew Taylor, chief executive of the Royal Society of Arts, would consider the employment rights specific to pregnant women and new mothers.
The inclusion of online information on maternity-related employment rights in a digital maternity tool as part of NHS England's Maternity Transformation Programme, launched in July 2016.
To see what is possible with the various providers of information to pregnant women and new mothers and to their employers, ensuring that there is better signposting to high-quality sources of information.
The Government will seek to undertake research into pregnancy and maternity-related discrimination and disadvantage among mothers and employers using similar survey methodology to that carried out in 2014-15.
That the UK's withdrawal from the EU will not lead to a diminution of employment rights. The Government will not roll back the rights that British people are entitled to in the workplace, including protecting the rights of pregnant women and new mothers.