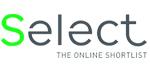 How does your organisation cope with the increasing demands on HR? The right software can facilitate your HR department and ease the pressure. But which systems suits your organisation best?
This free information pack helps you to select and compare the best HR and Payroll solutions in the UK.
The info pack will provide you with:
Information on a tailored selection of HR solutions
An extensive features checklist
An online interactive comparison tool
Interesting literature on HR software implementations
A great service to get you started, 100% independent and free of obligations.
Request your free HR software info pack now