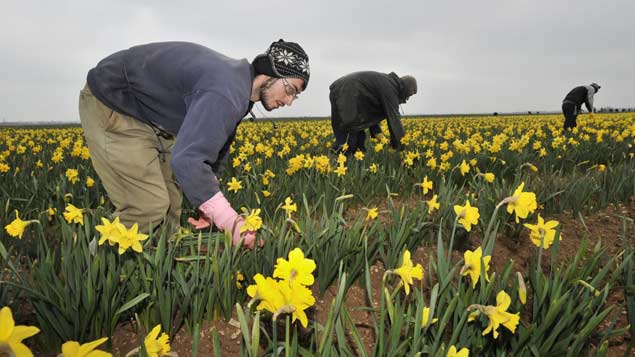 The Government has announced plans to get tougher on employers who take on immigrant labour illegally. Lawyer Vikki Wiberg suggests 10 ways organisations can ensure that they are compliant and up to date.
Immigration Minister James Brokenshire announced this week that employers who hire illegal workers will be hit with "the full force of government machinery".
He said: "Rogue employers who give jobs to illegal migrants are denying work to UK citizens and legal migrants, and helping drive down wages."
This hard hitting message is reinforced by an increasing number of unannounced raids by the Home Office's expanded enforcement team, not just on perceived higher risk industries such as restaurants, building sites and care homes, but also factories and offices.
For example, on 8 August, officials made Greencore, the UK's largest sandwich manufacturer, the subject of a dawn raid following a tip off, and 32 alleged illegal workers were removed.
With the potential negative publicity surrounding a raid, coupled with fines of up to £20,000 per illegal migrant and potential prison sentences, it pays to prepare your business in advance of an audit – which can come at any time, with or without notice.
A new immigration bill is due in the autumn, so what practical steps can employers take to protect their business interests in this ever-changing landscape?
1. Are your right to work records up to date?
Retaining the correct evidence of employees' right to work provides a statutory defence against illegal employment. Audit employee files regularly to ensure documentation remains up to date – for example, copies of new passport photo pages.
Ensure you maintain up-to-date records of your workers' visa compliance, visa expiry dates (to take early steps to extend visas) and contact details (if you need to contact them in line with your notification duties).
2. Is your on-boarding process compliant?
The Home Office requires employers to take compliant copies of right to work documentation prior to employees starting work.
By checking documentation during your recruitment process, normally at second interview stage, you minimise the number of documents you may need to check. The requirement to evidence the right to work applies to all employees regardless of nationality – it is important you implement checks in a fair and non-discriminatory way.
3. Are you following correct procedures for advertising roles?
When preparing adverts for new roles it is recommended that you comply with the Home Office's resident labour market test. This stipulates, for example, that adverts are placed with JobCentre Plus and contain prescribed information.
If you choose to recruit an overseas migrant, ensuring these steps have been taken should ensure you can move ahead quickly.
4. If you employ students…
Depending on the endorsement, Tier 4 students are permitted to work up to 20 hours a week in term time or full time during holidays. You must also keep evidence of students' courses, hours of study, term and holiday dates on file.
5. Check your sponsor licence contact details
The Home Office sends key contacts important information including reminders to renew your sponsor licence, warnings your company may be audited or updates on changes to the immigration rules.
Ensure that you know who holds these roles and periodically review them particularly if your company is growing.
6. Ensure your licence notifications are up to date
If there is a change to a migrant worker's details, such as they have been promoted or have a substantial salary increase, you must update your sponsor licence within 10 working days.
This requirement also applies if there are changes to your company's office address or key personnel leave.
In recent weeks, the Home Office has cracked down on this. In two recent cases, non-compliant companies' have had licence applications rejected and key personnel banned from managing a sponsor licence for 24 months.
7. What if you find a problem?
If you discover a discrepancy with an employee's paperwork, this will not necessarily mean they cannot work legally in the UK. Before taking action you may, with their prior consent, need to check their right to work with the Employer Checking Service.
We also recommend you take advice on your options. If you were to terminate employment without a fair reason you may face a costly unfair dismissal claim.
8. Tier 4 visas – changes to right to work
On 13 July 2015, the Home Office announced changes to the Tier 4 student rules. With effect from this autumn, Tier 4 dependants will only be permitted to undertake "skilled work".
If your employees hold these visas, it is important you review their work to ensure it complies with this new requirement.
9. Rolling out of criminal record certificates
From 1 September, the Home Office will require Tier 1 investors and entrepreneurs to obtain criminal record certificates. We envisage that the requirement will, in due course, be rolled out to Tier 2 visa holders too.
If employees you plan to recruit or transfer to the UK have a criminal record, this will be disclosed openly as part of their visa application, and not just in their visa forms – possibly impacting on the likelihood of an application's success.
10. Think ahead to rule changes
Last month, the Migration Advisory Committee launched a consultation on wide ranging changes to Tier 2 status.
This includes rolling out the Immigration Health Surcharge to Tier 2 Intra Company Transfer visa holders, stopping dependants from working in the UK and further restricting the roles for which Tier 2 visas are awarded to skilled roles only.
If you are contemplating transferring staff to the UK we advise applying before the changes. We also recommend all Tier 2 users respond to this call for evidence so that your voice can be heard.