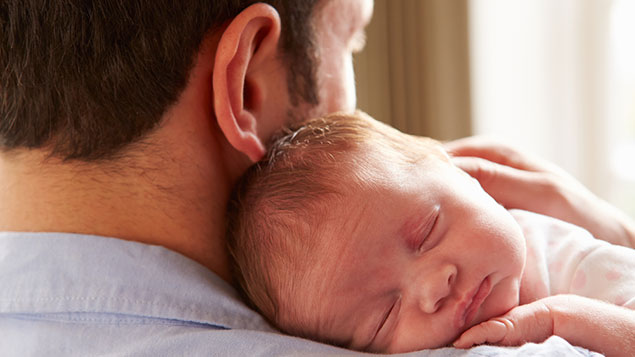 A third of people believe parental leave should be shared equally, according to a major survey, while only 12% think the mother should take the entire leave period.
The findings are part of large-scale survey of social attitudes, which looked at Britons' stance on topics including women and work, sex and relationships, religion and Brexit.
Nancy Kelley, deputy chief executive at the National Centre for Social Research, which interviewed a representative sample of 3,879 adults, said: "It's encouraging to see that the vast majority of the public support sharing parental leave – a driver for equality in the workplace as well as a policy that helps families make decisions about home and work that are right for them.
"On the other hand, it is clear that both practical barriers and cultural norms about women's place in the home and at work do persist."
The 36th British Social Attitudes survey (BSA) found that 51% of people think the best option for a family with a pre-school child is for the mother to do most of the childcare, despite 34% saying that parental leave should be evenly split between parents. In 2012, just 22% favoured a 50-50 split.
The research revealed that 12% of the population believe the mother should take the entire leave period, while 40% of Brits think that she should take most of the paid leave.
Millennials and those educated to degree level were most in favour of dividing parental leave equally (42% and 41% respectively). Those aged 55 years and over (27%) and those with no qualifications (28%) are least inclined to say mothers and fathers should halve it.
When deciding how families with a pre-school age child should best organise work and family life, only 16% favour arrangements that represent an equal split between parents; 9% think that the mother and father should both work part-time (5% in 2012) and 6% favour both parents working full-time (4% in 2012).
Half of people (51%) believe the mother should do the lion's share of childcare; 32% think mothers should work part-time and fathers full-time (38% in 2012) and 19% think mothers should stay at home and fathers should work full-time (31% in 2012). The proportion of people who are undecided on the matter has risen significantly from 19% in 2012 to 30%.
"We are still more likely to feel that mothers, not fathers should be at home with young children, and while pay equality is clearly seen as wrong, the public has far more mixed views about the gender pay gap," said Kelley.
"Despite considerable social change, and strong policy intervention, we still have some way to go in supporting women to flourish in their careers and men to take a more active role in caring for children."
On equal pay, most people (89%) said it is wrong for men to be paid more than equally qualified women working in the same job role for the same company. Four-fifths (78%) of those with no qualifications consider pay inequality as either 'wrong' or 'very wrong' compared to more than nine in ten graduates (92%). Women were significantly more likely (78%) than men (57%) to say unequal pay is 'very wrong.'
Britons were more divided when asked about the gender pay gap. Asked whether it was right or wrong for men to be paid more than women in a company where men hold most of the senior positions and women hold most of the junior positions, 43% think this scenario is wrong, 31% consider it to be right and 20% believe it is neither right nor wrong.
Almost half of women (48%) view the gender pay gap as wrong compared to 38% of men. In a reversal of attitudes to equal pay, graduates (33%) are less likely than those with no qualifications (55%) to think the gender pay gap is wrong.