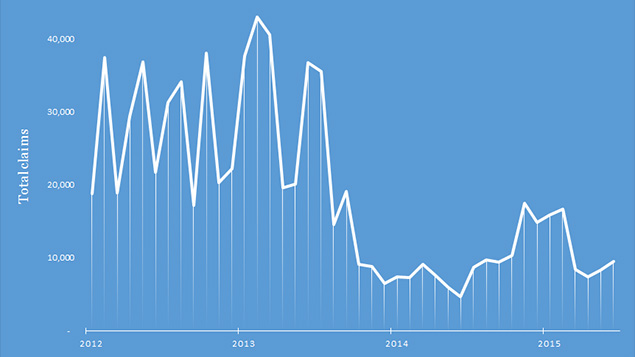 The number of employment tribunal claims in 2015 continues to be significantly lower than before tribunal fees were introduced, according to statistics released today by the Ministry of Justice.
There were 25,290 claims, including multiple claims filed by more than one individual, in the second quarter of 2015, down from 40,962 in the first quarter – a fall of 38%. However, compared with the same period in 2013, before tribunal fees were introduced, this represents a 67% fall from 76,476.
In June, the Government announced a review of tribunal fees, expected later this year, and last month, Unison lost its third bid for a judicial review of fees, arguing that a sharp decline in the number of cases being brought to tribunal is due to claimants now having to pay up to £1,200, depending on the type of claim brought.
The employment tribunal claim statistics show that the number of sex discrimination claims in the three months to June 2015 were 814, down 87% on the same period in 2013.
Claims concerning unauthorised deduction of wages fell 64% to 3,498; equal pay claims declined by 70% to 2,395; while breach of contract claims from employees reduced by 66% to 2,113.
Laura Merrylees, employment law editor at XpertHR, said: "The fact that the number of claims being issued remains dramatically lower than prior to the introduction of the fee regime comes as no surprise.
"The odd spike in the number of certain types of claim, such as unlawful deduction of wages, may be explained by recent litigation around holiday pay. Whether the landscape might change following the outcome of the Government's current review of tribunal fees remains to be seen."
Official figures were also released for the number of tribunal fees paid in the first quarter of 2015. A total of 5,412 fees were requested by the courts, of which 3,686 fees were paid. There were 2,255 remission applications, of which 1,145 (51%) were awarded, either fully or partially.
Over the financial year 2014/15, 75% of claimants were represented by a lawyer at employment tribunals, up from 71% in 2013/14. There was a total of 219 discrimination cases where compensation was awarded, the maximum amount awarded (£557,039) was in a sexual discrimination case, while the average award was £23,478. The highest unfair dismissal award was £238,216 (average: £12,362), while the greatest amount awarded in an age discrimination case was £28,428 (average: £11,211).
In 2014/15, the Employment Appeal Tribunal received 1,200 appeals (down 30% on 2013/14) and disposed of 1,300 appeals (down 20% on 2013/14), which the Ministry of Justice said reflects the overall drop in the number of tribunal claims.