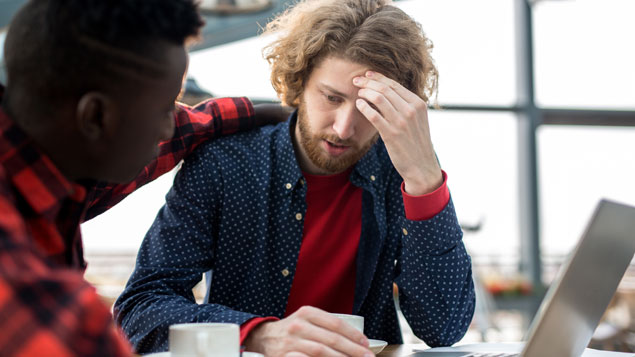 More than half of employees feel "psychologically unsafe" at work, but only a handful of organisations prioritise this area of wellbeing.
A Censuswide survey of 1,000 managers, C-suite executives and employees at global organisations, which was commissioned by City & Guilds Group, found a major discrepancy between the way senior managers and staff view psychological safety and mental wellbeing in their organisations.
Mental health
Fifty-two per cent of staff said they felt psychologically unsafe, which City & Guilds Group defined as "not feeling supported to work to the best of their ability and feeling worried about speaking up about issues".
Although 94% of survey respondents said psychological safety at work is important, only 10% of organisations are seen to treat it as a priority.
City & Guilds Group, which revealed the results ahead of the publication of a report on 'Leading in a Digital Age' in January, said confusion over accountability meant wellbeing initiatives either did not exist or were not visible to staff.
Forty-three per cent of senior managers expect HR to deal with the psychological safety of the workforce, while 56% of employees believe it is the responsibility of senior managers and leaders.
John Yates, MD corporate learning at City & Guilds Group, said: "Businesses clearly recognise the importance of ensuring psychological safety for employees, but a lack of understanding about who is responsible is leading to inaction.
"Without defining what psychological safety means to their business and who is accountable to address any risks and issues, organisations will struggle to achieve a safe environment for their employees and ultimately risk harm to the wellbeing of their workforce, productivity and their bottom line."
Moreover, many employers are failing to take action to address workplace wellbeing until an issue arises. One in five organisations said they would wait until something needed to be done and 22% of senior managers would only act if an incident was covered in the press.
Social media also presents a problem to many employers; 63% said social networks made it difficult to monitor employees' mental health.
"While it may seem that social media hovers like a dark cloud in the workplace, advancements in technology are only going to evolve and avoiding issues like these will no doubt create problems further down the line," said Yates.
"It's a good opportunity for firms to revamp their policies, and for leaders to develop tactics for managing the welfare of employees in a way that is fit for the future."