The introduction of employment tribunal fees has led to a huge reduction in cases with only one tribunal claim in five still being filed, according to official statistics.
Quarterly figures from the Tribunals Service, which cover the period from October to December 2013, show that 9,801 employment tribunal claims were received. This was 79% fewer than in the same period in 2012, and 75% fewer than in the previous quarter.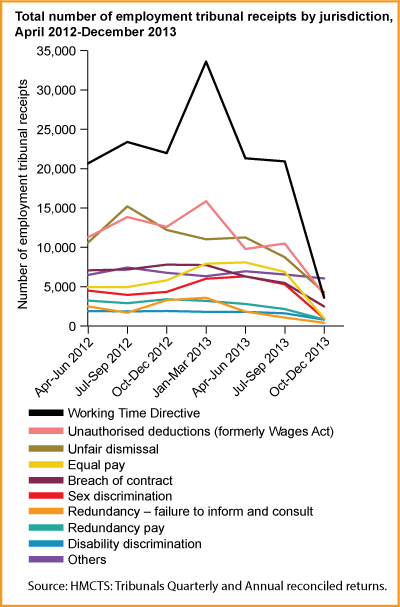 This is the first quarter where fees have been in force for the whole period covered by the statistics. As of 29 July 2013, claimants have had to pay an issue fee of £160-£250 when submitting an employment tribunal claim and a hearing fee of £250-£950 when the claim is listed for a final hearing. The main aim of the new fees was to drive down the overall number of claims.
Are tribunal fees discriminatory?
Unison
challenged tribunal fees on various grounds
, including that their introduction is indirectly discriminatory against women. However, the High Court rejected this challenge last month, stressing that the union's challenge was "premature" and that the evidence presented lacked the robustness necessary to overturn the fee regime. Unison said it
intends to appeal the decision to the Court of Appeal
. Stephen Simpson, senior employment law editor at XpertHR, said: "While the large drop in claims will be of little surprise, one significant drop that jumps out from the figures is the 77% fall in sex discrimination claims.