The introduction of employment tribunal fees has led to a huge reduction in cases with only one tribunal claim in five still being filed, according to official statistics.
Quarterly figures from the Tribunals Service, which cover the period from October to December 2013, show that 9,801 employment tribunal claims were received. This was 79% fewer than in the same period in 2012, and 75% fewer than in the previous quarter.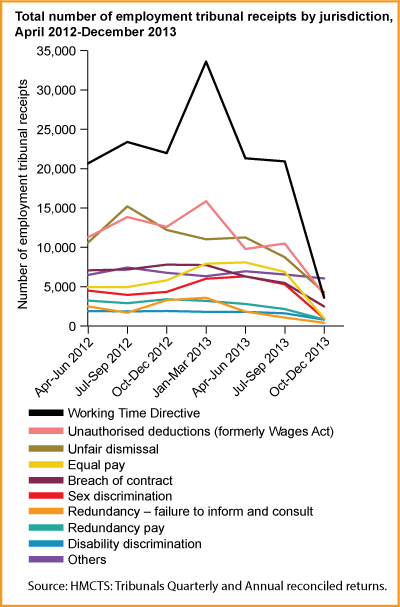 This is the first quarter where fees have been in force for the whole period covered by the statistics.
As of 29 July 2013, claimants have had to pay an issue fee of £160-£250 when submitting an employment tribunal claim and a hearing fee of £250-£950 when the claim is listed for a final hearing. The main aim of the new fees was to drive down the overall number of claims.
Are tribunal fees discriminatory?
Unison challenged tribunal fees on various grounds, including that their introduction is indirectly discriminatory against women.
However, the High Court rejected this challenge last month, stressing that the union's challenge was "premature" and that the evidence presented lacked the robustness necessary to overturn the fee regime. Unison said it intends to appeal the decision to the Court of Appeal.
Stephen Simpson, senior employment law editor at XpertHR, said: "While the large drop in claims will be of little surprise, one significant drop that jumps out from the figures is the 77% fall in sex discrimination claims.
"One of the main reasons Unison lost its judicial review was that, while everyone knows that certain groups like female claimants and disabled workers will be most affected by fees, getting concrete evidence that this is the case is harder than it sounds. This is just the sort of evidence that Unison will be looking for when preparing its appeal."
Dave Prentis, general secretary of Unison, described the figures as "shocking".
"Money should never be a barrier to justice, so it is deeply disturbing that this is exactly what is happening for thousands of workers since the fees were introduced," he said. "Unison warned all along that tribunal fees would deny workers access to justice and these claims are being borne out already."
The union said it wants the Court of Appeal to consider its arguments, in particular that the introduction of fees has a disproportionate impact on women.
Richard Fox, a partner at Kingsley Napley and chair of the Employment Lawyers Association, said:  "Despite the Government's caveats, today's figures are concerning. It is now clear that many employees have been deterred from bringing tribunal claims since fees were introduced last year. If employees no longer feel able to defend their interests via tribunal proceedings, they may look to do so in other ways – such as by turning to trade unions to fight their corner."
Early conciliation
Fox added that the early conciliation rules, taking effect next month, aim to provide another way to resolve employment disputes. "Employers may feel there is little incentive to enter into conciliation talks if they suspect an employee is unwilling or unable to show the colour of their money, given the relatively substantial tribunal fees now imposed.
"That having been said, employers need to get the message that the landscape for resolving employment disputes has changed significantly since the introduction of reforms last July, and will do so again with early conciliation coming in next month. Arguably, if employers have not resolved to change their approach, they have not woken up to the changes. We are going through a seismic shift in employment law and the most significant in the last decade."
Acas, which will run the early conciliation service, said it hadn't seen any evidence of employers not wanting to take part in its pre-claim conciliation service since fees were introduced last summer.
"Employers who wait may find that the person lodging the claim against them is entitled to a fee remission or their fee is paid for them by a trade union or an insurance company," said an Acas spokesman.
"Discussions through the early conciliation process may make the claimant change their mind about going to a tribunal. Also, a settlement might not be very complicated or expensive."
"Cheaper and quicker alternatives"
The Government said it believes it is in everyone's interest to avoid drawn out disputes that "emotionally damage workers and financially damage businesses", adding that it is encouraging quicker, simpler and cheaper alternatives such as mediation and arbitration.
Justice minister Shailesh Vara said: "It is not fair for the taxpayer to foot the entire £74 million bill for people to escalate workplace disputes to a tribunal. And it is not unreasonable to expect people who can afford to do so to make a contribution. As for those who cannot afford to pay, fee waivers are available.
"We think that the fees are not the only reason for the fall in the number of employment tribunal receipts; there has been a longer term downward trend as the economy has strengthened, and some of the big group action cases involving airlines are now being concluded."
Maria Ludkin, the GMB union's legal officer, said: "These figures confirm our fears that government changes to time limits and introduction of fees has had a devastating impact on access to justice for working people."
Ministry of Justice: Tribunal Statistics (quarterly) – October to December 2013
Additional reporting by Rob Moss