A new framework from Acas has highlighted how employers, managers and individuals all have a role to play in tackling mental health concerns. Gill Dix and Abigail Hirshman explain how businesses and employees can benefit from adopting it.
The mental health debate is barely recognisable compared with 10 or even five years ago. It's hard to believe that what was essentially a private, and in many cases, hidden concern, is now a high-profile public issue.
Mental health
Supporting positive mental health in the workplace is increasingly becoming part of the debate.
The coverage of the recent Thriving at Work report, which was carried out by Lord Stevenson and Paul Farmer, has helped bring the issue further into the public eye. It promoted six core standards to support change, including: producing, implementing and communicating a mental health at work plan, developing mental health awareness among employers, and promoting effective people management, among others.
There is some evidence of enthusiasm among workplaces to adapt. Many are familiar with the business case for change and while some organisations are motivated by a concern for legal compliance, many just want to 'do the right thing'. But employers often simply don't know where to start.
Practical responses
Recent research commissioned by the manufacturers' organisation EEF, undertaken by the Institute for Employment Studies, found that fewer than 15% of 100 UK manufacturers carried out stress or psychosocial risk surveys or audits. Nor did they use tools to assess whether factor such as working arrangements or job design impact on mental health.
The debate is most certainly thriving, but businesses, like society, need to move beyond the hashtag and begin to look at practical responses. Everybody in the workplace must have a role, be aware what it is, and take responsibility.
The Acas Framework for Positive Mental Health at Work reflects a shared agenda, and a shared goal, for creating positive wellbeing and productive workplaces – the employer, the manager and the individual all have roles to play.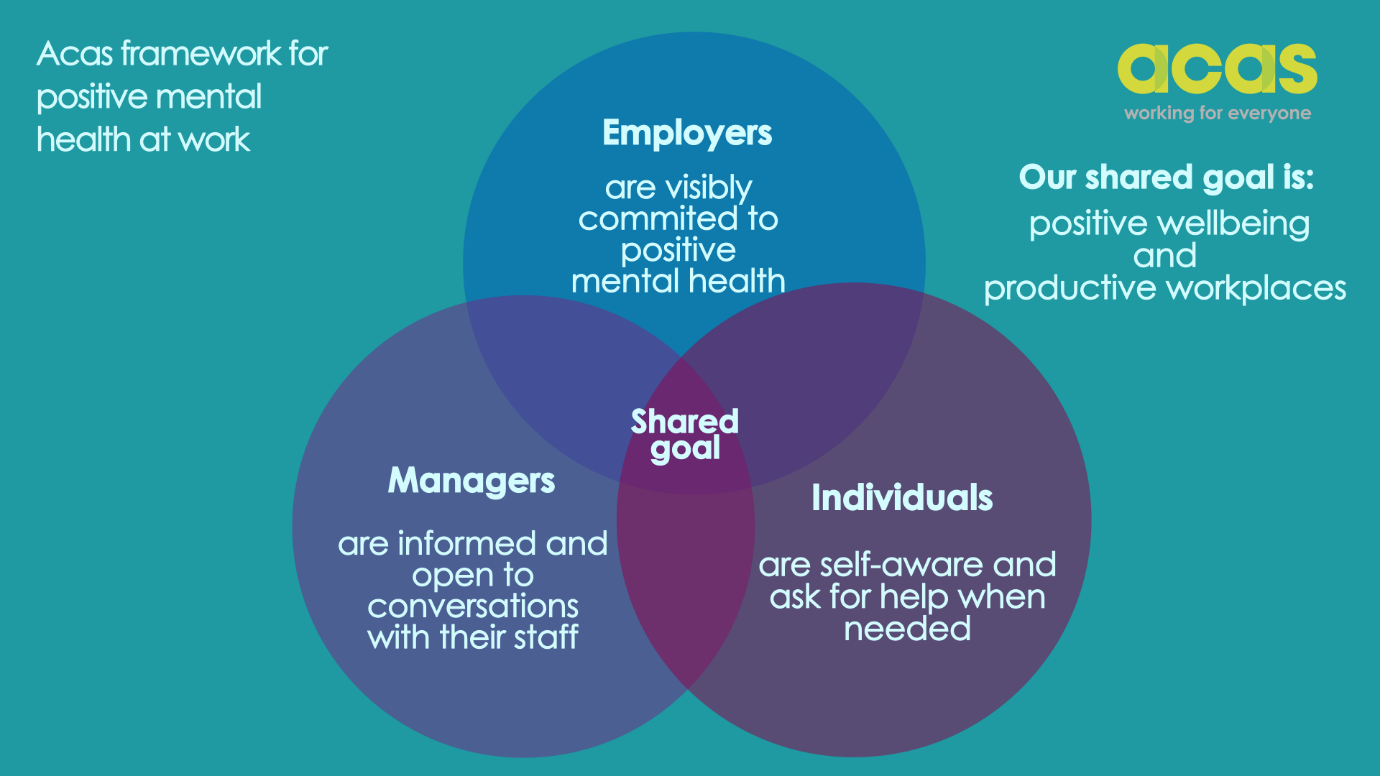 For instance, individuals need to feel empowered to take control and feel secure in talking to their line managers, understanding that they have the right to support.
Employers need to recognise and address the causes of workplace stress and what good work looks like. Line managers need to have difficult conversations where necessary and build trusting, honest relationships.
Our daily interactions with businesses provide opportunities to support and facilitate excellent approach to promoting mental wellbeing. One recent example is the work we did with a manufacturing organisation that contacted us due to concerns over an increase in reports of bullying and high levels of stress-related sickness absence.
The HR manager set up a steering group that included the senior management team, health and safety representatives and union reps to develop and implement a practical strategy.
Individuals need to feel empowered to take control and feel secure in talking to their line managers, understanding that they have the right to support"
Some of the initiatives included a dedicated health and wellbeing policy, monthly wellbeing forums for all staff and commissioning Acas to provide three day in-depth mental wellbeing training for the senior managers and half day stress awareness sessions for all line managers.
The senior management team's commitment to their training demonstrated the importance they placed on improving mental wellbeing, while the monthly forums with guest speakers (from Citizens Advice, British Heart Foundation and others) provided additional practical tools for employees who wanted to access guidance and support.
Everyday concerns
Mental health concerns don't happen in isolation. Mental health is part of everyday life at work; and is a point of consideration in everything from recruitment to retirement.
Acas is playing its part and we are enhancing our training and guidance to offer support inside the workplace. We hope employers will find our mental health framework valuable as a starting point for thinking about the place of mental health in their workplace; and that it can stimulate a new mindset and a desire for change.