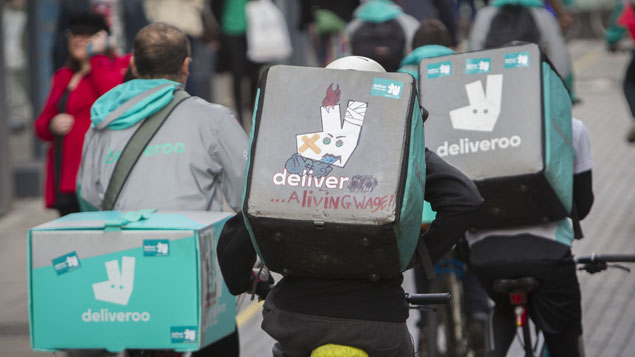 High-profile cases involving self-employed drivers for the likes of Uber and Deliveroo have focused heavily on employment status and rights. But HR professionals must not forget that so-called gig economy workers could raise other potential legal issues.
Companies such as Uber and Deliveroo have hardly been out of the news this year because of the status of their gig economy workers.
This month, the Work and Pensions Committee published a report claiming companies in the gig economy are free-riding on the welfare state and avoiding their responsibilities.
All the focus is on workers' rights and companies' responsibilities. However, little attention has been given to other business regulations that could cause HR directors serious problems when engaging with gig workers. The two key areas here, we believe, are the Modern Slavery Act and the Bribery Act.
Modern Slavery Act
The Modern Slavery Act 2015 came into force on 29 October 2015. It applies to businesses that have financial years ending on or after 31 March 2016 and includes a provision for large businesses to publicly state each year the action they have taken to ensure that their business and supply chains are slavery- and human-trafficking free.
The use of gig workers could impact a company's ability to comply.
It will be much more difficult for a business using gig workers to declare that they have taken all the necessary steps to prevent slavery and human trafficking; gig workers, by their very nature, are likely to be physically removed from the business and act more independently of it, than employees.
Companies that use gig workers located in far-flung countries for specific tasks, or that use large numbers of low-skilled gig workers on a needs basis, will find it particularly difficult to accurately make a slavery and human trafficking statement.
The statement requires commercial organisations, both UK and non-UK, who supply goods or services and have a minimum total turnover of £36 million per year to prepare a slavery and human trafficking statement for each financial year.
Commercial organisations are encouraged to go beyond what the Modern Slavery Act prescribes. The company should educate itself on the human rights abuses that are of particular relevance to its industry and the regions in which it operates by seeking both internal and external input.
It raises the real issue as to how organisations, in particular those that operate globally, will be in a position to monitor the whole "workforce", including gig workers, so as to ensure it is able to attest to the statement.
There is no prescribed time limit within which to make the statement. In the UK, a large number of businesses have financial years which end at the end of the calendar year or the UK financial year so the first statements will start to appear shortly.
Bribery Act
In addition to The Modern Slavery Act, the Bribery Act 2010 – which came into force on 1 July 2011, could cause an additional headache for businesses that use gig workers.
The Bribery Act has completely altered the landscape of anti-corruption legislation imposing a positive obligation on commercial organisations to prevent bribery.
It applies to offences committed on or after 1 July 2011, by UK businesses operating overseas or foreign-owned companies operating in the UK.
Alongside its extra-territorial reach, the Bribery Act includes "associated persons", broadly defined as persons who perform services on behalf of the corporate organisation, including gig workers as well as employees, agents, subsidiaries, and other service partners.
For global organisations, complying with the scope of the Bribery Act is incredibly difficult already in terms of ensuring employees in far-flung reaches adhere to the stringent measures. The rise of gig workers, many working remotely, only adds to this complexity.
The Ministry of Justice has published guidance on the best practice for commercial organisations to prevent "persons associated" with them from committing the corporate offence of bribery.
While the guidance is not prescriptive, it is comprehensive in setting out six principles to guide companies in putting in place adequate procedures to prevent bribery.
These include thorough due diligence, appropriate training, periodic risk assessment and proportionate procedures. To avoid corporate liability for bribery, companies are prompted to mitigate their risk and have in place strong, up-to-date anti-bribery policies.
The sanctions for non-compliance with the Bribery Act are significant. Individuals convicted face the maximum penalty of 10 years imprisonment or an unlimited fine and commercial organisations face an unlimited fine.
As such, organisations are going to need to ensure they extended any current practises to include gig workers and have in place the ability to demonstrate compliance.
Of course, the flipside of this is that such compliance may go some way towards defeating the main benefit of using gig workers and will not help should an organisation wish to contest gig workers claiming employment status.
The Modern Slavery Act and the Bribery Act are just two examples of legislation that requires employers to take proactive approaches towards compliance with regulation.
Both are drawn widely and are not limited in either geographic scope or label applied to the working relationship.
The interrelation with this and modern working practices, in particular gig economy working, are issues that employers and in particular HR directors need to think about now, to avoid falling foul of the regulatory overlay which applies.