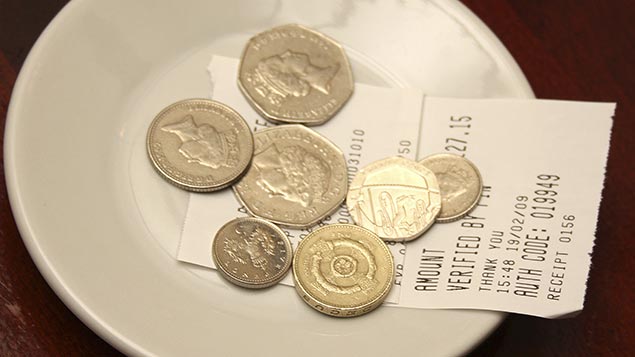 Business secretary Sajid Javid has launched an investigation into the abuse of restaurant tipping, following media reports of hospitality employers withholding tips from staff to cover administrative costs.
The Côte restaurant chain was last month accused by campaigners of "misleading" customers by keeping the 12.5% service charge, rather than it being kept by waiting staff. And many high-street chains, including Pizza Express, Strada and Zizzi, deduct fees from tips to cover administration costs.
Javid said: "When a diner leaves a tip, they rightly expect it to go to staff. In full. I'm concerned about recent reports, suggesting some restaurants pocket tips for themselves. That's just not right.
"I've ordered an immediate investigation to look at the evidence and consider the views of employees, customers and the industry to see how we can deal with the abuse of tipping."
The call for evidence will look at how restaurants treat tips left by customers and whether or not the Government should intervene to strengthen the voluntary code of practice run by the British Hospitality Association (BHA).
The inquiry will seek views from the hospitality industry and other key stakeholders, and will consider whether or not there should be a cap on the proportion of tips restaurants can withhold from staff for administrative costs and, if so, what this level should be.
Research from 2009 found that 20% of restaurants did not pass tips to their staff, yet the vast majority of customers said they wanted waiting staff to receive tips left for them, according to a government statement.
While there is a voluntary code of practice overseen by the BHA, restaurants can choose to ignore it.
Before October 2009, tips could count for national minimum wage purposes if they were paid by the employer through the payroll, recorded in the accounts or records and reflected in pay statements. Payments from a "tronc", an arrangement used to pool and distribute tips, could count for national minimum wage purposes only if they were paid by the employer through the payroll.
Since October 2009, the use of tips, service charges, gratuities or cover charges to make up the national minimum wage is not permitted, regardless of whether or not they are paid through the payroll.
The Government has also announced today a package of measures to ensure people receive fair pay, proposing to double the penalties for non-payment of the national minimum wage and the national living wage, which comes into force next April.
Individuals who are found to have deliberately not complied with minimum pay obligations may be disqualified from being a company director for up to 15 years.