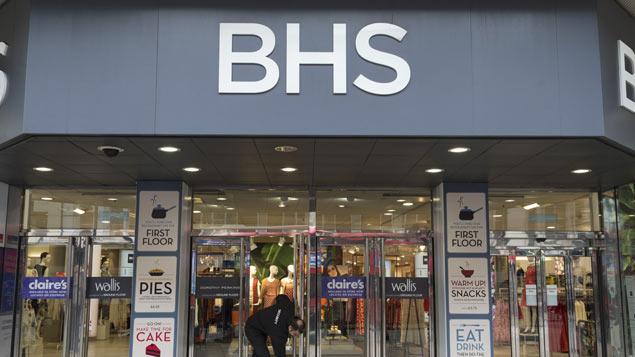 High street retailer BHS has filed for administration, putting around 11,000 jobs at risk.
Its administrators Duff & Phelps said that the 88-year-old chain had "no alternative but to put the group into administration and protect it for all creditors".
If a buyer for the business cannot be found, it will be the biggest High Street collapse since Woolworths, which first announced it was going into administration in 2008.
In a statement, the administrator said: "The group has been undergoing restructuring and, as has been widely reported, the shareholders have been in negotiations to find a buyer for the business. These negotiations have been unsuccessful. In addition, property sales have not materialised as expected in both number and value."
It has been reported that Duff & Phelps have had more than 30 expressions of interest in buying the group already.
The Government is also in talks with BHS management about the collapse. Business secretary Sajid Javid said on Twitter: "Worrying news for BHS workers this morning. Government is in close contact with the company's management at this difficult time."
BHS owner Dominic Chappell, who led the consortium to buy BHS from retail entrepreneur Sir Philip Green for just £1 last year, said that staff's wages this month would be paid by the administrators.
David Gill, national officer for shopworkers' union Usdaw said he was concerned about how staff would be consulted. "We are seeking urgent clarification from the company and urging them to change their attitude to trade unions and begin a dialogue with us at this difficult and worrying time for staff."
"We also urge the company to comply with the law, consult staff and Usdaw as the union for BHS workers on the future of the business. I am writing to members working in BHS to reassure them that we will provide the support, advice and representation they require."
When Woolworths and fellow retailer Ethel Austin entered administration in 2008, they failed to carry out collective consultation with all employees, and hundreds of former employees brought claims for lack of consultation.
The tribunal made a number of protective awards, but only in respect of those employees who worked in stores employing 20 or more staff.
However, an appeal tribunal then held that UK law was not compliant with the Collective Redundancies Directive, and that the obligation to consult on collective redundancies arises whenever there are 20 or more redundancies anywhere in an employer's business.
This was then referred to the European Court of Justice to determine the proper meaning of "establishment" under the Directive, and it concluded that dismissals effected in each establishment are required to be considered separately, rather than across the business.
The case was then returned to the UK Court of Appeal to determine whether or not the tribunals in the Woolworths case were correct in their view that separate stores should be considered as separate establishments. Personnel Today understands the case has now been settled in line with the ECJ judgment.
Jo Davis, partner at BP Collins, said that the first step BHS would need to take would be to inform the Government of its intentions to make staff redundant and fill in the HR1 form.
As collective consultation law stands, shops with more than 20 people will require a 30-day consultation period; those with more than 100 staff will get 45 days.
"It will depend shop-by-shop on the level of consultation required. BHS should try to act fairly, and consult with staff as far as possible while still in administration. Employees are not as protected if the company goes into liquidation," said Davis.
It had been hoped a last-minute rescue deal by Sports Direct would save the company from announcing that it was going into administration, but talks fell through. The company will continue to trade as the administrators attempt to sell it as a going concern.