Penguin Random House this year joined a select group of employers to remove the requirement for a degree for new roles. What else does the award-winning HR team at the newly merged publisher have in store? Peter Crush meets its HR director Neil Morrison.
What's the definition of being over-skilled? According to academics (more about these later), it's having more qualifications than the job they do requires of them; and it's a problem that's been growing in recent times.
And according to the Office for National Statistics, around half of recent graduates are now described as being in "non-graduate" jobs – that is, they're "under-employed" by taking what is deemed to be "non-degree" level employment.
The higher education sector has long argued that business needs to up the ante and create jobs worthy of three years' study.
Penguin Random House:
HR Team of the Year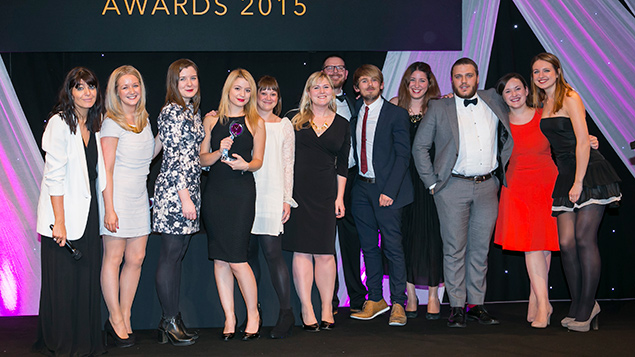 Penguin Random House won the coveted award for HR Team of the Year in last year's Personnel Today Awards.
The judges praised Neil Morrison and his team for the way in which they supported the merger with publishing giant Penguin, helping to restructure and redefine its systems to become "a new kind of publisher".
This included moving both companies onto a single payroll system, managing complicated TUPE arrangements, and combining both organisations' learning and development offerings. A combination of initiatives have saved the merged company £13m per year.
If you think you and your colleagues could be in line for the 2016 HR Team of the Year award, enter here
Entries close 10 June 2016
But what if business decided to do the reverse – by declaring that many jobs are actually (and probably weren't ever) "degree level" in the first place? Trying to quantify under-employment suddenly becomes very difficult.
But, this is exactly the sort of debate one HR Director (HRD) wants to create. Neil Morrison, group HRD at Penguin Random House, which won Personnel Today's HR Team of the Year in 2015, has spearheaded a policy where the publishing giant has removed the requirement to have a degree on all new jobs.
In doing so, the publisher joins the likes of major consultancies (and graduate employers), EY and Deloitte. But if it appears he's attacking academia, he isn't. It's the HR sector as well that he has a problem with.
Not the be-all and end-all
"There's substantial evidence that shows a degree is not the be-all and end-all it used to be," Morrison says. "Degrees have been used by HR as a lazy sifting tool."
"As a profession we must work harder to define what talent is, and where it comes from. Creative businesses outperform the rest of the economy, but they will only continue to do so, if they break down old-fashioned views about how talent is found."
For those that haven't heard of Morrison (his weekly blog Change-Effect makes excellent reading and a few home truths) – the man once dubbed "the most dangerous man in HR" by a lawyer could well be firing the starting gun that marks the beginning of the end for putting degrees on pedestals.
He implores his HR colleagues to reconsider their own recruitment positions. "I'm not anti-academia," he's keen to say. "We will still employ people with degrees and universities have been supportive of the move," he claims, "but firms must decide how they want to engage with broader society and culture.
"What we're saying is that if we're ambivalent/agnostic to the need for a degree, we're not missing anyone out. It's like having a running race. We're simply inviting more people to enter the race. If a grad is the fastest, they'll still win; it's widening the entry list that matters."
Broader field
What he's proposing at Penguin Random House and more widely certainly requires more work and may require a leap of faith, but he says it's worth it: "This is not some march against higher education," he asserts again.
In 2015, the company experimented with its entry-level recruitment processes. It launched something called "The Scheme", where for a marketing role, it removed any reference to education so this would open the playing field for applicants.
Candidates were asked to predict "the next big thing" as part of the selection process. Morrison explains: "We weren't really interested in what people's 'next big thing' was, but the thought process and creativity they put into presenting it.
"What was interesting to us was that those without degrees performed equally well to the other applicants. All told, 50% of the final selection came from so-called non-traditional education routes and we hired people without degrees that would have never been on our radar before."
We're not about social engineering, but we are about seeing who is the best. Increasingly we feel this isn't about what qualification people have, but about other stuff like emotional intelligence. If more organisations followed suit, that would be great"
It's a bold project, but if there's one thing Morrison believes in, it's that this isn't just about being seen to be politically correct.
"In our business there is absolutely a connection between being creative, and our commercial success," he says. "In my discussion with the CEO, this process was only ever about how we made this real – which meant how our own HR colleagues, who have all grown up recruiting in a certain way, needed to change, and then change the way they worked with line managers."
Unlearning habits
Reaction from the wider HR profession has been mixed. "There have been two schools of thought in the main," he says. "The first has been curiosity, but there's also been plenty that have said this must surely involve lots of work. We don't deny it has, and will continue to be a lot of work, but that's a task I'm willing to take.
"For the HR team, it's more a case of unlearning their assessment norms. It'll also take time to train managers not to default to asking about what school an applicant went to in a job interview, because that's possibly all they've known.
"Yet, I firmly believe we need to change the whole attraction process from beginning to end. HR more broadly must take on this challenge to do the same and create meritocracy. Organisations need to be able to say to an 18-year-old: 'If you want work you don't need to go to university before they can join us'."
Morrison argues the benefit of the change is best revealed by the positive brand impact created by the announcement.
Penguin Random House experienced a 350% increase in web-based job applications on the day of the announcement in January, and of the 350 to 400 people that now apply per job, Morrison says the mix is "more towards the non-graduate end of the spectrum".
In March, another version of "The Scheme" was officially launched to recruit future book editors. This time Morrison is teaming up with secondary schools as well as using social media site Snapchat to reach talented people who may never have considered a career in publishing.
Four lucky jobseekers will earn a 13-month fully-paid traineeship starting in September, including two six-month placements within Penguin Random House UK's prestigious publishing divisions.
New phase
It's a move that clearly shows a renewed sense of confidence, from an HRD finally able to flex his wings after a busy few years for the publisher.
In 2013, Random House (publisher of best-sellers including The Da Vinci Code and 50 Shades of Grey) finally merged with Penguin, to become the world's largest publisher. It employs almost 13,000 staff.
The merger was (behind the scenes) almost a five-year project, involving bringing together people he described as "80% the same, but 20% different," as well a making inevitable redundancies.
Now, however, the firm feels like it's on a much firmer footing. Previous catastrophic predictions about the rise of e-books seem to have calmed, and at the end of March this year the business posted strong results, with worldwide revenues for 2014 hitting €3.3bn, up 25% from €2.7bn the year before.
The memo from the boss in this latest set of financial results talked about how "innovation" was the key business driver, and it's being innovative in recruitment that Morrison says this corporate mantra will partly be achieved.
"I feel we're on the first phase of creating a new type of publishing business," he says majestically. "It's possible publishing is seen as dead, but we're doing all we can to say this is not the case.
"We're now creating trailers for new books on YouTube, and we need a much wider mix of people to come up with the next big idea. That's the message we're taking out to the jobs market." He adds: "We've done all the crunchy, merger work, now we're able to say what we're all about."
Of course, by taking this stance – by redefining the sort of company Penguin Random House wants to be – there's no doubt Morrison is putting his HR team under pressure.
It's like having a running race. We're simply inviting more people to enter the race. If a grad is the fastest, they'll still win; it's widening the entry list that matters"
HR is already, he accepts, having to explain to job hunters why some (who might have spent three years, and many thousands of pounds getting a degree), have lost out to someone with no qualifications at all. That's not an easy conversation.
But he's adamant his HR department has to step up to the plate, and lead by example. "If anything, perhaps young people have been led to believe that going to university gives them a sense of entitlement," he says reflectively.
"What we're saying to applicants is – just because they may have letters after their name, it doesn't guarantee anything. The last 50 people in 2015's The Scheme were all given feedback on the process, and those that didn't make the final cut could all find out why. We feel that as long as HR gives feedback, most people accept why they might not have progressed. That makes it easier on HR too."
He says: "I'm very clear about one thing: We're not about social engineering, but we are about seeing who is the best. Increasingly we feel this isn't about what qualification people have, but about other stuff like emotional intelligence. If more organisations followed suit, that would be great."