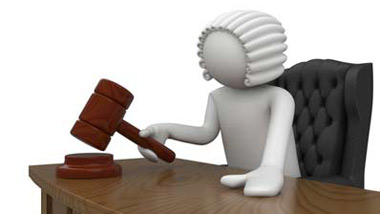 Figures released today by the Ministry of Justice highlight a fall in the number of employment tribunal claims in the past year.
The 2011/12 Tribunals Service report on annual tribunals statistics, covering the period from April 2011 to March 2012, recorded a total of 186,300 claims, a 15% fall compared with the previous year.
Single claims fell by 2% while there was a reduction of 19% in multiple claims.
The figures cast doubt on recent suggestions that the tribunals system is "overstretched" and that claims are an increasing burden for employers.
Last week, employment lawyer Anya Palmer poured scorn on this claim, in a guest post on XpertHR contributing editor and employment law trainer Darren Newman's blog.
This view was supported by XpertHR senior employment law editor Stephen Simpson, who said: "The 2% decrease in inpidual claims is the most reliable indicator of the burden faced by employment tribunals compared with a year earlier. It shows that single claims are holding fairly steady and not shooting up, as some sources would have you believe.
"In fact, longer-term statistics provided by the Tribunals Service show that single claims have remained fairly steady over the last 12 years. If anything, individual claims have actually dropped in the last few years.
"One area that has seen a jump in the number of claims from the previous year is failure to inform and consult on a TUPE situation, up from 1,900 in the previous 12 months to 2,600 this time. Perhaps this reflects the number of companies getting into trouble and being rescued by being bought, with workers dissatisfied over how they have been told about the acquisition."
The report also sets out the number of claims received by employment tribunals under each jurisdiction in 2011/12.
| | |
| --- | --- |
| Nature of claim | Number of claims |
| Unfair dismissal | 46,300 |
| Unauthorised deduction of wages | 51,200 |
| Breach of contract | 32,100 |
| Sex discrimination | 10,800 |
| Working Time Directive (2003/88/EC) (previously the Working Time Directive (93/104/EC) | 94,700 |
| Redundancy pay | 14,700 |
| Disability discrimination | 7,700 |
| Failure to inform and consult on redundancies | 8,000 |
| Equal pay | 28,800 |
| Race discrimination | 4,800 |
| Written statement of terms and conditions | 3,600 |
| Written statement of reasons for dismissal | 960 |
| Written pay statement | 1,300 |
| Failure to inform and consult on transfer of an undertaking | 2,600 |
| Suffered a detriment or unfairly dismissed due to pregnancy | 1,900 |
| Part-time Workers (Prevention of Less Favourable Treatment) Regulations 2000 (SI 2000/1551) | 770 |
| National minimum wage | 510 |
| Discrimination on ground of religion or belief | 940 |
| Discrimination on ground of sexual orientation | 610 |
| Age discrimination | 3,700 |
| Others | 5,900 |
| Total | 321,800 |