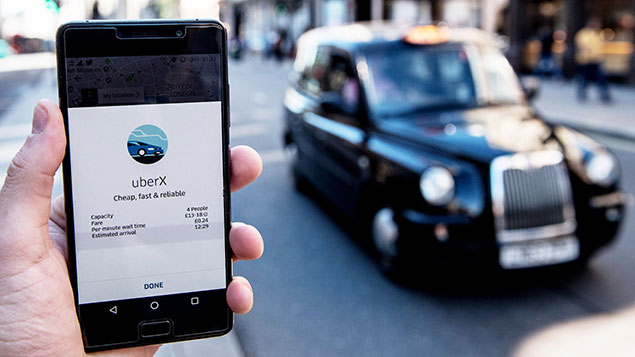 We round up eight significant employment law decisions expected in 2018, with cases due on employment status in the gig economy, enhanced shared parental leave, disability discrimination and carry-over of annual leave.
Employment status in the gig economy
Aslam and others v Uber BV and others
Pimlico Plumbers Ltd and another v Smith
Cases on the difference between "worker" and "self-employed" will continue to come thick and fast in 2018.
These are likely to be the two highest profile cases: one involving the status of staff in the new world of work created by the gig economy; the other involving the more traditional job of plumber.
Pimlico Plumbers will be first up in the Supreme Court early in 2018. In that case, a plumber successfully argued in the lower courts that he is in reality a worker, despite his contract framing him as self-employed.
Next will come the high-profile Uber case, in which the company's drivers are also claiming that they are in fact workers. They succeeded in the Employment Appeal Tribunal (EAT) in showing that they are not "self-employed".
Uber has been denied permission to appeal against the EAT decision directly to the Supreme Court (bypassing the Court of Appeal). Uber's appeal will now be heard by the Court of Appeal at some point in 2018.
Both cases are important for companies that have a large contingent of "self-employed" individuals working for them. Worker status entitles individuals to receive basic worker rights such as the national minimum wage and paid annual leave.
Could shared parental leave could finally catch on?
Ali v Capita Customer Management Ltd
Hextall v Chief Constable of Leicestershire Police
The Government's much-heralded introduction of shared parental leave from April 2015 has been something of a flop. One of the primary reasons for this is that there is no legal requirement for employers that enhance maternity leave to enhance shared parental leave as well.
This simply means that couples who would like to take shared parental leave frequently cannot afford to do so. Given the choice, most parents would prefer the father to remain at work on full pay, while the mother is on maternity leave.
Key dates
The EAT is expected to hear Ali on 20 and 21 December 2017 and Hextall on 16 January 2018.
Two cases due to be decided by the EAT early in 2018 could change all that. In both cases, male workers are claiming that their employers discriminated against them because of their sex by denying them the opportunity to take shared parental leave on full pay.
The employers in both cases enhance pay during maternity leave, but not during shared parental leave. Should the EAT uphold the male claimants' arguments in either case, employers with similar policies could find themselves having to enhance shared parental leave to minimise the risk of similar claims.
Court of Appeal to deliver two important disability discrimination cases
Peninsula Business Service Ltd v Baker
The year would not be complete without some important cases on disability discrimination and the Court of Appeal is expected to deliver its judgments in two of these in 2018.
Key date
The Court of Appeal hears Peninsula on 27 March 2018.
In Donelien, the issue is the length to which employers need to go to investigate whether or not an individual has a disability.
The employer had difficulty in "disentangling" what the claimant could not do and it was suggested that it may have placed undue reliance on a flawed occupational health report. The case was dismissed by the EAT and employers will be hoping that the Court of Appeal provides some practical guidance in this tricky area.
In the second important 2018 disability case, Peninsula, the Court of Appeal will consider: does the claimant have to prove that they are actually disabled to claim disability harassment under the Equality Act 2010?
Holiday cases will continue to cause headaches for employers
The Sash Window Workshop Ltd and another v King
Shannon v Rampersad and another t/a Clifton House Residential Home
In 2017, the case law died down on what should be included in holiday pay calculations, to the relief of many employers. However, one threat for employers has quickly been replaced by another, with case law expected to develop on annual leave carry-over.
XpertHR employment law editors look at key cases that are due to be decided during 2018.
Sash Window returns to the UK courts after the European Court of Justice (ECJ) ruling that a worker must be able to carry over unused holiday when the employer does not put that worker in a position to exercise the right to take paid annual leave.
In this case, a salesperson on commission only who was classified as "self-employed" (and so received no holiday pay if he took leave) claimed 13 years' unpaid holiday pay.
The ECJ decision casts doubt on the:
limitations on claims for historical non-payment of holiday pay in previous UK case law (the EAT previously barring unlawful deductions claims where more than three months have elapsed between successive underpayments of holiday pay); and
Deduction from Wages (Limitation) Regulations 2014, which impose a two-year limitation period on most unlawful deductions from wages claims.
The Court of Appeal is also expected to hear the appeal in the similarly themed Shannon case. There, a care home worker who did not take annual leave subsequently claimed in a tribunal that he was entitled to be paid for the untaken leave.
The EAT accepted that Mr Shannon was not prevented from taking leave for "reasons beyond his control", a conclusion that will now be challenged in the Court of Appeal.
This case law has potentially huge implications for employers with large numbers of self-employed staff, particularly those operating in the gig economy.