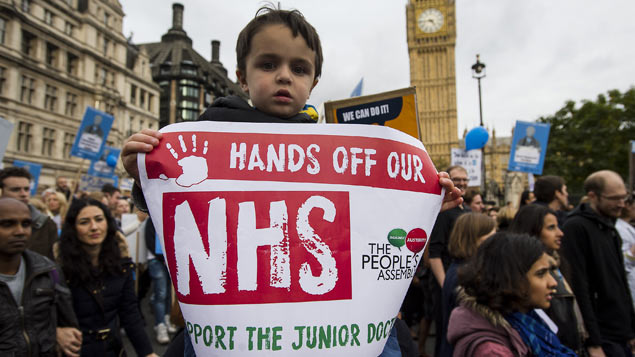 Junior doctors will stage a 24-hour walk-out next Tuesday after talks with the Government broke down.
This will be followed by a 48-hour strike later in January, and a third, one-day strike in February.
The dates for the planned strikes are:
08:00 Tuesday 12 January to 08:00 Wednesday 13 January (emergency care will be staffed)
08:00 Tuesdays 26 January to 08:00 Thursday 28 January (emergency care will be staffed)
08:00 to 17:00 Wednesday 10 February (full walk-out)
The strikes will lead to thousands of non-emergency operations and hospital appointments being cancelled.
The dispute concerns the implementation of a new contract which is aimed at introducing seven-day services in the NHS.
However, the British Medical Association (BMA) raised concerns that the new deal could lead to doctors being overworked because they were less protected from having to work excessive hours.
Ministers also offered doctors an 11% rise in basic pay last year, but doctors claimed this was not enough because other elements of their reward (such as pay for unsociable hours) would be curbed at the same time.
Last month, the British Medical Association agreed to cancel the strikes after it re-entered negotiations with the Government, but weeks of negotiations up until Christmas failed to reach an agreement.
In November, 98% of BMA members agreed to support strike action, and the Government has asked conciliation service Acas to step in.
BMA leader Dr Mark Porter said that the Government was not taking the doctors' concerns seriously.
He said: "We sincerely regret the disruption that industrial action will cause, but junior doctors have been left with no option. It is because the Government's proposals would be bad for patient care as well as junior doctors in the long-term that we are taking this stand."
Health secretary Jeremy Hunt refuted this claim, saying the latest round of talks had reached an impasse over pay for weekend work.
He said: "It is extremely disappointing that the BMA have chosen to take industrial action which helps no-one. We had made good progress."