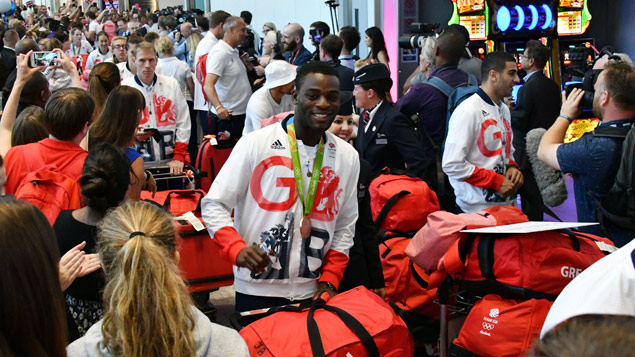 The idea of "performance" in the workplace has become tied up with negativity, argues Matt Barker, director of consulting company PlanetK2. Why can't it have the same positive connotations as high-performing athletes or entertainers?
For too long "performance" has been a misused and dirty word. It gets talked about when things go wrong, confused with results, and is used in phrases like "Performance Improvement Plans", which are bizarrely used when things aren't going well. No wonder it's viewed as a boring subject by so many businesses and employees.
Reflect for a moment on the performance of athletes in the Rio Olympics and Paralympics; or perhaps the musicians in a concert orchestra; the actors in a great movie; a hilarious comedian; or a band at the peak of their powers. They're all performers too.
What is it that makes their performance so interesting, so engaging and certainly not boring? How has so much of the business world allowed its view of performance to go so very, very wrong?
PlanetK2 was part of the support team behind Team GB and ParalympicsGB in Rio. Here, the data about performance is rich. There are 50 or so years of scientific research into what creates human improvement and achieves results. Performance is understood and people do things differently.
Five ways in which athletes respect performance are:
1. The performers are working each day to refine their craft and to get better at what they do. They're not just mindlessly doing tasks; they're deliberately seeking to get better at doing them.
2. There's a lot of preparing going on. They're getting ready to perform. They're making sure they have the skills and knowledge, are fit for purpose and have the energy they need when they need it.
They know how to execute and express the full extent of their talent and have plans to respond to the various situations they might face.
It's all focused on getting ready to deliver to the very peak of their potential at the key moments, whatever the conditions.
3. They're supported by coaches, other performers, specialists and analysts. These experts help them to perform, improve and develop their potential. The performers are skilled at tapping into the support on offer.
4. The experts are observing, looking to recognise and reinforce when things are being done right, and they're looking for ways to help the performer improve.
They might be looking at some data, sometimes benchmarking against others, but mostly they'll be benchmarking the performer against themselves and using their knowledge and judgement to help them get better at what they do.
5. Not all of what they're doing can be objectively measured. There's a blend of science, judgement and art. The preparation applies the science with judgement, flexibility and personalisation so at the important moments performance is at its best.
Let's compare this with five ways the business world does performance:
1. It's often only really talked about once a year or, if we're really lucky, once a quarter, in a performance review or appraisal.
2. People only talk about performance outside of these times when results aren't in line with expectations.
3. People try and manage other people's performance and are then surprised when there's a lack of ownership.
4. People only get a performance improvement plan when their results or behaviours are so poor that they urgently need one.
5. And even when these conversations do happen, they're not really about performance, they're about results.
The costs of this are obvious. People don't get support to improve, so they don't fulfil their potential. They feel managed through data with no judgement, humanity or intelligence applied to the interpretation of that data. When external factors affect the result they can start to lose confidence and become demotivated and disengaged.
In the meantime, people who deliver results, regardless of how they achieved them, get rewarded. We end up with people behaving selfishly, taking short cuts and/or not doing what's right for the greater good of the business.
How can we shift our approach?
To shift the approach to performance to a more helpful place, it pays to ask the following questions:
• What are you going to do today to get better at what you do? Not someone else, but you.
• What are you going to do today to get yourself ready for an upcoming key performance moment?
• What are you good at? How can you make best use of this talent?
• What are you going to do this week to help someone else get better at what they do or get ready for an upcoming key performance moment?
• When reviewing, how well are you reviewing performance not just results? Do you ask what was achieved? How was it done? What did you do well? What could you do to improve?
Just like an Olympic athlete, you can focus on results but deliver through great performance. If there's one thing the business world can learn from sport, it's that the understanding and use of the word performance, and a voracious appetite to understand it and develop it, lies at the heart of success.