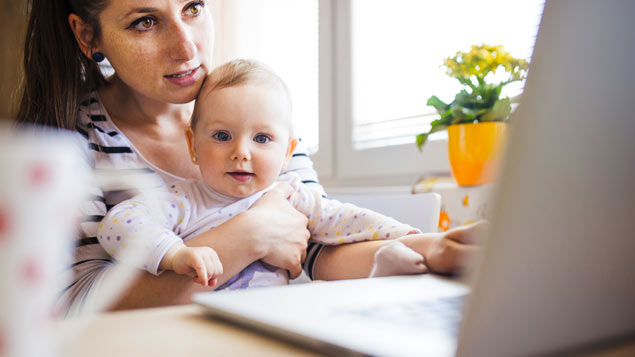 Three-quarters of mothers with dependent children are in work – a record high for the UK, according to the latest official figures.
In April to June 2019 75.1% of mothers in the UK were working, compared with 92.6% of fathers with dependent children, the Office for National Statistics has reported.
Almost three in 10 (28.5%) mothers and 4.8% of fathers with a child aged 14 and under had reduced their working hours because of childcare reasons. More than half (56.2%) of mothers had made some sort of change to their employment because of their parental responsibilities, compared with 22.4% of fathers.
The proportion of parents in employment has grown significantly over the past 20 years. In 2000 66.2% of mothers and 89.4% of fathers with dependent children had a job.
The ONS suggested the increase in parents' participation in the labour market over the past two decades could be down to the level of support parents now receive. For example, shared parental leave was introduced in 2015 although take up is thought to have been extremely low.
Three in 10 parents said they faced some sort of obstacle in fulfilling their childcare responsibilities within their work life. Long working hours was the main barrier to balancing childcare and their career effectively.
However, six in 10 parents said their employer made it possible for them to vary their working day through some kind of flexible working arrangement, including flexitime, compressed hours, annualised hours, term-time only working, on-call working and zero-hours contracts.
Sam Smethers, chief executive of the women's campaign group the Fawcett Society, told the Guardian that more analysis was needed to see what kind of work women were in and whether they were in "good" jobs.
She said: "We need to recognise that the pay women receive, the hours they work and the job security they enjoy is much worse than it is for men. There is too much segregation in the workplace. There is occupational segregation that means women are pushed into low-status jobs and there is segregation in the workplace, which prevents women from improving their position and getting promoted."
Tim Vizard, from the policy evidence and analysis team at the Office for National Statistics, said: "In 2019, three-quarters of mothers with dependent children were in work, up from two-thirds of mothers at the start of the century. In comparison, over nine in 10 fathers were working.
"Many parents make changes to their work to help balance work and family life."
D&I opportunities currently on PT Jobs