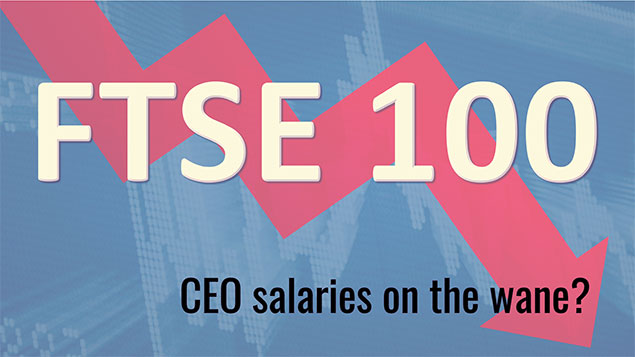 Median pay for chief executives fell by 13% between 2017 and 2018, according to an annual assessment of FTSE 100 pay packages released today.
The analysis, by the CIPD and High Pay Centre thinktank, found that the fall in pay was likely due to the exercise of greater restraint over large salaries and less money being awarded through long-term incentive plans (LTIPs) because of variable corporate performance and the cyclical nature of pay outs. Shareholders' views were not thought to be a factor in reducing pay awards.
LTIPs continue to make up the largest component of executive pay, according to the analysis, being awarded to 84% of CEOs. This is despite criticism from stakeholders. Their use leads to spikes and troughs in CEO reward every few years. For example, 2017 their use led to a sharp rise in pay whereas in 2016 the cycle caused a fall in salaries among top employees.
The mean average pay package for FTSE 100 chief executives in 2017-18 was £4.7m (£465.4m was paid out to CEOs in that period). This is a drop of 16% from the previous year.
When compared with the pay of all employees, the fall in top people's pay means that the mean pay ratio between FTSE 100 CEOs and their staff is 114:1. This is lower than in 2017, when it was 144:1 and in 2016 (130:1).
Despite the fall, the CIPD notes, CEOs' pay is still 117 times that of the average UK full-time worker earning £29,574.
Pensions also make up a high proportion of executive award. As a percentage of base salary, CEOs get a pension contribution (or payment in lieu of) worth 25%. Employees, by contrast, get a contribution worth 8% of their wages.
The report shed further light on the challenge facing women at the top of organisations. While women make up 6% of the FTSE 100 CEOs, it found, they earn just 4.2% of the total pay. However, this is a slight improvement on last year when the seven female CEOs earned just 3.5% of total pay.
When extended to the FTSE 250, smaller swings in CEO pay were seen with the median pay among CEOs remaining steady. It was £1.58m for 2016, rising by 2% to £1.61m the next year, and dropped back down to £1.58m in 2018.
The highest paid CEO in the financial year ending 2018 was Jeff Fairburn of Persimmon who received £38.97m, £6.77m less than the £45.74m he was paid in 2017.
At the other end of the scale, David Stevens of Admiral Group did not participate in any incentive plan "given his significant shareholdings" and was paid a single figure of £0.40m, the lowest in the FTSE 100 this year.
Among those who saw their pay rise sharply were Ben van Beurden of Royal Dutch Shell £17.77m in 2018 (from £7.78m in 2017) and Ivan Menezes of Diageo (£9.06m from £3.4m).
Restraint was a feature of some of the pay awards. David Potts, CEO of Morrisons, was awarded a rise of 2.4% in line with the wider workforce but waived his increase, receiving a single figure of £5.81m. Rio Tinto's CEO Jean Sebastien Jacques restricted his pay increase to 12% despite his company returning a record $13.5bn to investors. This meant he received £4.29m in 2018, up from £3.82m.
Shareholder dissent was not a factor in the fall in CEO pay, according to the researchers. Analysis by the High Pay Centre has shown that between 2014 and 2018 every single FTSE 100 company pay policy put to an annual meeting was approved by shareholders. Most remuneration packages were voted through with levels of support of above 90% and no remuneration reports were defeated in 2019. Only six pay packages were defeated between 2014 and 2018.
Peter Cheese, chief executive of the CIPD, warned that the gulf between the pay of people at the top and bottom ends of companies was still "unacceptably wide and undermines public trust in business."
He questioned whether CEOs were overly focused on financial measures "and are being incentivised to keep share prices high rather than focusing on the long-term health of their business.
"Being a custodian for the business and its people over the longer term must surely be a chief executive's ultimate duty, rather than simply focusing on short-term gain."
Luke Hildyard, director of the High Pay Centre, said: "A slight fall in the pay of FTSE 100 CEOs is welcome and reflects improvements to the governance of the UK's biggest companies, and a growing recognition of the need to address the rampant economic inequality in the UK." But, he added: "CEO pay awards and the share of total incomes going to the very richest in society remain very high compared with the level of 20 years ago.
"There is still more to be done to align pay practices with the interests of wider society and give the public confidence that our biggest businesses are working for the good of the economy as a whole rather than the enrichment of a few people at the top."
The CIPD/High Pay Centre analysis ends with a series of recommendations that include: extending single figure reporting requirements to cover key management personnel and pay for the top 1% of earners; widening the remit of remuneration committees to cover workforce reward practices; linking CEO pay to more measures of performance to encourage long-term investment; linking reward packages to fewer and more meaningful measures of performance.
HR Director opportunities on Personnel Today