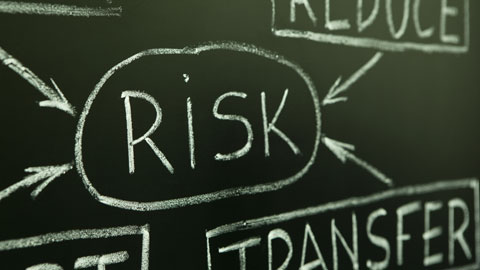 A recent survey by testing company SHL suggests that one employee in eight poses a risk to their organisation. What can HR do to identify and deal with that risk?
It seems as though not a week has gone by in recent months without a headline highlighting how someone's unreasonable or unprofessional behaviour has damaged their employer's reputation and had a negative effect on their business. It was alleged recently that a number of senior executives at Barclays knew that some staff had been involved in rigging the Libor interbank lending rate, yet appeared to do nothing about it.
Risk assessment
Corporate scandals such as this, the Jimmy Savile furore at the BBC, or allegations of bribery among pharmaceutical companies in the US, often boil down to the actions of risk-taking individuals. But while organisations will carry out all sorts of risk assessments to gauge whether or not they will enter a new market, from looking at the competitive landscape to any potential legal wrangles, assessing the risk individuals can pose to their organisation is not as common.
SHL recently revealed the findings of a global survey on the riskiest roles and sectors. Based on a sample size of more than 1.3 million people worldwide, it believes that, on average, one person in eight poses a "high level of behavioural risk" to their organisation. This level of risk varies between sectors and job roles – travel and leisure staff or oil and gas workers pose a greater overall risk, for example, than technology workers. In terms of where risk sits within organisations, SHL found that the highest level of risk was with middle managers, rather than senior executives.
Eugene Burke, chief science officer at SHL, explains: "Organisations have tightened up their processes and their reporting lines, but that only takes them so far. They need to look at where their actual people position them in terms of risk. So, if you look at the mis-selling of financial products in the banks, it was individuals that did this, not the overall culture or processes."
Talent management
Burke says that, on a practical level, HR professionals need to find a way to incorporate risk into talent management. Even as early as the recruitment and "onboarding" stages, they should be considering how these processes pick up on potential risk factors. "Once you've identified where the potential risk areas are in your organisation, think about the behaviours you're asking staff to demonstrate and how you communicate these in your induction and learning and development programmes."
While senior executives weren't the ones that posed the greatest amount of risk (averaging around one in 15 in the survey), how they communicate strategies and policies is all important in influencing people risk further down the chain of command.
"Leaders and boards cast a long shadow over an organisation – whether consciously or subconsciously – and this can ripple through," says Norman Pickavance, former HR director of supermarket chain Morrisons and now a consultant. "HR needs to look at how transitions are managed, for example. So if someone moves into a new role, how can they avoid a situation where their or their new team's performance is negatively impacted? We're learning more about how individuals' behaviour impacts organisations and HR could take a balanced-scorecard approach to managing this in the same way they do with other organisational issues."
Positive influence
It's also worth recognising that risk can have a positive influence on performance. Without it, businesses would never move into new markets or differentiate themselves from their competitors. "While risk cannot be eliminated, it has an upside and a downside, and organisations need to be aware of their own appetite for risk so it can be managed in a constructive way," Burke comments.
As he continues to explain, it's about balancing this appetite for risk with a resilience to it: "People in commercial roles, for example, need an appetite for risk to generate revenue. In an emergency-services role, you don't want someone who will procrastinate because they could put someone's life in danger, but you also need to know how far they can take that. So if you have someone in a managerial role in finance, are you confident they will look at enough data to evaluate a decision? That they will look for other perspectives?"
One way to assess the risk levels posed by individuals is to use psychological profiling or personality tests such as Myers-Briggs, but these only take you so far, according to Geoff Trickey, managing director of business psychologists Psychological Consultancy: "These [tests] can only show you a disposition. How that person manages that is another thing altogether. Most tests don't cover the strand of personality that is relevant to risk; how neurotic people are or how emotionally adjusted, so you don't get the whole picture."
Maximizing contributions
Trickey believes that people, whether they are adventurous or cautious risk-takers, can be managed in a certain way: "Awareness of, and appreciation for, these individual differences can inform decisions at the individual, team and corporate levels. We often put together teams based on intuition, and can only really assess who had an appetite for risk and who didn't after they've worked together."
HR is in an opportune position to have a dialogue with line managers about why some risks are worth taking, and how others could impact the organisation. Most importantly, they can have an influence on how policies and decisions are communicated, and how their organisation's own appetite and resilience for risk can be embedded into everything from onboarding to individual development plans, according to Burke.
"Processes don't create risk, people do," he says. "It's like the motorway speed limit. We all know that it's 70 miles per hour and that's what we should do. What we actually do is something different altogether." This analogy will ring true for many employers where taking risks has become part of the culture and a potential danger to their business – what they do to mitigate that risk could make all the difference to their organisations' reputation and performance.
Where is the risk? About the survey
When conducting the survey across its global database, SHL used eight behavioural risk components that are attributed to resilience and appetite for risk.
It measured appetite for risk against qualities such as taking initiative, having the confidence to make tough decisions and the perseverance to achieve a goal. It also looked at the components that make up resilience to risk, such as decision quality (whether or not decisions are effective), communication quality (are those decisions more or less likely to be communicated effectively?), following through with those decisions and setting the tone for standards of behaviour.
The riskiest sectors for all job levels are telecoms and consumer goods (heavy goods), while the public sector and retail were ranked the most risk averse. It should be noted, however, that organisations' risk profiles vary considerably within an industry as illustrated by the diversity of performance in the banking sector.