Employees who care for loved ones should receive statutory paid leave and have the right to return to work once their circumstances change.
That's according to the Centre for Ageing Better, following the publication of a new study found that nearly three in five carers in England and Wales were aged 50 years and over, and one in five people aged 50 to 69 years were informal carers.
We need to make flexible working the default option for everyone, legislate to introduce flexible, paid carers' leave, and give carers a right to return to the same job" – Catherine Foot, Centre for Ageing Better
The Office for National Statistics report, Living longer: caring in later working life, drawing on data from several studies over recent years, reveals how caring responsibilities – for older relatives, disabled family members, friends, children and grandchildren – will be as much of a concern for employers as it is for employees.
The prevalence of people in their 50s and 60s among carers means that the very people being encouraged to stay in the job market as the population ages are often having to leave it or accept reduced hours.
In February 2017, the government's Business in the Community Age at Work Leadership Team launched a target of one million more older workers by 2022. To reach this, every UK business would need to, on average, increase the number of older people they employ by 12%.
A higher level of employment among older people is required to help support the increased costs of providing health and social care services and state pension provision that an ageing population brings.
Catherine Foot, director of evidence, Centre for Ageing Better, called for new laws to accommodate and support the growing older carer population: "Caring responsibilities can significantly impact people's ability to keep working. By the year people reach state pension age, nearly half of all people have already stopped working, and caring is a major contributor to this.
"We need to make flexible working the default option for everyone, legislate to introduce flexible, paid carers' leave, and give carers a right to return to the same job."
The study investigated the different roles of men and women when it came to caring, finding that 24% of female workers care but just 13% of males.
Men with caring responsibilities were much less likely to work than women, who were equally likely to be in work whether caring or not.
Previous research has shown that older workers who are women were far more likely than men to work part-time. Almost two-thirds (62%) of women in employment work part-time, compared with less than one-quarter (24%) of men.
Working carer resources
Also, it is well established that females are notably more likely to be unpaid carers than males; figures from eight years ago showed that 58% of carers who are not paid for their caring were females and 42% were males in England and Wales.
Most carers are women ("reflecting societal expectations of women as caregivers", according to the report), who are likely to be working part-time. These part-time jobs will be lower paid than full-time equivalents, leading to lower future pension security.
There were also significant implications for the workplace when it came to who exactly was being cared for: for example, men were far more likely to than women to work if caring for a spouse (69% to 23%).
This may suggest that, as men earn more than women on average, they are more likely to need to work for the financial stability of the household. They may see themselves as breadwinners and are not willing to give up income to provide unpaid care.
D&I opportunities currently on PT Jobs
The report's authors also suggested men and women may have different views about what constitutes care with men considering low-intensity, traditionally female roles such as housekeeping and cooking, which would have previously been done by their spouse, as caring. Such a role would not necessarily interfere with their work.
The amount of time spent caring is highly variable and depended on a plethora of factors, the report stated. The chart below shows that almost three-quarters of people caring for their parents provide care for fewer than 16 hours per week.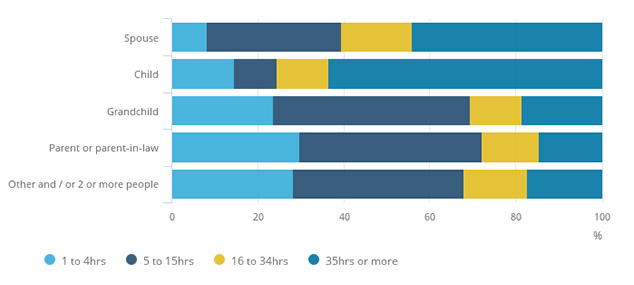 Intensity of care by who is being cared for, ages 52 to 69 years, England, 2016 to 2017. Source: English Longitudinal Study of Ageing
Foot said: "The latest figures reinforce how many people approaching later life have to balance work and other responsibilities with caring unpaid for partners and older relatives.
"Caring for a parent is now the most prevalent type of caring and, with people living longer, it is likely to become more common in future. More and more people will face the difficult reality of managing the everyday pressures of life while at the same time caring for a loved one."
Last summer, the government set up a working group to look into the implications that introducing dedicated employment rights for those with caring responsibilities would have. This was in response to the work and pensions committee's recommendations in its Thirteenth Special Report.